ReFi DAO GR13 Grant Update
Happy GR14 frens! 🎉
We are super grateful to provide an update on everything in ReFi DAO. So much has happened since GR13. None of this could have happened without you!
Despite not reaching our full-target, we are super excited to share the progress we've made with the $22,636 we received in GR13. We still have a balance of $9,863 remaining to allocate.
jE has left his role leading growth at Toucan to focus on ReFi DAO and ReFi Podcast full-time. Daryl Edwards continues to provide immense support to the founder community every week. Jeremy Agnew has kept ReFi Roundup rolling. Slaptain has come in from Klima DAO to help us get ReFi Jobs off the ground.
We were also finalists in the Commons Stack prize which was awarded to Grassroots Economics!
Project Updates
Below are updates from the initiatives and objectives listed in the GR13 application.
ReFi Podcast
As a result of a loss in johnx's family and jE's move, we've taken a short pause to reflect and connect with our community. We've got an exciting line-up of guests and some exciting partnerships.
We're hiring a Community & Social Manager to help grow the movement around the podcast
We've got a partnership with Bankless DAO + Bankless Consulting to launch season two
We've engaged an experienced producer to improve production quality
ReFi Founder's Circles
We've welcomed over 200 up-and-coming ReFi Founders into our Discord
Thanks to the dedication of Daryl and brilliant founders we've guided four circles of founders through 8-week journeys
We're in the process of forming new founder's circles with the help of a network scientists:
Timezone specific (Americas, EMEA, APAC)
Water, Fundraising, Biodiversity, and MRV circles
ReFiDAO.com, ReFi Jobs & ReFi Talent
Grown the directory to 227—the largest public web3 impact list
Launched ReFi Jobs with 79 active opportunities and 23 leading companies
Launched ReFi Talent Collective with 14 hand-picked members from orgs like UNICEF, Citrix, UN, and more…
Working on a partnership with Climatebase to onboard the next generation of talent into the space
ReFi Spring
Has grown and decided to spin out into it's own working group
Created a collective within All4Climate DAO to receive grant funding
Provided funding and support to ReFi Unconference in Austria and ReFi Portugal at TDF
Received a grant from Climate Collective to reach 5,000 people over 50 events
Created a core team that ReFi DAO members actively support in a weekly committee meeting
ReFi-wide Contributor Program
Have opened up a board on Wonderverse where we are building a ReFi-wide contributor program for all of our members
Created a Sobol instance to map ReFi DAO and support self-organization
Creating a series of working agreements to accelerate the contributor program for members
This needs further funding to build out, and we are hoping GR14 can provide us this opportunity
---
Thank you & stay tuned!
We so appreciate all of your support. Gitcoin grant funding has been the energy by which we have brought this movement in ReFi to life.
We're excited to provide an update on the community build and protocol for GR14!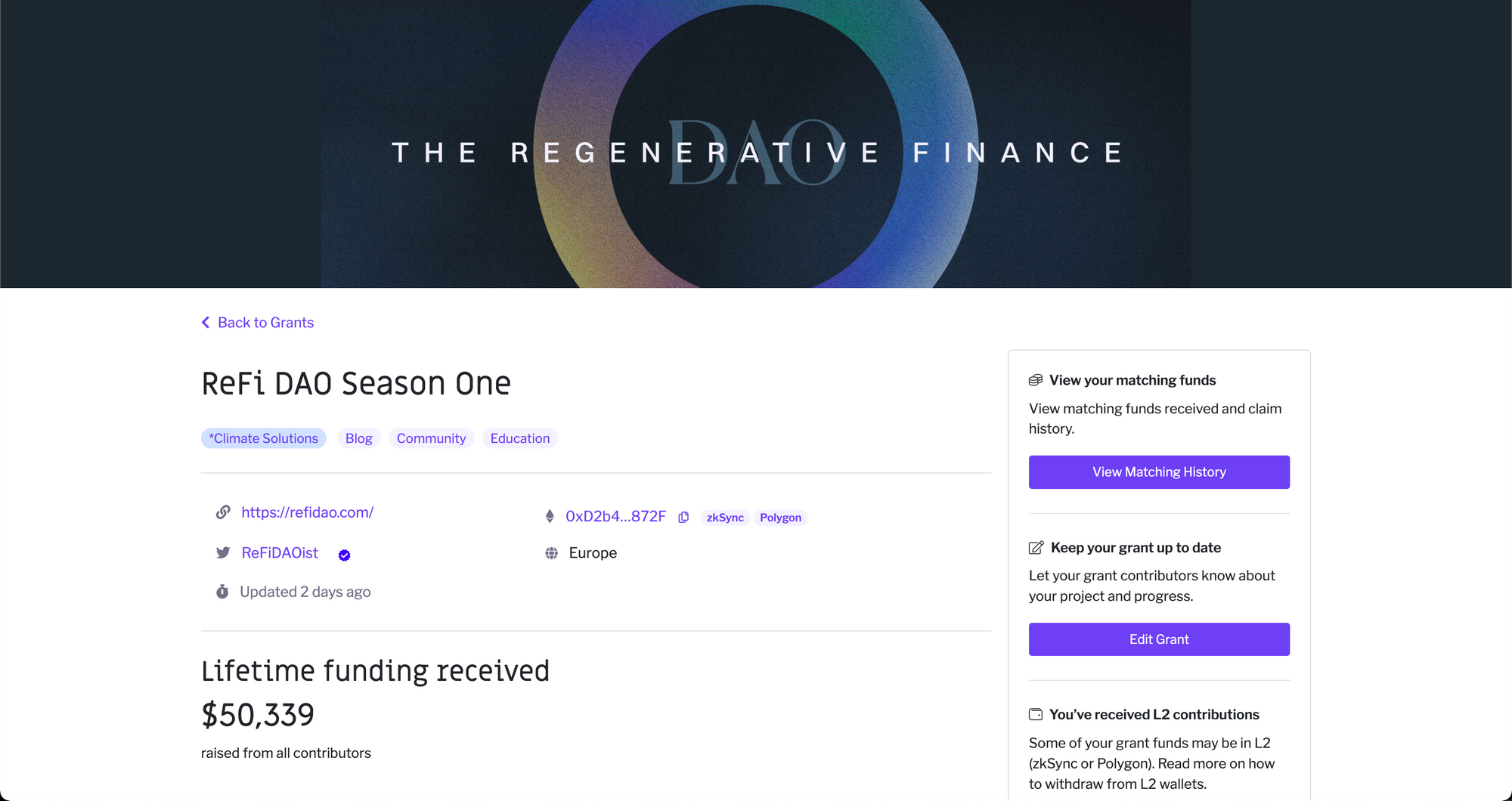 GR14 is Live! 🎉