ReFi Deep Dive: Angry Teenagers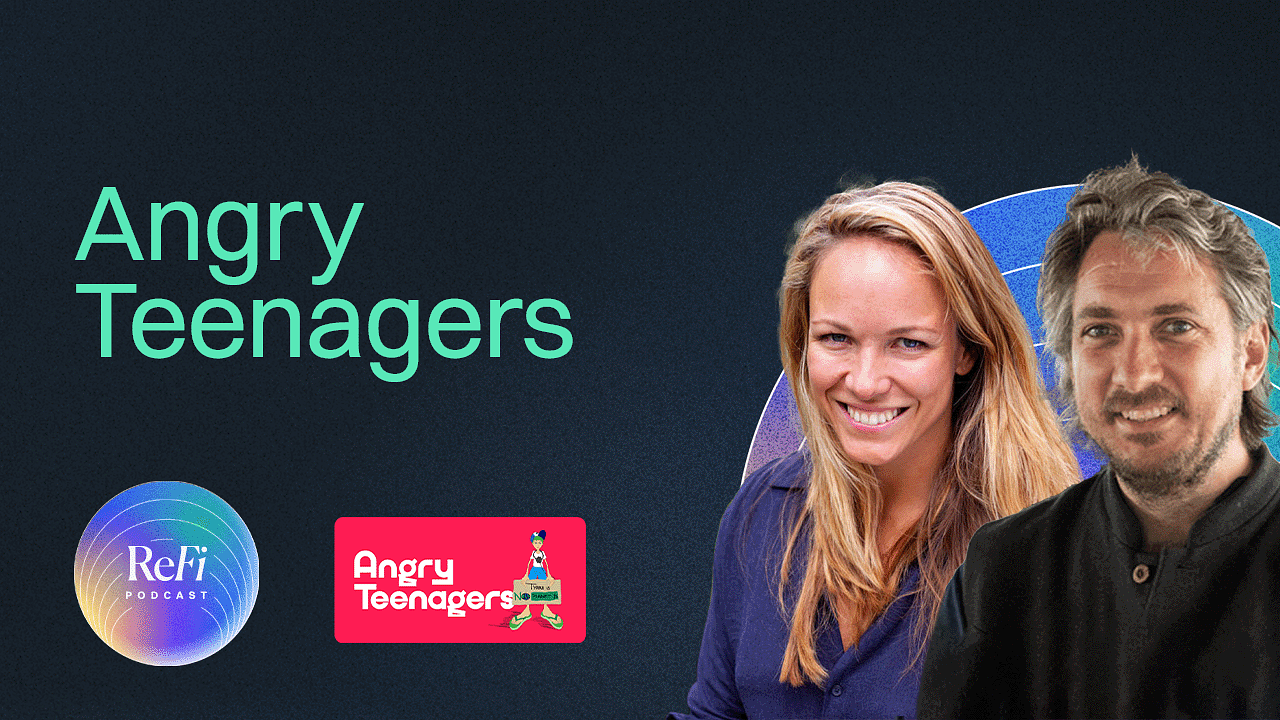 Season two, episode five of the ReFi Podcast takes a look at the Angry Teenagers NFT project from the team at EcoMint. Read on for a deep dive on what's got the teenagers angry, and what they're planning to do about it.
TL;DR
Angry Teenagers is an upcoming NFT project, set to be launched on the Tezos blockchain in 2022 by EcoMint.
The project will provide initial funding to reforestation projects, in order to enable these same projects to begin receiving carbon credits revenues. The projet will be starting with a land reforestation project in Ghana which will be the focus of the the initial 5,000-mint of Angry Teenagers NFTs.
Angry Teenagers with Ben and Eline on ReFi Podcast
The Challenge
Climate Change - With its 6th assessment cycle reports, the Intergovernmental Panel on Climate Change (IPCC) continues to present undeniable evidence of continued degradation of our planet's atmosphere and ecosystems. The most recent Working Group II report on "Impacts, Adaptation and Vulnerability" can be explored here, in a 'brief' 34-page summary for policy-makers, 84-page technical summary, or full 3068-page report. And that's just from one of three main IPCC working groups tasked with assessing, documenting and communicating the latest climate science.
Navigating the growing mountains of evidence and associated predictions can be overwhelming to say the least. TL;DR? It's not good.
Not only are future generations unlikely to experience the living conditions present on the planet today that allowed our current global civilization and economy to develop, most of us living right now will witness the continued accumulation of atmospheric greenhouse gasses (GHG), and the likely resulting loss of habitat, biodiversity loss, drought, soil degradation and desertification, famine etc.
It's been decades since scientists and international organizations began calling for meaningful action to slow and reverse the self-destructive path we're on, and to date we've seen little to no coordinated, large-scale action from governments and large corporations.
The teenagers sure have a reason to be angry.

Deforestation - The removal of temperate and tropical old-growth forests, through direct commercial exploitation of the trees themselves and/or the wholesale removal of forests to make way for industrialized agriculture, remains closely tied to the broader negative impacts we're witnessing across our planet's natural systems.
Intact forests provide a critical self-regulating function for our planet, drawing in and sequestering CO2 and releasing oxygen back to the atmosphere for us to breathe. They provide vital habitat for myriad species of both plant and animals, and their root systems secure fertile soil while also regulating the water cycle.
Forests represent roughly 30% of earth's land surface area, and serve as the primary home of approximately 80% of all land species. Their destruction presents significant risks across four major dimensions:
Increased greenhouse gas emissions;
Disruptions of water cycles;
Increased soil erosion;
Disrupted livelihoods.
In short, disrupting our forests disrupts the rhythm and quality of life on earth.
Angry Teenagers
According to the project team, 85% of degraded land in the world is owned by small landowners who lack the resources to regenerate and restore their own land. With their NFT project, Angry Teenagers looks to connect these land-holders with suitable financing to incentivize the restoration of their land rather than the continued degradation of the land.
Angry Teenagers are NFTs that directly support regenerative, reforestation projects around the world. With their inaugural mint of 5,000 unique NFTs, expected to be priced around $200 USD, the project is aiming to initiallyraise roughly $1M.
The vast majority (85%) of funds raised are intended to be used to directly fund work on the ground to regenerate the forest: creating a tree nursery, clearing the ground for planting, planting  seedlings and protecting the tress as they grow. These activities will be defined and planned in series of "milestones" that will be publicly available prior to the mint.
The money raised in the initial mint covers projected costs for the first 5 years, at which point revenue to the project wallet from sales of carbon credits is expected to cover many times the required ongoing investment to protect the forest as it grows.
The primary unique features of the NFTs include:
Geo-located land - Each Angry Teenager represents a unique patch of land within a project and funds the regeneration of that land.
Dynamic impact data - Angry Teenager owners will have access to a personalised dashboard with social feeds and photographs that give a nuanced and holistic sense of the changes that they are funding.
Unique wallet - each NFT has its own dedicated project wallet, holding funds to be released to the reforestation project over time, as specific milestones are reached.
Carbon credits - as the forest grows following initial project activities, it will begin generating high quality carbon credits. The sale of these credits is then used to create a snowball effect, where 45% of proceeds are sent to a local community fund, 45% goes back to the NFT's project wallet to fund ongoing activities, and 10% goes to the project management firm, EcoMint.
Reforestation project - An initial reforestation project set to benefit from the Angry Teenagers NFT was selected, working in partnership with Strategic Youth Network for Development (SYND) Ghana. The project is located the community of Nsonyameye, Ghana.
The Angry Teenagers NFTs will fund all initial aspects of the project, from training young people to planting trees and directly restoring the land. Over the long run, revenue from carbon credits tied to the project will be split 45% to a community development fund (building roads etc as discussed in the video below), 45% to be invested in planting more forests and 10% to the project coordinator, EcoMint.
Funding, Not Owning
Critically, the funds raised from the NFT sale will allow holders to direct their funds to a specific piece of land, and specific community working to restore that land, but these NFTs do not constitute purchase or ownership of said land. Ownership and stewardship of the land remains with local communities, who will see ongoing benefit from the NFT funds and subsequent carbon credit sales.
Key People
Eline Van Der Velden. Co-Founder (Brand & Marketing)
Resources
Episode Trailer