ReFi Deep Dive: Gitcoin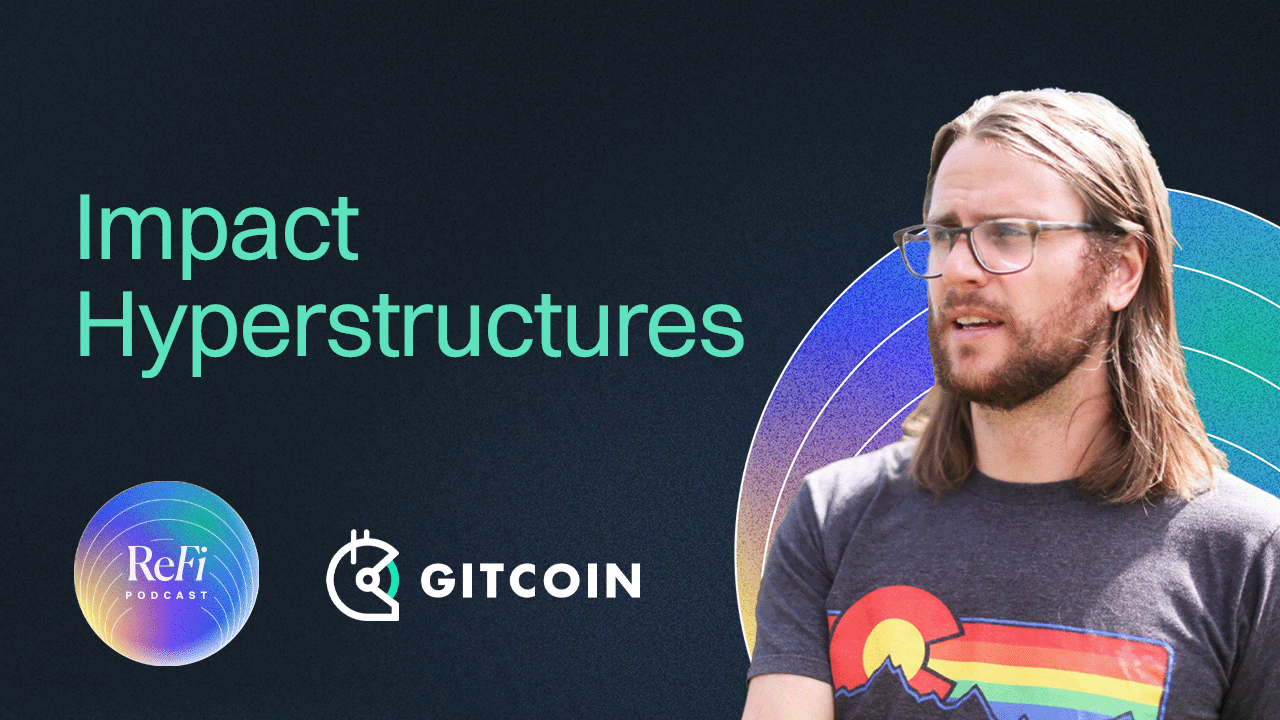 ReFi Podcast's guest for season two, episode four is Kevin Owocki, founder of Gitcoin. Read on for a Deep Dive to further your understanding of Gitcoin and some of the topics discussed in the podcast!
TL;DR
Gitcoin is a Web3-powered community platform for software developers, and a funding organization, providing innovative open-source projects working on some of the most challenging problems our planet is facing with the resources they need to succeed.
Through their quarterly Gitcoin Grants, which leverage a unique quadratic funding mechanism, the Gitcoin community has provided over $64 million in funding for open-source projects since 2017.
Gitcoin DAO launched in May 2021, with the GTC governance token. This developmental step was taken to ensure maximized impartiality of Gitcoin as its reach and impact continue to grow.
The Green Pill podcast launched February 2022, providing a platform for Gitcoin founder Kevin Owocki to share conversations with founders and thought leaders working to build public goods with regenerative cryptoeconomics.
The Challenge
While open-source software is seen a powerful and even essential to solving some of the most pressing issues facing society, actually doing the work of open-source software development has typically been economically dis-incentivized.
Projects that primarily aim to create a public good - whether social, environmental, infrastructure etc. - rarely provide those working on them with financial support or rewards that are aligned with the scope and scale of the impact these projects can have. In the absence of mechanisms to address this mis-alignment, skilled software engineers and developers will either be drawn away to other higher-paying opportunities that are not aligned with their values, or their mission-driven projects will simply never find the traction they need to scale.
This is especially problematic given that many of the issues open-source software projects aim to solve are both large in scale and urgent - such as the climate crisis. Gitcoin aims to flip the very incentives of an economic system that has otherwise ignored or exacerbated the social and environmental crises the world is facing.
While traditional economics has created myriad 'negative externalities', from income inequality to rising greenhouse gasses and biodiversity loss, Gitcoin's approach works to create 'positive externalities' by providing economic incentive for developers to work on these pressing challenges.

Gitcoin's Approach
The myriad social and environmental challenges we face are often the result of misaligned economic incentives, and our collective inability to address these challenges at scale can be tied to coordination failures. Gitcoin launched with the mission of empowering developers to tackle some of these most intractable problems, where traditional funding and decision-making models have fallen short.
Gitcoin was founded in September, 2017 and officially launched in November, 2017. To date, they have provided over $64M worth of funding to open-source software projects, primarily via their quarterly Gitcoin Grants funding rounds.

True to the Web3 ethos of accessibility and transparency, Gitcoin's previous grant round recipients can all be explored directly from their site here: https://gitcoin.co/grants/explorer
To date, over 2,700 individual projects have received funding through Gitcoin Grants, with several notable ReFi projects among them - including our very own ReFi DAO, ReFi Spring, Bloom Network, and the Blockchain for Climate Foundation among several others.
Democratized Crowdfunding with Quadratic Funding
One unique aspect of Gitcoin's model is their quadratic funding mechanism, which aims to democratize crowdfunding. While not widespread in use, similar quadratic voting approaches have been used to level the playing field in politics and corporate governance. The approach relies on mathematical principles and might seem complex, but at heart it is an elegant solution that works to ensure 'voters' or funding contributors are empowered to make free choices and see results that are most aligned with their intentions rather than simply hopping on board with whichever projects are the most-funded.
A core mechanism of the quadratic funding model is the matching pool. In addition to directly finding individual projects, contributors build a matching pool, which is then democratically allotted according to the volume rather than total value of contributions to each individual project. With this mechanism in place, contributors can see their $1 contributions paired automatically with a dramatically higher amount from the matching pool, depending on how many contributions their chosen project received.
This simple twist means even those with more modest financial means can create a positive impact with their contributions and conversely, even those projects that don't manage to attract major individual contributions can see the 'seedlings' of several smaller contributions grow significantly when matching funds are applied according to the quadratic curve.

Quadratic Challenges and Solutions
One potential vulnerability of this otherwise democratic approach is the 'Sybil' attack. This expression is derived from the title of a popular book and movie based on the real-life story of a patient with now-debunked claims of suffering from multiple personality disorder (now termed dissociative identity disorder). In a Sybil attack, a malicious contributor or project founder could take advantage of the underlying mechanics of quadratic funding by creating multiple fake accounts and splitting up their intended donation into multiple smaller amounts, triggering the matching fund pool to match their contributions with significantly more than if the individual had simply made one large contribution.
Gitcoin works around this potential attack vector by requiring web3-based identity verification, making bulk account creation inefficient and unlikely to be effective at scale. Additionally, the platform leverages contributor reviews, uses machine learning to detect potential Sybil attacks, and Gitcon Grants have also funded several innovative approaches to solving this dilemma tied to quadratic funding.  
Gitcoin Passport is their next iteration of a solution to address Sybill attacks. It is a soulbound (permanently tied to one unique wallet address) NFT that users mint which accumulates 'stamps' (verifiable credentials) in order to identify individual users of the Gitcoin grant rounds.
They then incentivize users to identify themselves by increasing the match funding that identified users receive.
Beyond Grants
While the Gitcoin Grants program has been central to Gitcoin's mission and success to date, there are several other mechanisms from which the Gitcoin community of founders, engineers and developers can benefit.


This includes one-off 'bounties' which are typically shorter-term contracts for specific work required for a project. This enables project founders to connect with the talent they require without needing to have enough funding to bring someone fully on board their team, while developers can gain experience and get paid while working with a broad range of innovative projects.
The Gitcoin community also regularly holds hackathon events, incentivizes learning via quests, and fosters community support and connection with a formalized kudos system. Some of their hackathons have been tied to specific Gitcoin Grants rounds, while others have been held in connection with major conferences or events in the broader web3 community. Recently Gitcoin hosted a hackathon connected to Filecoin's Sustainable Blockchain Summit in Paris. This hackathon saw $50k in bounties up for grabs, including $24k for winners and runners up who tackled the challenge of discovering the best application of IFPS or Filecoin for an environmental project.
Governance
Following the early successes and intended long-term growth of Gitcoin, the organization began operating as a DAO - Decentralized Autonomous Organization - as of May, 2021. This governance approach has the following aims/benefits:
Ensure maximum neutrality in Gitcoin operations;
Decentralize and democratize Gitcoin governance;
Empower the Gitcoin community.
The DAO's governance model is continually evolving, with updates and the latest governance process overview documentation available publicly. Workstreams are the primary mechanism by which the DAO advances their vision and purpose, and funding for these workstreams is established via proposals that Gitcoin (GTC) token holders can all vote on.
The DAO's governance also employs a delegate-based governance model where GTC holders appoint Delegates whose attendance is monitored by a 'Delegate Health Scorecard' which ensures they are attending meetings, reading through proposals and upholding their commitments as delegators.
Given the quarterly funding model of Gitcoin grant rounds, this provides an opportunity for Gitcoin to make adjustments and iterate its governance structure as needed every quarter.
Taking The Green Pill
In February 2022, Gitcoin founder Kevin Owocki launched the Green Pill podcast, which is a stand-alone project from Gitcoin, exploring the application of blockchain and web3 technologies to regenerate the world's natural systems and create 'positive externalities'.
The podcast is produced in collaboration with Bankless, a popular podcast and community exploring the democratization of the global money system through cryptocurrency.
The podcast's first episode featured Ethereum founder Vitalik Buterin, and regularly features ReFi founders and thought leaders discussing their projects and novel mechanisms for solving the world's environmental and ecological crises.
The podcast launched shortly after Owocki released his book "Greenpilled: How crypto can regenerate the world".
Resources

Website: https://gitcoin.co/
Gitcoin on Twitter: https://twitter.com/gitcoin
Kevin on Twitter: https://twitter.com/owocki
Github: https://github.com/gitcoinco/
"What is Gitcoin?" (1 min vid) https://www.youtube.com/watch?v=DJartWzDn0E&t=12s
"Take the Green Pill" presentation at ETH Denver (10 min) https://youtu.be/qP7wqLWV33M
"A Flexible Design for Funding Public Goods" Quadratic Funding Primer by Vitalik Buterin: https://arxiv.org/pdf/1809.06421.pdf

Key people