ReFi Deep Dive: Moss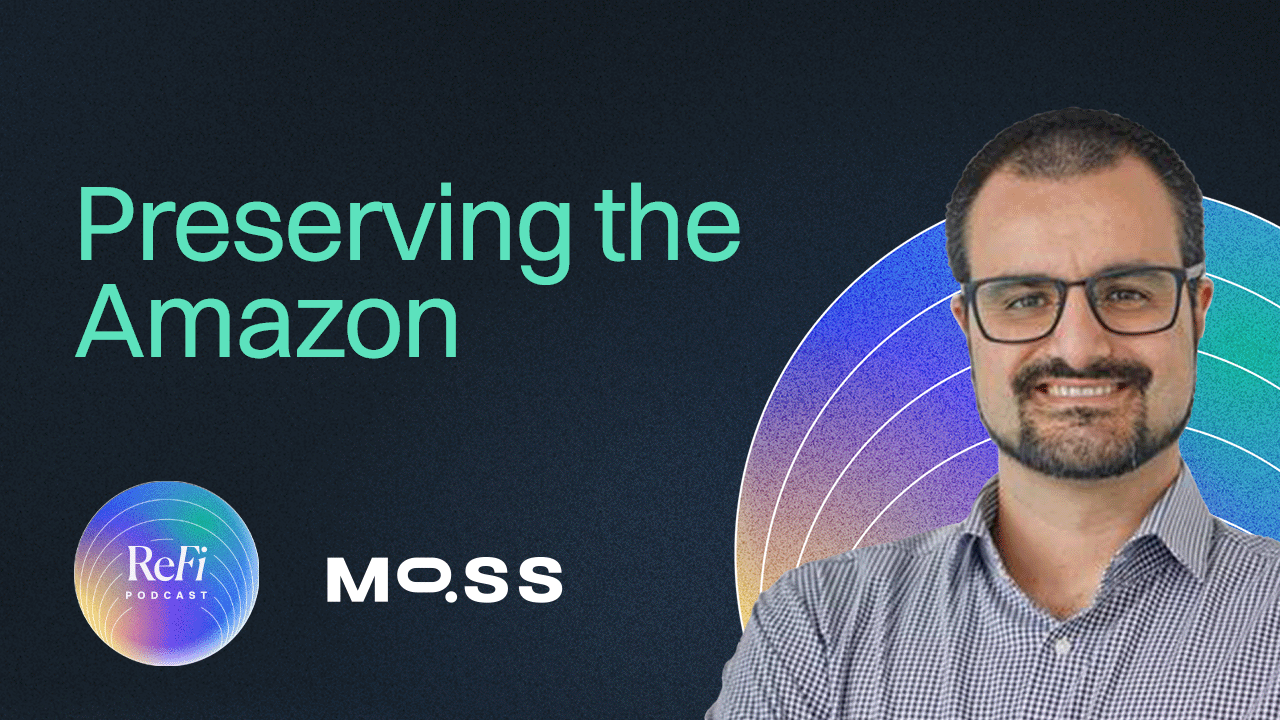 In this Deep Dive we unpack a Moss.earth—a leading regenerative finance protocol that exists to preserve the Amazon Rainforest in Brazil. We had the great pleasure of speaking to Luis Adaime, CEO of Moss on ReFi Podcast and wanted to share some of what we learned along the way.
TL;DR
MOSS is a global organization based in Brazil, that is focused on driving the preservation of the Amazon rainforest, both through the tokenization of specific carbon credits and innovative use of non-fungible tokens (NFTs) and web3 technologies.
The MCO2 token represents a pool of tokenized carbon credits from projects directly working to prevent deforestation and protect the Amazon rainforest. The underlying carbon credits backing each MCO2 are from the Verra registry, following the REDD standard.
MOSS has built several key partnerships with traditional corporations looking to offset their residual emissions, as well as blockchain and web3 ecosystem players in the burgeoning on-chain regenerative finance movement.
Luis Adaime, CEO of Moss on ReFi Podcast  
The Challenge
The Amazon rainforest is the largest tropical rainforest on earth, spanning 2.6 million square miles or 550 million hectares across 9 separate South American countries. For comparison's sake, this is roughly the equivalent of 75% of the entire land area of the United States. As such, it has also been an historically vital and globally-significant carbon sink, drawing down atmospheric carbon and helping to regulate not only local but also global climate.
Unfortunately the Amazon's status as a net positive force for climate has begun to shift, with agriculture-driven deforestation resulting in net greenhouse gas (GHG) emissions from the rainforest in recent years. While farmers have burned forests for millenia, including the Amazon, to make way for crop plantations or livestock grazing, the scale and efficiency of these efforts has ramped up dramatically thanks to a regulatory regime and local governance that encourages the economic development of the forest. Nearly 17% of the Amazon's land areas has been lost to agricultural development and resource extraction.
Halting these short-sighted and destructive practices is regarded as essential, not only for the sake of the Amazon itself, but also to support any global efforts made to limit global warming to +1.5C or +2.0C above pre-industrial averages.
MOSS' Solution
Founded in early 2020, MOSS is a protocol that tokenizes or bridges carbon credits from off-chain registries and brings them on to the blockchain. While other bridges like Toucan's BCT and NCT token pools are comparatively broad and reflect a diverse set of underlying methodologies, standards and geographic locations, MOSS remains tightly focused on Verra-certified nature-based credits adhering to the Reducing Emissions from Deforestation and forest Degradation (REDD) methodology - all of which are tied to projects working to protect and restore the Amazon basin rainforest.
Given the unique ecological significance and scale of the Amazon, a solution that is focused on this region makes sense. Some, including MOSS founder and CEO Luis Adaime have even dubbed the Brazil the "Saudi Arabia of carbon credits". The analogy might get a laugh or raise eyebrows, however the math checks out. If carbon prices levels that most analysts feel are necessary to spur meaningful reductions in atmospheric GHGs, the Amazonian rainforests would rapidly become much more valuable to Brazil's economy intact than burned and 'developed'.


This flipping of economic incentives is at the heart of MOSS' mission. If local landowners and farmers can realize greater economic benefit from protecting and restoring the land rather than burning it down and grazing livestock, they will increasingly make the choice to do so.
MCO2
One of the easiest ways to flip those incentives is via the issuance of carbon credits. While MOSS does not issue or certify projects themselves, they have created a new on-chain carbon-backed token that aims to accelerate the adoption of carbon credits and drive investment in local projects that have already been certified.
MCO2 is an ERC-20 utility token, a standard used for creating and issuing smart contracts on the Ethereum blockchain. This token is MOSS' initial instrument, used to facilitate the exchange and retirement of tokenized carbon credits. Each MCO2 is backed by a REDD-compliant carbon credit bridged on-chain from the Verra registry, and at the time of this post, there have been just over 3 million MCO2 tokens created, with an equivalent number of carbon credits backing each token.

Current projects behind the MCO2 token (links to Verra certifications):
1) Santa Maria REDD – VCS & SOCIAL CARBON
2) Madre de Dios REDD – VCS & CCB GOLD (Community, Climate & Biodiversity standard)
3) Agrocortex – VCS & SOCIAL CARBON
4) Fazenda Fortaleza Ituxi project – VCS
Moss Amazon Green Wall Club NFT
In early 2022, MOSS launched a series of NFTs, looking to build a strategic "Green Wall" that would make deforestation efforts in the Amazon much more difficult. MOSS estimates that a comparatively small strip of just 15 million hectares would likely disincentivize the deforestation of the vast majority of the Amazon - making it exceedingly difficult and expensive for developers to reach their intended resource extraction or deforestation project sites.
At a cost of $10 billion, this is undoubtedly a massively ambitious project, while at the same time being incredibly efficient for the intended impacts it aims to have.
Each NFT in the 'Green Wall Club' represents actual ownership and associated surveillance of one hectare of the Amazon rainforest, with three initial batches of 50 hectares each having been launched so far. While anyone with a cryptocurrency wallet can purchase one of these NFTs, MOSS serve as an intermediary for the purposes of registration with local Brazilian authorities.
Currently listed on OpenSea (Polygon network), Series 3 of these NFTs are priced at $3,000 USD equivalent.
Moss Partnerships and Collaborations
Beyond their own blockchain-powered initiatives, MOSS have also worked to build both on- and off-chain partnerships that accelerate the adoption of carbon credits and MCO2. To date, some of the highest-profile partnerships include:
Gol Airlines: MOSS has established a partnership with Gol, Brazil's largest domestic airline, allowing passengers to quickly and affordably calculate and offset the GHG emissions related to their flights. The partnership is one component of the airline's commitment to carbon neutrality by 2050.
Celo blockchain: Celo is a mobile-first, Proof-of-Stake (PoS) blockchain aiming to economically empower individuals and protect the natural environment by designing an on-chain financial system that drives prosperity. Following an on-chain governance proposal in 2021, Celo committed to hold 0.5% of their reserve in MCO2. In doing this Celo advances its mission to create a currency that not only facilitates economic transactions, but also protects natural resources and the environment.
KlimaDAO: In December, 2021, MOSS proposed a partnership with KlimaDAO - an organization working to build a carbon-backed reserve currency and provide liquidity to facilitate the acceleration of the on-chain voluntary carbon market (VCM). The proposal passed a vote by KlimaDAO members, launching a series of bonds that made MCO2 the second tokenized carbon asset for Klima following their October, 2021 launch with Toucan's Base Carbon Tonne (BCT). Currently, the KlimaDAO treasury holds just over 300,000 MCO2 tokens, representing approximately 10% of all MCO2.
Key people
Key resources
Follow
Listen: ReFi Podcast S2 E2