ReFi Deep Dive: Open Forest Protocol
This is the first issue of a ReFi Deep Dive where we dig into a project that aims to leverage the power of web3 to address climate change in a meaningful way.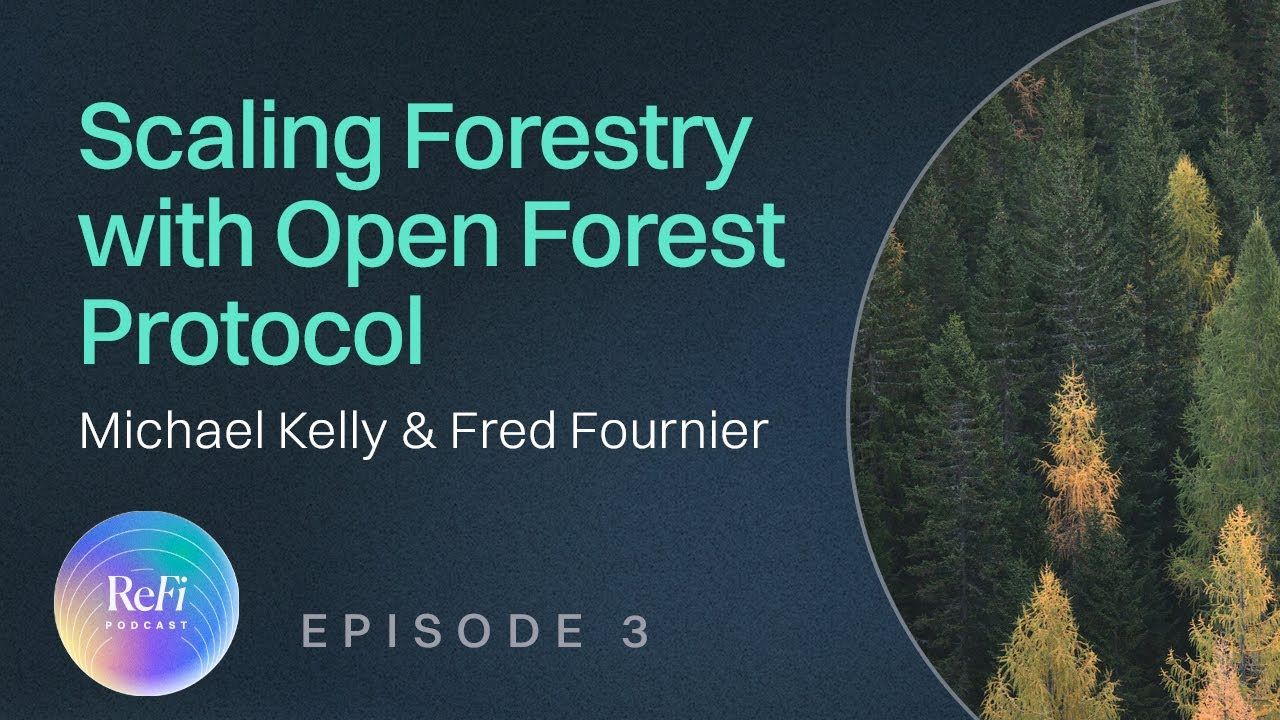 This is the first issue of a ReFi Deep Dive where we dig into a project that aims to leverage the power of web3 to address climate change in a meaningful way.
Today, we're going to focus on Open Forest Protocol—a leading organization on the frontier of scaling nature-based solutions.
TL;DR
OFP is an open and global community of forestation project operators, validators and funding partners.
It seeks to become the world's first communal verification platform for forestation projects, with the aim of scaling nature-based solutions to solve climate change.
OFP will achieve this by changing how forestation (reforestation, afforestation and conservation) projects are transparently monitored, verified and funded using blockchain technology.
This approach solves the problem of providing reliable measuring, reporting, and verification (MRV) of forestation initiatives at scale in a decentralised, inclusive and open-sourced manner.
It also enables project operators to access the rapidly expanding carbon market, via the creation of carbon credits.
The problem
Sustainably planting, regenerating and conserving forests is a widely accepted solution to preventing catastrophic climate change. These projects draw down sinks of CO2, as well as bringing co-benefits of biodiversity preservation and watershed protection.
Scaling forestry projects however faces key challenges, acknowledged by the UN Framework Convention on Climate Change (UNFCCC):
Lack of standardised measurement, reporting, and verification (MRV) of project data. At present there is no common consensus over how to implement forest MRV consistently. Of existing certification scheme, many projects lack the resources to apply these costly approaches, that do not guarantee of transparency over time.
Low data accuracy and coordination: As there is no standard MRV approach, data currently collected is either manually recorded using paper-based records (and thus is at a risk of being misplaced, illegible or incomplete), or remotely verified using satellite imagery (but lacking in ground level precision). This reduces legitimacy and is not coordinated across geographies and projects.
Lack of collaborative funding approaches: Due to MRV and data issues it is also difficult to collaboratively fund a forestation project. Currently, funding is linked to one source to avoid double counting from different organizations and to ensure accountability. As a result, project funding from multiple funders remains limited.
Issues of injustice and local inclusion: Currently, it is the forestation projects able to afford certified MRV tools able to demonstrate legitimacy and access financial support from reputable backers. This creates issues of equity and justice, as marginalised communities are unable to demonstrate the value of projects and ongoing stewardship of the land.
Ongoing lack of standardization for carbon credits: Carbon markets remain fragmented, illiquid and prone to problems of double spending and price volatility. While projects may not be able to benefit from these markets immediately, improved MRV should enable credits to be developed as this market matures.
These challenges are acknowledged by the FAO to be largely solvable by digital solutions to forest MRV, to enable this to become more standardised, transparent and accurate. A blockchain-based solution has the potential to solve this by providing the following benefits:
Decentralized access and global inclusion
Standardization and state concurrence
Trustless security
A sustainable foundation for future innovation and surrounding forest management
OFP's solution
OFP seeks to revolutionise the scaling of forestation projects by:
Providing proof of protected forests over time
Applying standardized and accessible MRV that puts transparency first
Providing access to funding for projects all around the world
Utilising open-source data for future innovations and growth
This is achieved via the following process…
Forestation project operators register the details of their project using a simple OFP app, which is then immutably stored on the OFP blockchain as a non-fungible token (NFT). Every project detail is permanently stored and updated in the NFT's metadata, making all information completely transparent and traceable throughout the projects lifetime.
Once a year, project operators upload field monitoring data using the app. This data is then verified by a community of validators, who make sure the data is legitimate using satellite, IoT, drone and AI technologies. This verified information ensures the quality of the project, enabling trust to develop amongst investors. This creates opportunities for ongoing funding and engagement in carbon markets. OFP therefore creates a win-win-win for project operators, validators and funding partners:
Project operators gain affordable, easy to use MRV, which improves investor confidence in the quality of their project. This creates opportunities to qualify for data-backed carbon financing and exposure to a wider community of potential investors and collaborators within OFP.
Validators are able to promote their service and earn a validation fee for verifying projects. (Validators come from a mix of sectors including tech companies, development agencies and universities).
Funders gain access to a community of high quality, verified projects, enabling confident investment opportunities and the creation of carbon credits.
OFP is therefore able to solve many of the existing problems facing the scale up of forestry solutions:
By recording all data and transactions on the blockchain, a level of transparency can be achieved never before seen in the forestation industry.
As all of OFP is open-source and decentralized new solutions can be built quickly using OFP as the foundation by many different institutions
As each project will mint it's own NFT connected to land area recorded in a uniform grid, projects cannot be duplicated or overlap.
Increases accessibility and leverages involvement of indigenous and marginalised communities to manage projects effectively.
Transparent and trustful forestation projects gain access to carbon financing, with potential to build 'Open Carbon Credits' into OFP as this market evolves.
Technical aspects
OFP is built on the NEAR blockchain protocol, which as been selected for its alignment with the project:
Certified climate neutral chain
In theory, able to scale infinitely
User-friendly design and fast finality
Negligible transaction costs
OPN Tokens (Open Tokens) are the representation of utility and governance on the Open Forest Protocol. OPN's are used to:
Grant access to OFP
Enable validators to accept or challenge project data uploads
Govern the OFP via the voting of the OFP DAO
OPNs are not used by project owners, as all fees and bonds paid by project owners are denominated in nDAI ("NEAR DAI") and eventually other stable coins of the projects choice.
A robust governance infrastructure will be built around a communally operated OFP DAO. In the early years of the protocol, the non-profit Open Forest Foundation will govern the Protocol and grow the OFP Community Ecosystem, with a focus on accelerating the implementation of climate and environmental technologies. With community voting, responsibilities of the foundation will be incrementally transferred to the DAO.
Recent Progress
Q2 2022
Q1 2022:
1 month into product testing
30+ on the team, with more than 8 new hires
Q4 2021:
OFP attended COP26 as part of the CIFOR delegation. The project team met with government representatives from the Democratic Republic of the Congo, Kenya, Panama, Nigeria, Ghana, Bangladesh, Pakistan and Indonesia.
Delivered a keynote at DCentralcon, one of the biggest, trendiest crypto festivals of the year.
Participated in the Art Basel week, working with NEAR Protocol to co-host an NFT event.
Q3 2021:
Official OFP launch!
OFP's community accelerator, the Corpsemen, launched as a part of NEAR Protocol guilds program (July 16)
Initial development of the OFP Nairobi Hub
Roadmap
Stage 1: Preliminary Buildout
Stage 2: Testing and Stealth Development
Stage 3: Public Launch
Stage 4: Progressive Decentralization and the Introduction of OCCs
2022 goals
Building: completing the Ecosystem Explorer, validation area, and vigorous product testing before mainnet. Initiating Open Forest Starter, OFP Wallet, and bridge buildout.
Finetuning: the OFP DAO governance model, carbon methodology, future product design (e.g. Open Forest Starter, carbon DEX)
Raising: finalization of the fundraise before mainnet and token launch
Onboarding: 50 forest projects and 25 validators by the time of launch
Expanding: new hires, especially regional liaisons for forest projects, as well as developers for future products. See listing here.
Growing: doubling the number of Corpsemen; bootstrapping a robust, organic community; cultivating a coalition of crypto-climate projects and believers
Longer term goals
Adaption of the core design of the protocol to accommodate solutions for the MRV of other nature based projects, such as maritime conservation and carbon sequestration in soils.
This would enable a transition from OFP to the Open Planet Network.
The long-term protocol governance will be handled by a community of invested stakeholders, via the OPN token.
Key people
Key resources
Follow
Thank you!
If you're one of the many brilliant people out there exploring the intersection of climate and web3, we're grateful to work alongside you in this journey!
Thank you to Dr Holwat for putting this overview together to support ReFi Podcast in speaking with Fred and Michael back in January! Feel free to take a look at a sneak peek of the episode below.