ReFi Roundup #11: Celo Connect, Carbon market opportunities, Learnings from 75 ReFi interviews
Hello ReFi peeps! 👋

Anna here with this week's edition of the ReFi Roundup newsletter 🦚. It's an exciting time to be a part of the #ReFi movement - if you're interested in getting involved or have a story you want included in next week's roundup, reach out to us @ReFiDAOist!
---
ReFi squad to gather at Celo Connect
Celo Connect kicks off in Barcelona next week, uniting key members of the ReFi community around hot topics including sustainable asset classes, universal basic income and community currencies.
Speakers from Toucan Protocol, Astral Protocol, Loam and the Climate Collective will showcase their experience of building successful ReFi projects, alongside DeFi projects building on Celo's low carbon blockchain.
While tickets for the main conference 4-5th April are waiting list only, several events are taking place around Barcelona. If you'll be in town then check out the Barcelona Blockchain Week calendar to keep track.
One such side event is the DAOist's ReFi meetup, taking place on the 6th April. The event hopes to catalyse discussion on the essence of ReFi and regenerative finance as a foundation for prosperity. Join us if you can! ✨
---
Three opportunity areas for ReFi and voluntary carbon markets
The International Emissions Trading Association (IETA) recently released the findings and initial recommendations of their Integrity in Digital Climate Markets Task Group, which convened earlier this year.
After listening to voices from across the sector on the use of digital tools in carbon markets, the Task Group concluded that there were three main opportunity areas for intervention by blockchain technologies:
Credit tokenization: Credits that have been digitized onto the blockchain can reduce market friction, increase access for both buyers and sellers, reduce transaction fees and scale flows of capital to the carbon market. There are risks that need to be managed however, in relation to speculative tokenization schemes and uncertain regulatory environments.

Digital MRV: The deployment of digital technologies in monitoring, reporting and verification (MRV) can increase market efficiency, accuracy and transparency. These advances need uniform standards to ensure that they enhance robustness and do not undermine integrity in place of efficiency.

Data repositories: Blockchain technology can enable data repositories such as the World Bank's proposed Climate Warehouse, which aspires to link all carbon credit issuing authorities and registries under one platform. This creates much needed transparency on the status and location of carbon credits and helps avoid the double counting of credits.
For a brief, tweetable overview checkout John Ellison's TL;DR summary 👇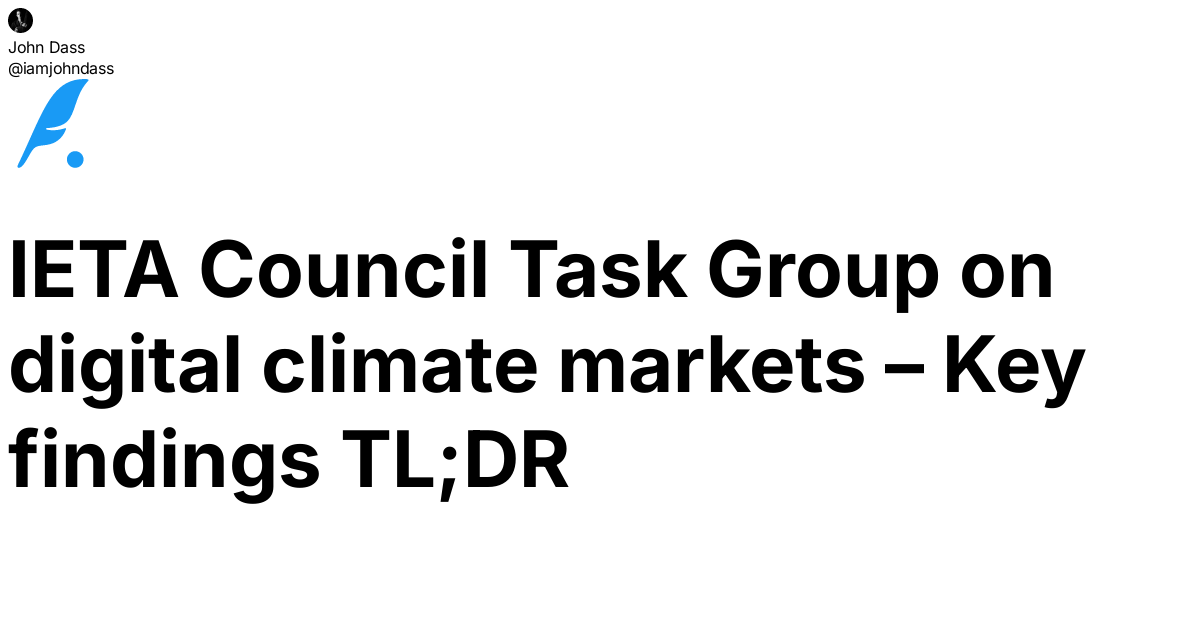 ---
🌱 ReFi Bites 🌱

ReFi Interviews: 5 Key Learnings from 75 Conversations
Check out part 1 of Daryl Edward's epic research into the emerging ReFi narrative.
Solid World DAO announces new partnership
Solid World has joined forced with DeTrash, a DAO focused on disrupting the waste management industry.
Understanding carbon market challenges
Check out Toucan's thread breaking down some of the key issues with voluntary carbon markets and how blockchain can address these.
Eden DAO highlight Piva's purchase of durable carbon removals
Piva Capial share their strategy for measuring and offsetting their carbon footprint using innovative removal technologies in this great Medium post.
---
Say hello! 👋
Thank you for reading 🙏 If you're interested to learn more about ReFi, get involved in the movement, or have any feedback on the newsletter, feel free to reach out to us at the community emerging at @ReFiDAOist for more information!