ReFi Roundup #19: Challenges of ReFi, Prime Rating with $25k in prizes & Verra saga continued...
This week we're going to touch on challenges we face in ReFi and how we might overcome them. Curve Labs most recent article takes an honest look at the movement as they try to make sense of a rapidly growing sector and the pitfalls that we face. We also link you to Prime DAO's ReFi Rate-athon with $25k of prizes to evaluate ReFi projects and help filter the wheat from the chaff... And finally we have a response from Verra on tokenising credits - but is it good or bad?
---
The Promises and Pitfalls of Regenerative Finance
The blockchain space comes under a great deal of scrutiny. The critics are quick to point out the major blunders in the space. Luckily the bright minds at Curve Labs have spent hundreds hours thinking about this. In this well thought through article they warn against "throwing the baby out with the bathwater" and point our attention to the tremendous possibilities presenting themselves in the web3 world to solve some of our most wicked problems.
They take us on a journey discussing the arguments and counter-arguments to the critiques of ReFi and become a valuable tool in any ReFi supporters arsenal when faced with doubters. For example, when discussing the gigantic energy expenditure of Proof of Work chains, they bring in the data to demonstrate what Ethereum's shift to Proof of Stake will result in a 99.9% reduction in energy usage.

We highly recommend all ReFi supporters and critics take the time to read this and follow all their amazing work here.
Table showing some of the main arguments and counterarguments to Regenerative Finance, supported by both academic research and industry insights.
---
Rating the ReFi Space
ReFi DAO recently announced a partnership with Impacta Finance and Prime DAO to build trust in the ReFi space by creating a distributed self-regulating accreditation system for ReFi projects. With rapid experimentation in the ReFi landscape, it's hard to figure out which projects are legitimate. By creating a framework for evaluation and rewarding researchers for their analysis—we hope to curate a list of verified ReFi projects available on both PrimeRating and ReFi DAO.
To find out more about the $25k in prizes, we've done a deep dive into this which you can read about here.
---
Following the Verra thing... 🤔
Last week we saw an intervention from the traditional carbon market to #web3 that has had the #RegenerativeFinance movement wondering what this means in the immediacy and for the future.
Some in the crytpo space think this is excellent news for the ReFi movement, but are people ignoring a deeper paradigm shift about the interactions between the legacy and crypto carbon markets?

Both Klima and Toucan have been in dialogue with Verra discussing what paths could be taken and weighed in with their thoughts and concerns following the announcement. With Klima welcoming the opportunity for open discourse but lambasting the stifling of innovation. Toucan's response was far more positive: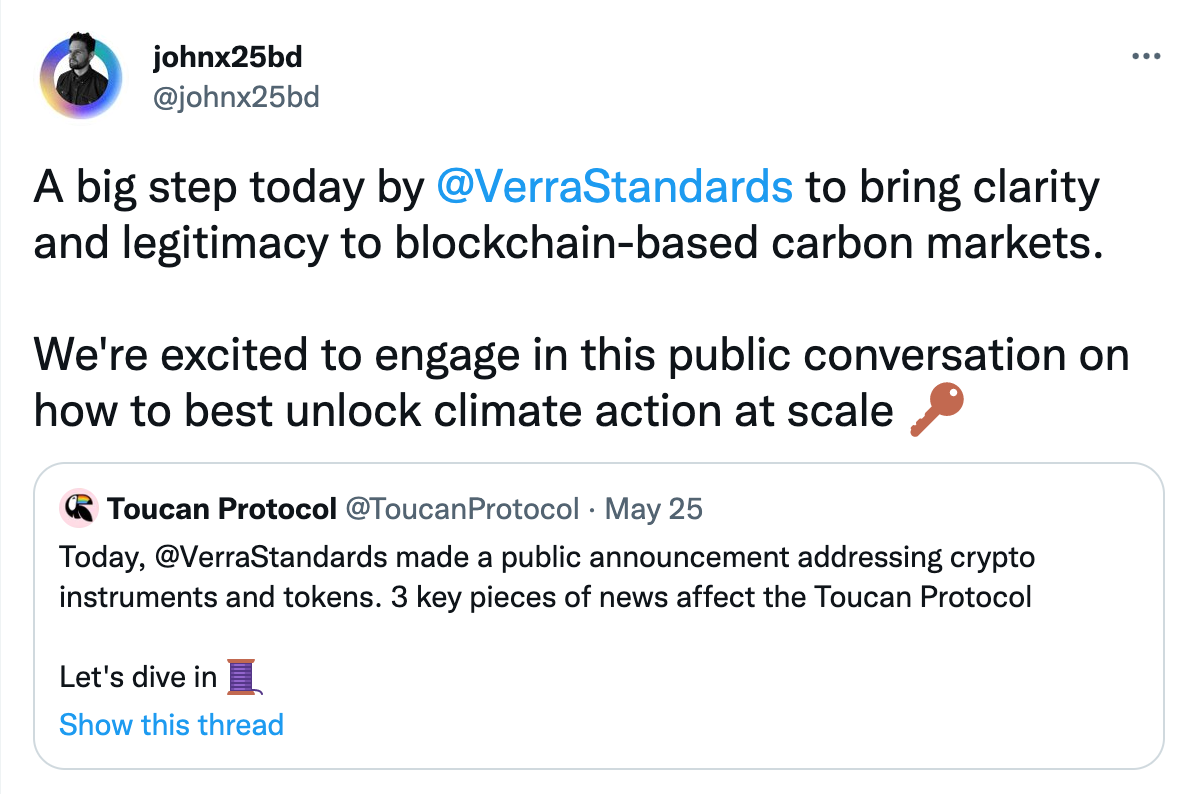 Advocating for a clear procedure for bi-directional tokenisation which it seems Verra are now open to explore. Robdog and Johnx25bd from Toucan both suggested an approach in their response that would enable all voluntary carbon credits to gain the benefits of tokenisation on a public blockchain, including immediate global settlement, double spend protection, transparent traceability, enhanced market access and connections to decentralised finance (DeFi) applications. Fingers and toes crossed that we can all progress together for the benefit of the planet.
ReFi Tweets
Snippets of the best of ReFi Twitter

ReFi DAO is growing in every direction.  Find your place in the movement with this beautiful link tree!
We've finally made it easier to navigate the ReFi DAO universe! Feel free to share this to friends who are entering the space.
---
---
We Don't Have Time has been in full flow interviewing experts and leaders around the world for 5 days at the Stockholm +50 Hub - engaging large corporations to step up and declare their targets for reducing emissions and contributing to offsets. Full program and live stream broadcasts and recordings here.
---
Congratulations Grassroots Economics! 🎉
Grassroots Economics has been awarded the Commons Prize by The Commons Stack! They so deserve this prize!
Will Ruddick and his team envision a world where communities control their own financial instruments which provides a key ingredient for economic liberty and empowerment. They have been active since 2010 and have a long list of accomplishments. Latest on their blog here.
Congratulations Will and eveyrone from Grassroots Economics! We are so grateful to have journeyed alongside you in the competition and wholeheartedly feel you're the right choice for the Commons Stack community! 👏

---
SolidWorldDAO announced partnerships with Toucan
Solid World provides blockchain infrastructure for pre-purchased carbon credits and Toucan is the largest on-chain certified carbon credit meta-registry. The collaboration focuses on creating standard data formats for on-chain carbon markets. Read more here.
---
Blue carbon: The potential of coastal and oceanic climate action
A new report by McKinsey & Company  analyses the potential of blue carbon solutions. The report ranks three categories of blue carbon solutions: established solutions, emerging solutions and nascent solutions. The report finds that established blue-carbon solutions result in abatement of between 0.4 and 1.2 gigatonnes of carbon dioxide per year or between 1 and 3 per cent of current emissions. Emerging solutions could increase that figure to 3 gigatonnes, about 7 per cent. Nascent solutions require more research and analysis before funding from carbon markets would be available.
---
Did you know…
That there are 250m searchable NFTs on OpenSea?! Neither did we.
---
ReFi Quote of the day
ReFi Jobs
The best jobs at leading ReFi ventures...

ReFi Jobs
We've curated over 73 jobs in the ReFi space from top ventures including Popcord DAO, Flowcarbon, Toucan, Regen, Celo, Katalyst.earth and more... Here's a highlight of some of the new postings added this week:




Adding jobs is currently free so take advantage of this opportunity to source top candidates in the ReFi community!
ReFi Talent
Matching top talent to the best ventures in ReFi...
ReFi Talent
We've started inviting passionate climate job seekers to join our ReFi talent collective. We've got incredible candidates so far including a veteran Head of Product, Sr UX Designer and Director of Operations. There are loads of talented professionals migrating into climate right now and we are only picking the best of them to add to our collective!
New drops come each week, so if you're a job seeker apply to join our collective and if you're hiring you can join the collective for free! We only ask for 10% of starting salary upon successful match, a fraction of what most recruiters charge.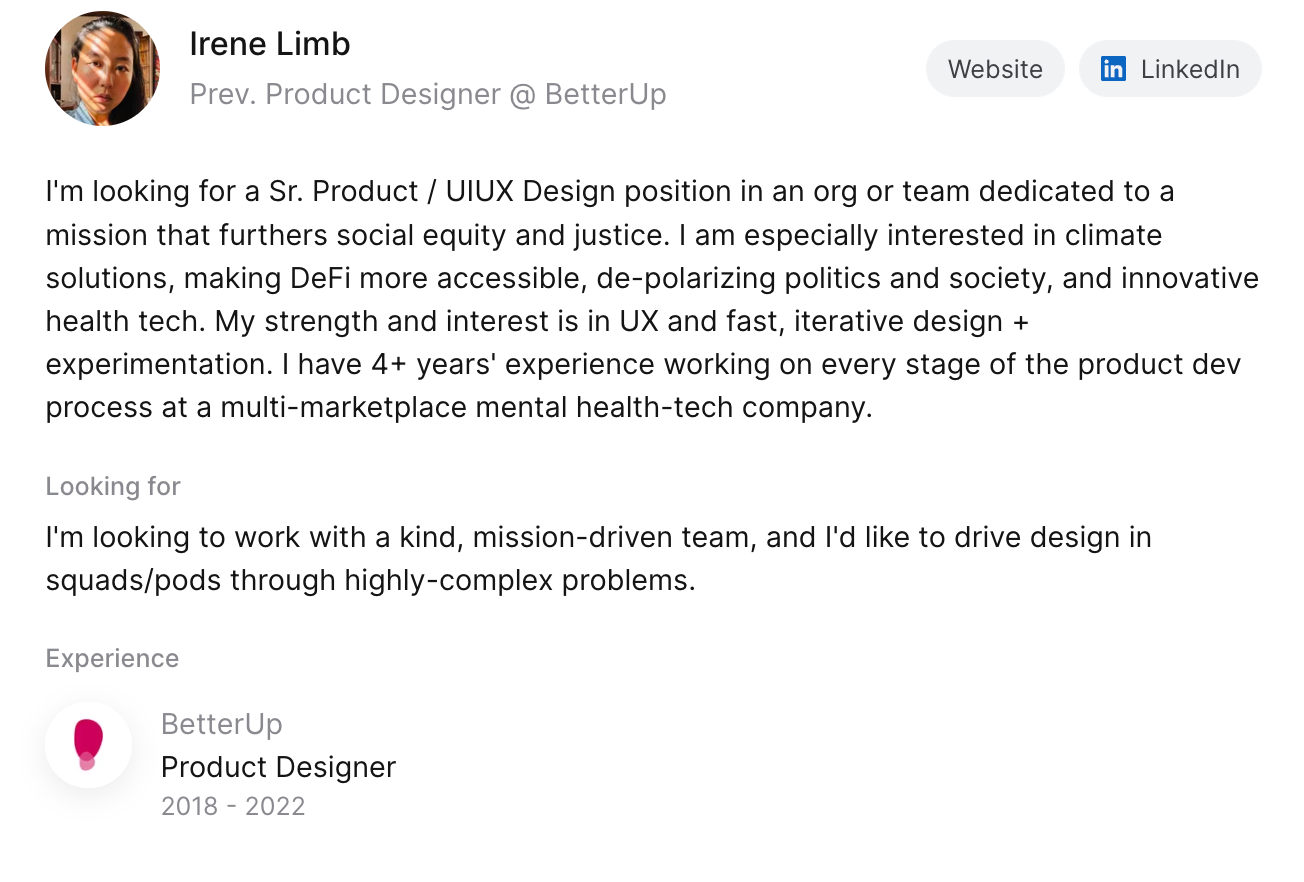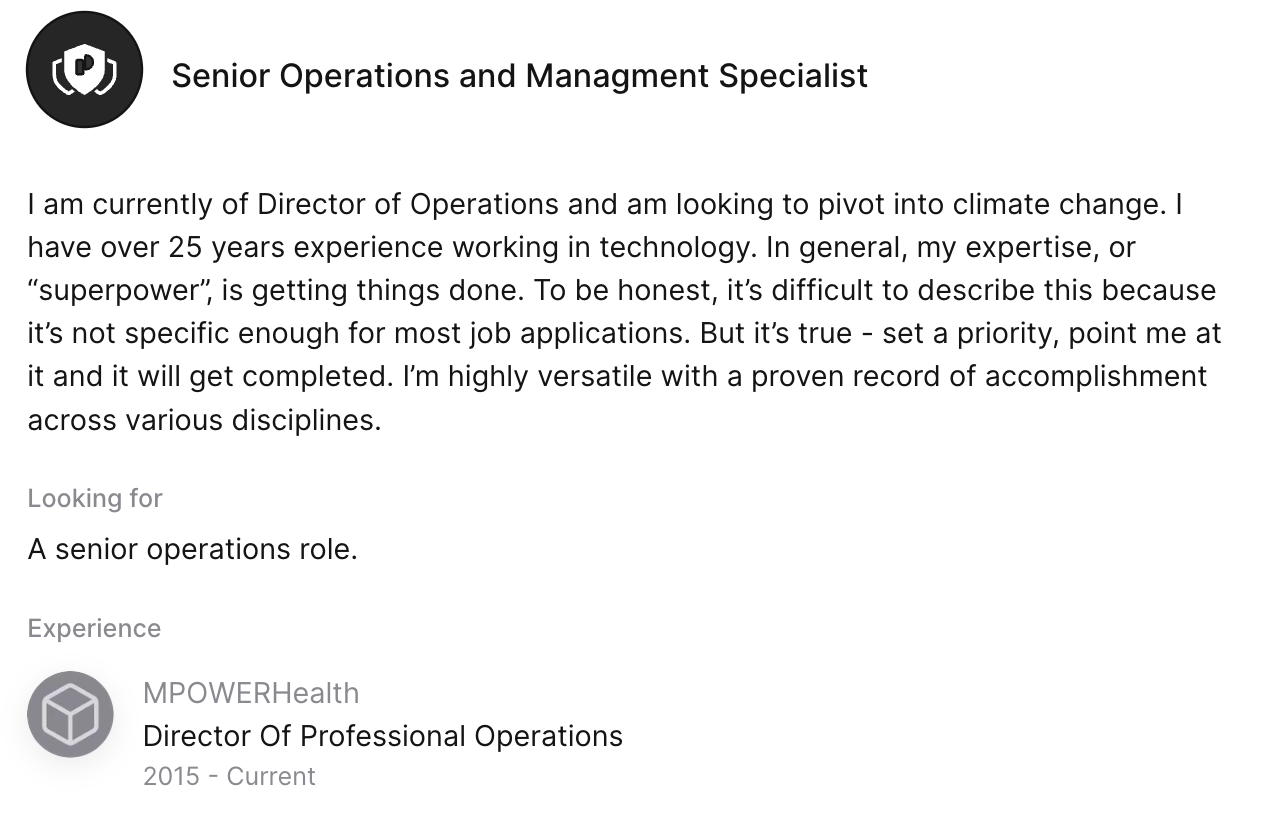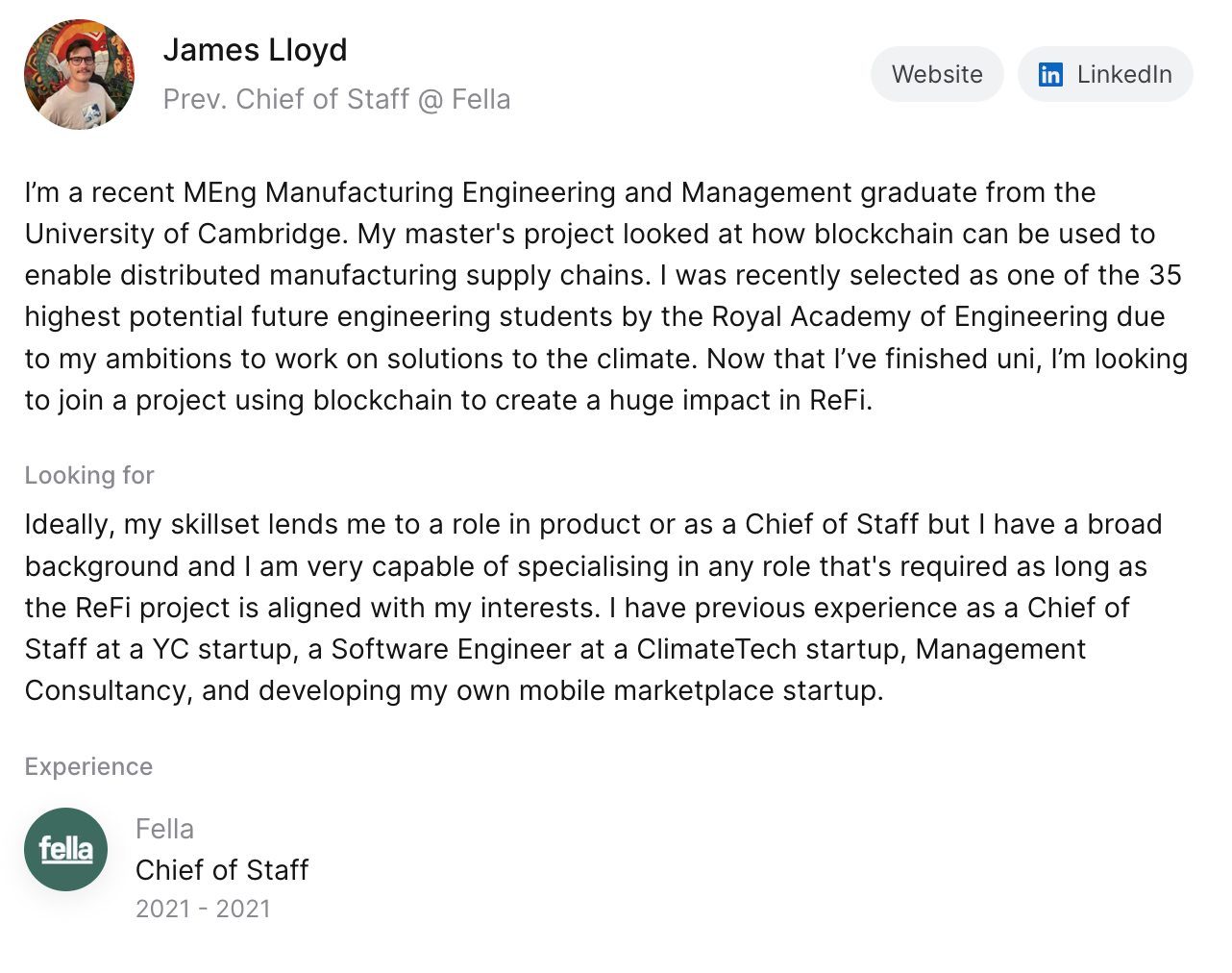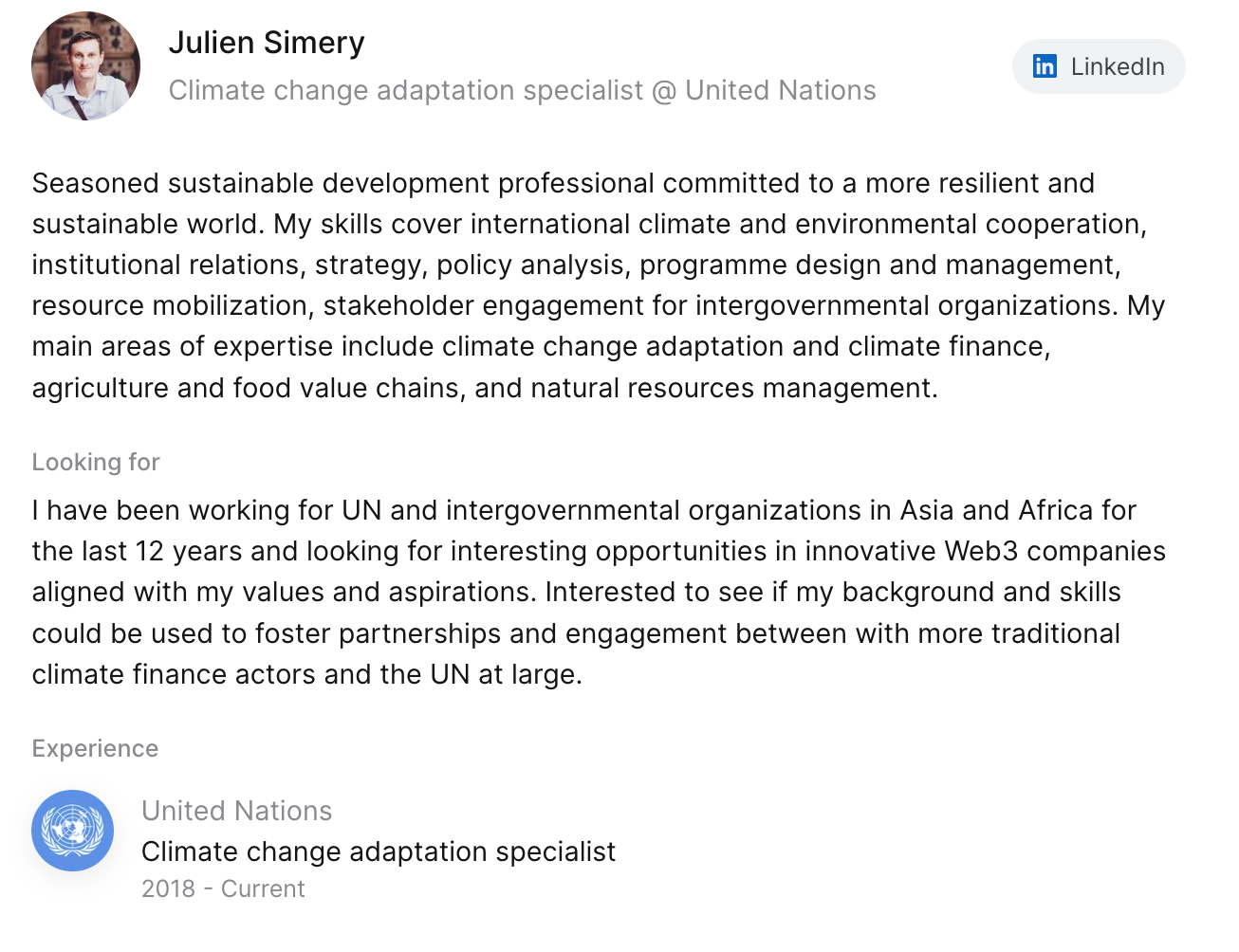 ---
Submit your story!
Finally, if you have a newsworthy story for ReFi Roundup, please submit it here so we can let the world know!