ReFi Roundup #38: KlimaDAO + Toucan anniversary & Regen Marketplace launch 🚀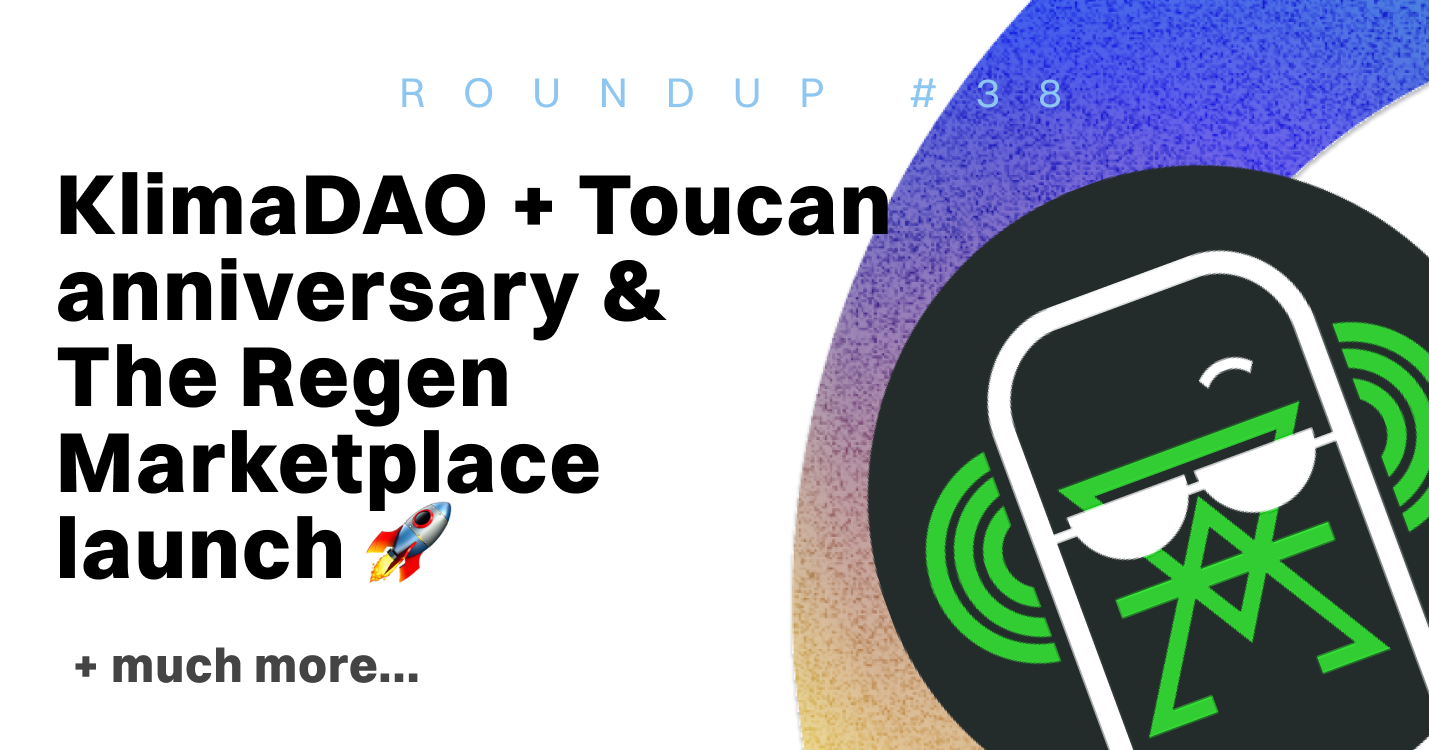 Hi there folks! I'm Phaedrus, regular ReFi DAO Deep Diver, KlimaDAO contributor and host of the Planet of the Klimates podcast, and I'm back for another ReFi Roundup. I've been exploring this fascinating intersection of blockchain and climate for just over a year now, and always come away inspired when I find time to watch, listen and learn from so many incredible people and projects working across this flourishing space. Let's take a look at what's on the radar this week...
---
Happy Birthday, KlimaDAO & Toucan!
What a year it's been. While there have been plenty of stories that have unfolded across ReFi over the past year, it's pretty hard to imagine these two behemoths not looming large in any retrospective of the past 365 days. With a simultaneous launch on October 18th, 2021, Toucan and KlimaDAO partnered to disrupt the voluntary carbon market by accelerating the tokenization of carbon credits, and fuelling on-chain demand for trading and retiring these credits by leveraging blockchain's inherently transparent and permissionless environment.
Just a few of the highlights powered by this partnership include:
Ethereum layer 2 network Polygon offsetting their entire historic GHG emissions;
Nearly 25 million tonnes of carbon brought on-chain through Toucan's bridge and tokenized as either BCT or NCT;
Decentralized exchange Sushiswap enabling 1-click emission calculation and offsetting for all transactions on the Polygon chain with their new Green Fee Switch; and
In-depth, real-time analysis and exploration of the tokenized carbon market via KlimaDAO's Carbon Dashboard
Nobody Said It Would Be Easy
While the on-chain, fractionalized carbon tokens and blockchain-powered innovation introduced by Toucan and KlimaDAO brought rapid, large-scale disruption to the voluntary carbon market, there have certainly been hiccups along the way, and question marks remain for the future as well.
Beginning in May 2022, carbon registry Verra put a halt to bridging their credits on-chain, and eventually launched a public consultation process that was extended to run until November, 2022. Anyone interested in the future of the on-chain carbon market can learn more and reach out to Verra from their consultation page.
Blockchain writ large, and ReFi in particular face continued regulatory uncertainty as well. While most recognize that some form of regulatory framework is needed to bring mainstream adoption of the technology, using cryptocurrencies to achieve climate-positive impacts still strikes most as something of a paradox. Thankfully recent signals like The U.S. Office of Science and Technology Policy's report point towards regulators beginning to recognize not only the need to reduce GHG emissions tied to blockchain activities, but also the potential for the technology to support and scale climate solutions like carbon markets:
[Distributed Ledger Technology] may have a role to play in enhancing market infrastructure for a range of environmental markets like carbon credit markets. -U.S. OSTP Report, September 8, 2022.
---
ReFi Podcast S2E12
For Season 2, Episode 12 of the ReFi Podcast, your intrepid hosts John and Simar were joined by co-founder of Bioneers, and author of Culture, Nature & The Sacred, Nina Simons. In the episode, Nina details her discoveries that put her on her journey to strive for a better, healthier world for nature and ourselves. The discussion on 'Nature, Culture and the Sacred' explores and weaves through the heart of what regeneration means, bringing many lessons to the forefront for anyone on their own ReFi journey.
ReFi 🐦
The latest across ReFi Twitter and beyond...
Regen Network Launches Regen Marketplace 🎉
Regen Network have been building their blockchain-native carbon credit registry, and have now launched their very own marketplace interface, which allows users to explore, select and retire carbon credits from various projects.
At launch, there are just over 20,000 eco-credits available for trading across a range of standards including Verra's VCS, as well as City Forest Credits which focuses on avoided emissions in urban areas.
---
ReFi Podcast Celebrates 20k Downloads 🎉
Big congrats to John, Simar and the entire ReFi Podcast crew on hitting this impressive milestone, across two seasons of dynamic and engaging conversations with leaders in the ReFi space!
To celebrate, they're running a 200 Nature Carbon Tonne (NCT) offset matching campaign and have donated $2500 worth of cUSD to ImpactDAO Media, in support of their forthcoming book. Click the button below to retire some NCT with Klima and make sure to tweet us!
---
Marathon Tree-Planting Twitter Space 🌳
This past weekend, the ReFi community held an epic 30+ hour Twitter Space, all with the aim of getting 81 million trees planted. Hosted by Jimi Cohen, and working with For Trees Club, the space aimed to grab Mr. Beast's attention and build on his commitment to plant 20 million trees.
The Space featured an impressive and diverse cross-section of the ReFi community over more than a day of live broadcasting on the platform. You can revisit the session via the twitter link below.
---
U.S. Regulatory Landscape in Motion 🏛
An draft of the proposed Digital Commodities Consumer Protection Act (DCCPA) in the U.S. has caused some shockwaves throughout DeFi, with potential direct implications for ReFi projects as well. Responses to the draft run the gamut from supportive through cautiously optimistic to overtly opposed.
---
Verra Consultation Webinar Reactions 🧐
Last week saw Verra hold their promised webinar on the tokenization of the voluntary carbon market. A recording of the hour-long webinar is available to play back here or embedded below, and plenty of hot takes found their way online shortly afterward, including from our friends Slaptain and Rez in their weekly ReFi video.
Overall, while Verra has committed that no retroactive actions will be taken around existing tokenized credits, the path forward remains unclear.  Visit their consultation page here to make your voice heard, until November 1st!
ReFi Events 🪩
Get your ReFi on with friends in-person and online...
View more
Looking Forward 📍
The Blockchain For Europe Summit 2022 is coming up October 26th, with a focus on sustainability and an impressive set of speakers. Visit the link in the tweet below to learn more.
The Rio Crypto Hub has sent out an invitation to their upcoming 7th event on sustainability, innovation and technology, with a focus on DAO's and ReFi. The event takes place October 27th, and you can register via the link in the tweet below.
Event Retrospectives 👀
ReFi Spring has shared photos on a recent ReFi event held in Brazil, hosted by Flávia Macêdo.
---
Add your ReFi event! 👇🏽
Got a ReFi, crypto, or climate event coming up and what to have it featured in the newsletter? Add yours to ReFi Spring!
New Projects! 🌱
A showcase of new, exciting, and upcoming ReFi projects..
Alongisde a coalition of ReFi cartographers, Impacta Finance and ReFi DAO have partnered to maintain the largest public database of ReFi projects - all viewable through refidao.com. In this new section of the newsletter we want to showcase some of the new and exciting projects coming into our network...
Here are some of the projects on our radar this week:
⚡️ Jasmine Energy: Tech to unlock the renewable energy credit (REC) market, Jasmine Energy is accelerating the net-zero transition with climate asset markets that are accessible and transparent for everyone.
🌱 WeSeed: A tokenized co-op for people living in food apartheids in Raleigh, NC.
🕍 Quantum Temple: A Web 3 platform to preserve cultural heritage. Quantum Temple aims to protect and share knowledge, traditions and artforms of cultures around the world in perpetuity through blockchain technology.
💠 Dottyland: Building a network of on-chain Impact Selves, rewarding its members for making climate-positive actions and turning these into functional and serviceable identities across web3 applications.
---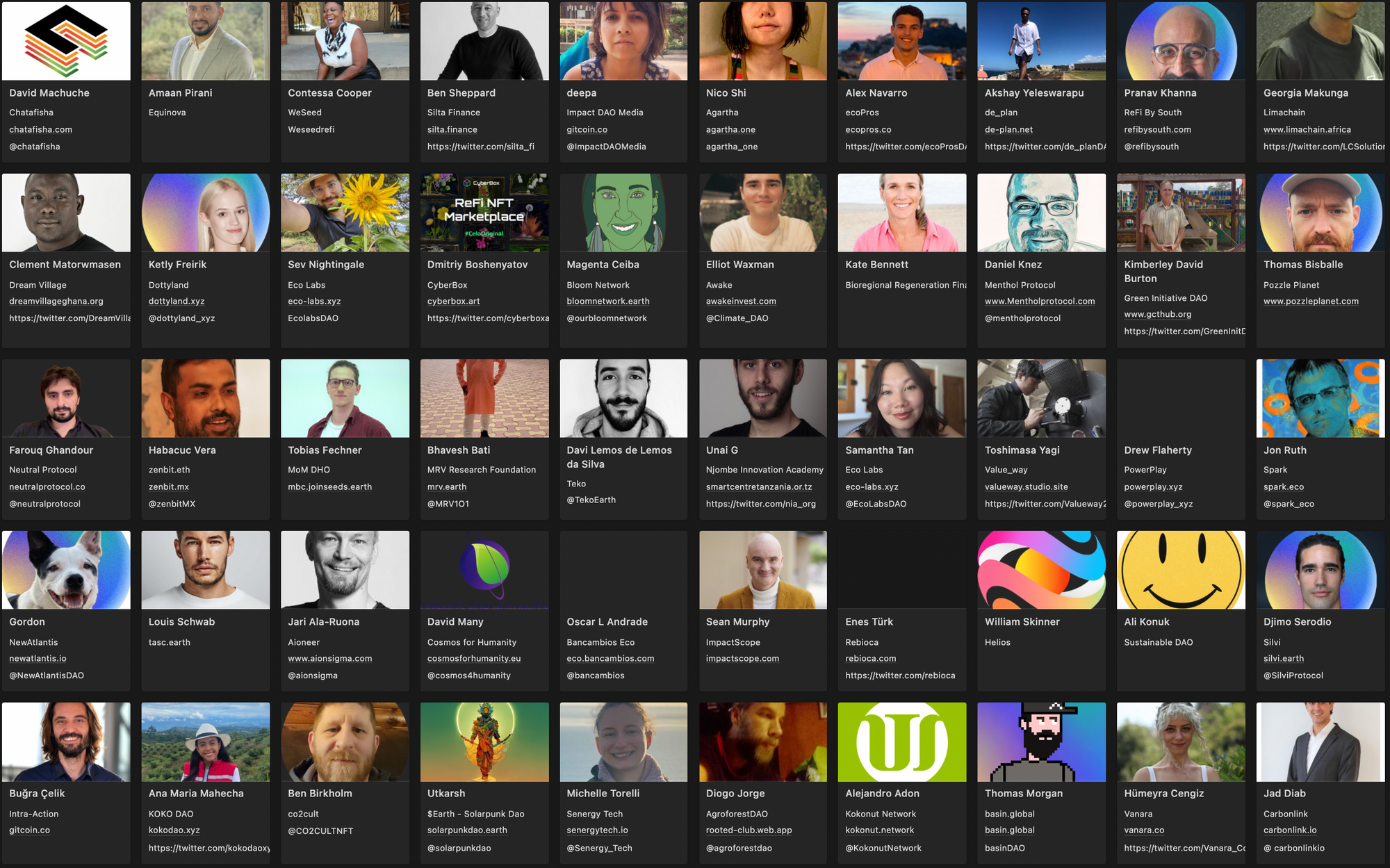 Founders Circle Season 2
We're also supporting projects coming to life within our Founders Circles - a ReFi native support network helping founders to flourish. Season 2 has just launched and we have already seen over 60 applicants - check them out here and submit your application today! 👈. It's amazing to see ambitious first-time founders entering the space with killer new ideas and drive - were hugely excited to support their journeys.
---
Enjoyed this newsletter?
We would be super grateful if you could help spread the word of ReFi by clicking the button below:
Thank you!
Thanks for being a part of the movement to create a radically better future. We hope you enjoyed this edition of the weekly ReFi Roundup and we'll see you next time :)
Where always trying to evolve and improve our newsletter, any feedback would be greatly appreciated! 👇