ReFi Roundup #39: ReFi is Changing Seasons, Flowcarbon, and the Climate Action Trilemma 🔼🍃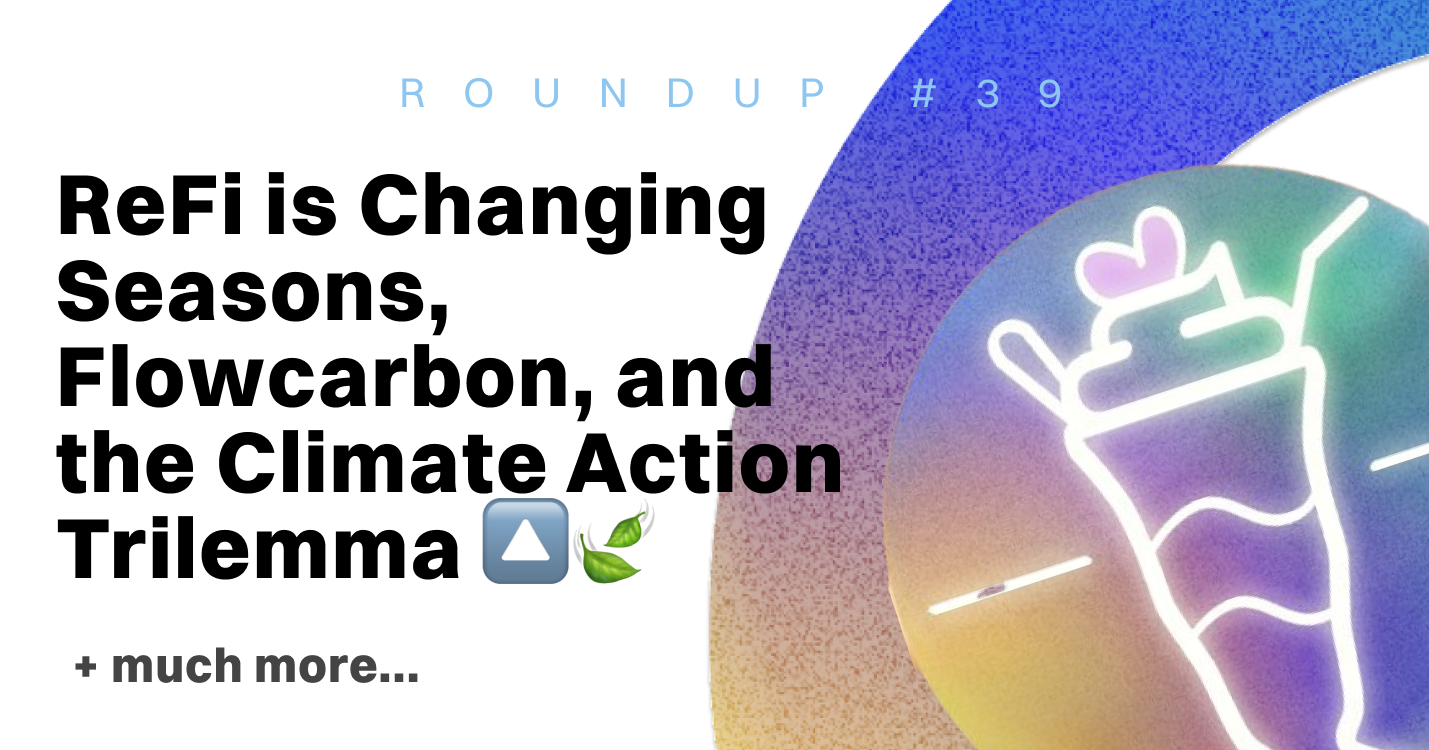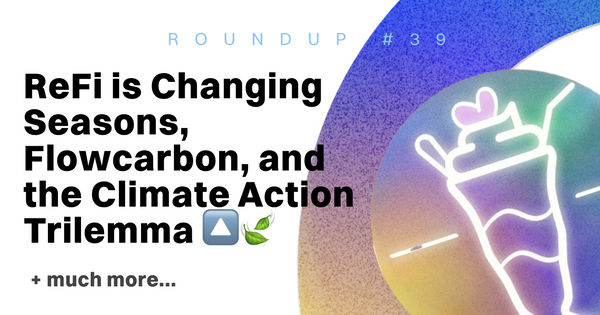 Hey everyone - ThoughtFloats here for another edition of ReFi Roundup!  Many of you may know me as the creator of the ReFi Weekly Rewind tweet threads and news curator for the Venturing in ReFi bi-weekly newsletter. We've got tons of recent ReFi news and events to dive into, so let's dig in!
---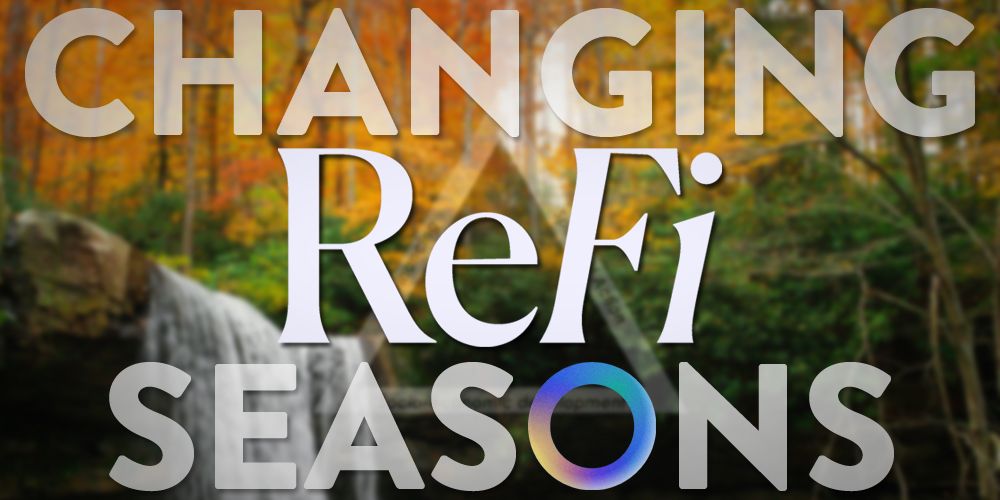 Changing ReFi Seasons & The Climate Action Trilemma
The seasons are changing.  Right around this time of the year, as summer turns to fall (or winter to spring for our ReFi friends in the southern hemisphere), invariably there is a moment where you can just feel a change in the air.  Over the years our warming planet has made this a little tougher to sense, but if you take time to really tune into the rhythm of nature, the signs are always unmistakable.

For those of us tuned in to the ReFi landscape, this same "change in the air" can be felt all around us. Here are just a few unmistakable signs of positive change:
Kolektivo Festival and the Curaçao Kolektivo Economy
Last weekend, Kolektivo launched the first local Kolektivo Economy at the Kolektivo Festival in Curaçao. Far beyond the simple narrative of "bringing carbon-credits on chain," the economic framework that Kolektivo is developing is holistic: funding impact projects, empowering local communities, and managing the health of ecological systems.
Forbes named ReFi in "The Top Five Web3 Trends In 2023"
You read that right: Forbes is bullish on ReFi. From the article: "One avenue that is currently being explored is known as "regenerative finance" (ReFi), which seeks to promote financial incentives for projects that restore or preserve "resources essential for planetary wellbeing.""
Diversity + Interoperability
ReFi events have been taking place everywhere. With so many diverse projects and approaches, the key theme at many of these events has been interoperability. This was highlighted in Climate Collective's recent recap of BICOWG's Green House Retreat and underscored by Toucan Protocol's new Carbon Rosetta Stone project to foster composability across tokenized carbon projects. (PLUS the start of a new season of Founders Circles with over 150 founders!)
ReFi is at an inflection point. We are broadening our horizons beyond carbon, the wider world is beginning to take notice, and we are focusing intently on working together towards a common goal.

But there's still a ton of work to do. As Akshay Aditya of de_planDAO points out in a recent blog post detailing the Climate Action Trilemma: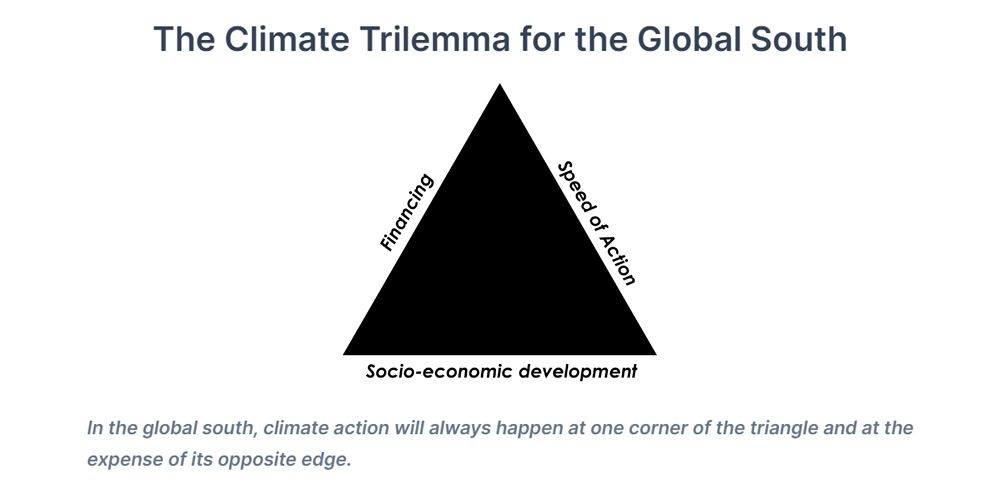 In order to create a positive impact in the global regions most affected by climate change, we must have the ability to 1) develop and execute a plan 2) secure adequate funding, and 3) deploy quickly with lasting results. He notes, "ReFi is currently solving for different parts of the climate problem and has yet to arrive at a solution which addresses the trilemma."

However this might be the entire point. The diversity of ReFi allows each project to work on solving a tiny piece of the puzzle. The launch of the Curaçao Kolektivo Economy demonstrates how projects can develop and execute a plan. Forbes article suggests even more sources of capital will be waking up to the space. And as the many diverse ReFi projects find ways to interoperate and collaborate, newer projects will be able to deploy and scale at greater speed. As we continue working together, it may be possible for the collective ReFi ecosystem to address each edge of the Climate Action Trilemma on multiple interoperating dimensions.

There is a seasonal change in the air. ReFi is building toward a new paradigm and the signs are unmistakable.
---
Scaling Carbon Markets with Flowcarbon
On this week's episode of the ReFi Podcast, hosts John and Simar dig into Flowcarbon with CEO Dana Gibber and Chief Blockchain Officer Phil Fogel. They discuss the design and market benefits of Flowcarbon's upcoming two-way bridge, the Flowcarbon Nature Offsets pool on Centrifuge and how it drives forward funding for conservation, plus their thoughts on the future of the on-chain carbon credit market.
For more info on Flowcarbon check out "ReFi Deep Dive: Flowcarbon"  on the ReFi DAO Blog.
---
ReFi DAO Begins Season Two of Founder's Circles! 🪅
Applications are now closed for the new season of Founders Circles.  In Season 2, 156 ReFi founders will be participating, networking, and collaborating weekly in small circles centered around various possible ReFi topics including: decentralized science (DeSci), sovereignty, cultural preservation, renewable energy, regenerative villages, biodiversity, small-scale eco asset methodologies, nature-based solutions (NBS), civic innovation, community building, impact funding, and more.
The final circle topics and Founder's Circles schedules will be announced shortly for participants, but it will be fascinating to see all the connections and innovative ideas that spring from these gatherings!
Given last season's Gitcoin GR15 results, we expect GR16 will be a blast!
ReFi 🐦
The latest across ReFi Twitter and beyond ...
ReFi "Word of the Week":  RECs
It is hard to distinguish if the energy you purchase comes from renewable sources, however purchasing a Renewable Energy Credit (REC) allows you to attribute a specific amount of purchased grid energy to renewable sources. ReFi projects like Reneum and Jasmine Energy are making Renewable Energy Credit purchasing and trading much more accessible.
---
C3 Announces New 'Live' Carbon Credit Pools
Previously, one-way carbon bridges functioned by retiring off-chain carbon credits and creating tokenized representations of these retired credits on-chain.  (This workflow is what originally caused the Verra to effectively halt credit bridging in May of this year).  On Monday, tokenized carbon credit infrastructure provider C3 presented a novel alternative: 'live' carbon credit pools.  
In the case of 'live' credit bridging, off-chain credits would be sent to a C3 account in order to mint on-chain 'live' tokens. When 'live' tokens are burnt on-chain, the corresponding off-chain credits within the account would be retired.  Read more about C3's coming 'live' pools, including ARBO.  
---
A TIME Magazine Shoutout to KlimaDAO
On Tuesday, TIME magazine published an article entitled "Why It's So Hard to Put a Price on Carbon." In it they discuss the potential for Web3 to streamline inefficiencies in the traditional carbon market, with direct quotes from KlimaDAO co-founder, 0xymoron.
---
Recently Released Replays
Here are a few of our favorite ReFi / Web3 / Climate - related talks that have been recently released for your viewing pleasure 👁️❤️#Regeneration
2. Jahed Momand of Cerulean Ventures at the Filecoin Green Sustainable Blockchain Summit. Here Jahed discussed the potential for a liquid perpetuals market to drive forward financing to scale climate tech solutions.
3. Joe Brewer of Bioregional Activators at the Bioregional Regeneration Summit. Here Joe explains the regenerative work he has been involved with in Barichara, Colombia, creating collaborative frameworks of cultural and environmental healing by respecting and integrating indigenous wisdom and deep social trust with cutting edge technology and trustless Web3 systems.
This, combined with all of the talks above, provides even more evidence for the changing ReFi seasons.  Be sure to check out more from the Bioregional Regeneration Summit, taking place from October 24 - November 4, and for even more exciting ReFi events keep scrolling! 👇
ReFi Events 📅
Get your ReFi on with friends in-person and online...
View more
Looking Forward 📍
Some of the exciting events coming up soon... Make sure to grab some tickets and support the ReFi regenerative renaissance wherever you are from!
Blockchain and Social Impact Summit
📅 October 29 (Abuja, Nigeria)
A gathering of the most influential people focused on fostering sustainable social & economic development through blockchain innovation in Nigeria. Hosted by impactMarket. More info here: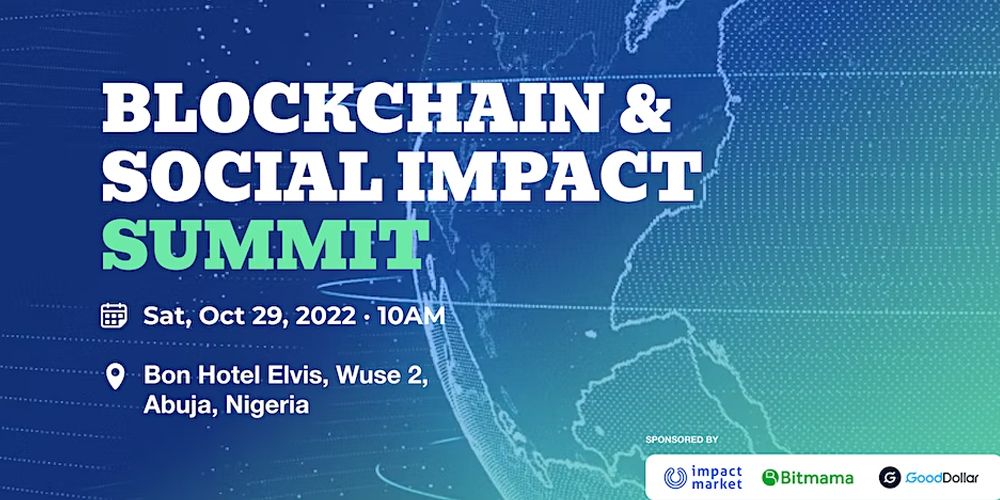 Innovators Buzz
📅 October 29 (Paramaribo, Suriname)
An annual event with the goal of connecting innovative minds in the web3 space toward creating a regenerative and resilient future. Hosted by INFINITRI and Refi Spring. More info here: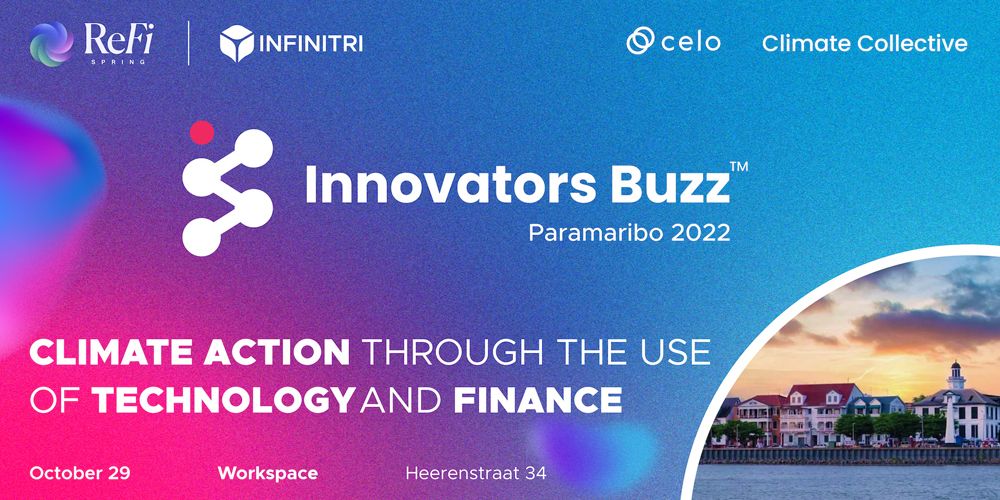 Natives in Tech Conference 2022
📅 November 4-5 (Online)
Two days of keynotes, workshops, and panel discussions around innovating technology that truly serves Indigenous communities, preserves data sovereignty, and respects Native identities. More info here: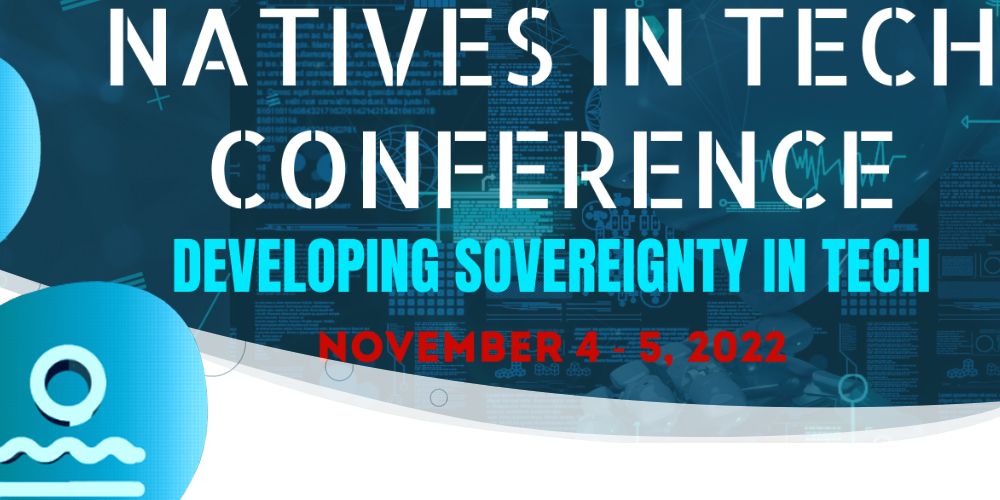 ReFi Fest
📅 November 5 (Flat Rock NC + Online)
A Journey Towards Thriving In New Regenerative Civilizations. Guest speakers include Charles Eisenstein, Bethany Yarrow, & Dr. Leah Gibbons. Hosted by BetterWorlds & Permatours. More info here: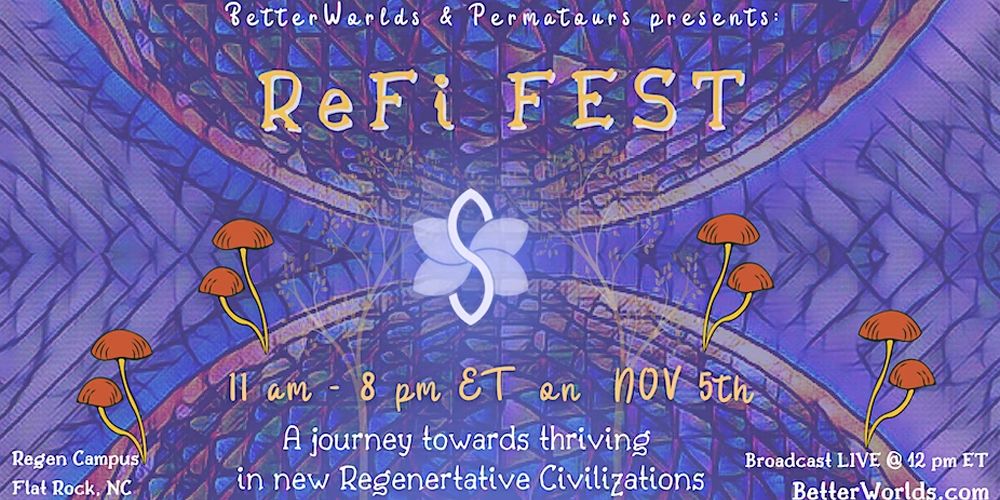 COP27
📅 November 6-18 (Sharm El Sheikh, Egypt)
The 27th Conference of the Parties to the United Nations Framework Convention on Climate Change, the largest yearly international gathering on climate change. Hosted by the United Nations. More info here: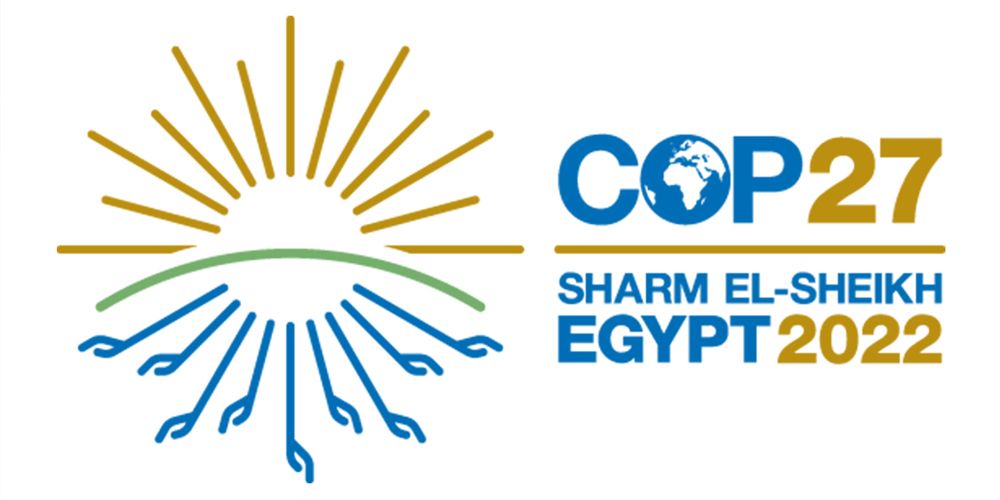 World Climate Summit
📅 November 13-14 (Sharm El Sheikh, Egypt)
A COP27 side event bringing together public and private sector leaders to collaborate toward the innovation, investment, and policies needed to achieve the world's ambitious climate targets. Hosted by World Climate Foundation. More info here: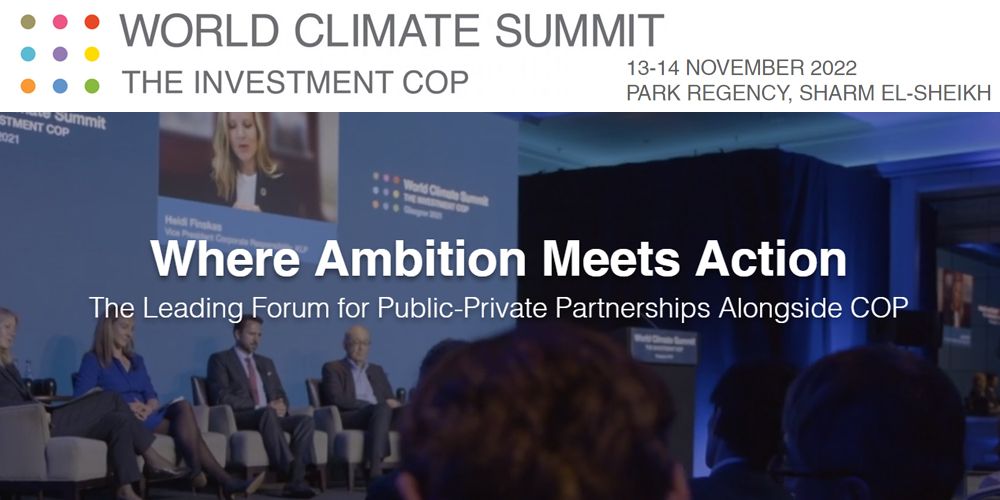 ---
Event Retrospectives 👀
Highlighted discussions from some of the exciting ReFi events going on across the globe and through the interwebs 🕸
BICOWG Green House Retreat
A. Nirvaan Ranganathan of Climate Collective shared his thoughts from BICOWG's Green House Retreat in Cocorna, Colombia. The topics of interoperability and intraoperability were recurring themes.
Kolektivo Festival 2022
Rene Reinsberg documented his takeaways from Kolektivo Festival 2022 in an insightful Tweet thread, including his thoughts on "Why Community Currencies May Be Web3's Killer App."
Accelerating Digital Environmental Assets Summit
Open Forest Protocol posted photos and a list of their talks at the Accelerating Digital Environmental Assets Summit in San Francisco, an event hosted by Google.
---
Add your ReFi event! 👇🏽
Got a ReFi, crypto, or climate event coming up and want to have it featured in the newsletter? Add yours to ReFi Spring!
ReFi Jobs 👩🏽‍🚀
Find your next gig at a leading ReFi venture ...
View more
Check out job opportunities from leading ReFi companies including Nori, Spirals, Toucan Protocol, Flowcarbon, Regen Network and more!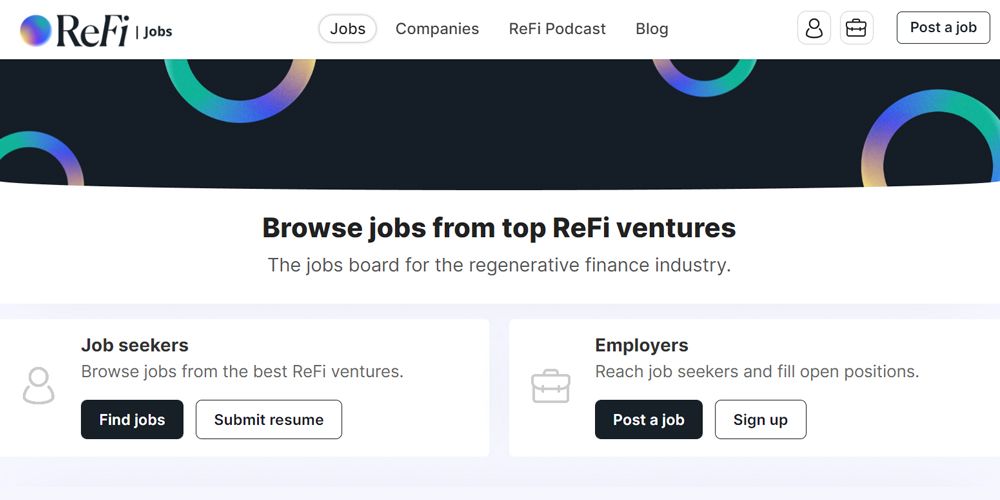 New Projects! 🌱
A showcase of new, exciting, and upcoming ReFi projects..
Alongisde a coalition of ReFi cartographers, Impacta Finance and ReFi DAO have partnered to maintain the largest public database of ReFi projects - all viewable through refidao.com. Here are some of the projects on our radar this week:
🏡 Dream Village: Introducing regenerative agriculture, economies and developmental projects in Ghana.
📈 Neutral Protocol: Building a derivatives hub for the ReFi ecosystem, allowing users to trade carbon futures and options on Neutral's platform. Providing a derivatives platform for carbon will allow for yield and net-neutral strategies to be built on top, allowing carbon holders to earn passive yield on their holdings and offsetting users to optimize and automate their offsetting goals...
💥 Disruptor DAO: Advancing opportunities for Black & Latin Women & communities to build wealth through web3 education & investment.
Its super exciting see so many new founders embarking on the journey of building and contributing to a regenerative civilization...  LFG 🚀
ReFi Newsletters 🗞️
See other amazing newsletters from the ReFi Community.
The ReFi Roundup is one way to stay up-to-date but there are plenty of others, each with unique angles and takes.  Check out recent editions of some of our favorite newsletters below:
Venturing in ReFi #24 by Aera Force - Featuring recent Web3 Climate ecosystem news, plus curated reading on practical pluralism, the future of ReFi (an investors view), and crypto-enabled Universal Basic Income.
This Week in Web3forGood - Authors Abeera & Sam discuss the Web3 events they attended last week in Bogotá, plus an amazing list of ReFi and impact news from Regen Network, Polygon and much more.
Web3Carbon Week #36 - Authored by Rel Lefekc of Kuoka, this edition of Web3Carbon features recent ReFi news, project updates, interesting articles and videos, and newly added projects to the Kuoka directory.
---
Enjoyed this newsletter?
We would be super grateful if you could help spread the word of ReFi by clicking the button below:
Thank you!
Thank you for being a part of this ever evolving movement to create a radically better future.  As the ReFi seasons change, remember that it takes every one of us working on our own pieces of the puzzle to create an interoperable tapestry of positive climate and social action.  

In the meantime, if you have any news you'd like us to feature, comments, or creative ideas to submit, please let us know!  Have a fantastic weekend friends & we'll see you again next week for another ReFi Roundup.  
Where always trying to evolve and improve our newsletter, any feedback would be greatly appreciated! 👇