Resources for ReFi 101 📚 | Roundup #51
New 101 resources to the world of ReFi + the latest news, updates, jobs and events in ReFi and beyond!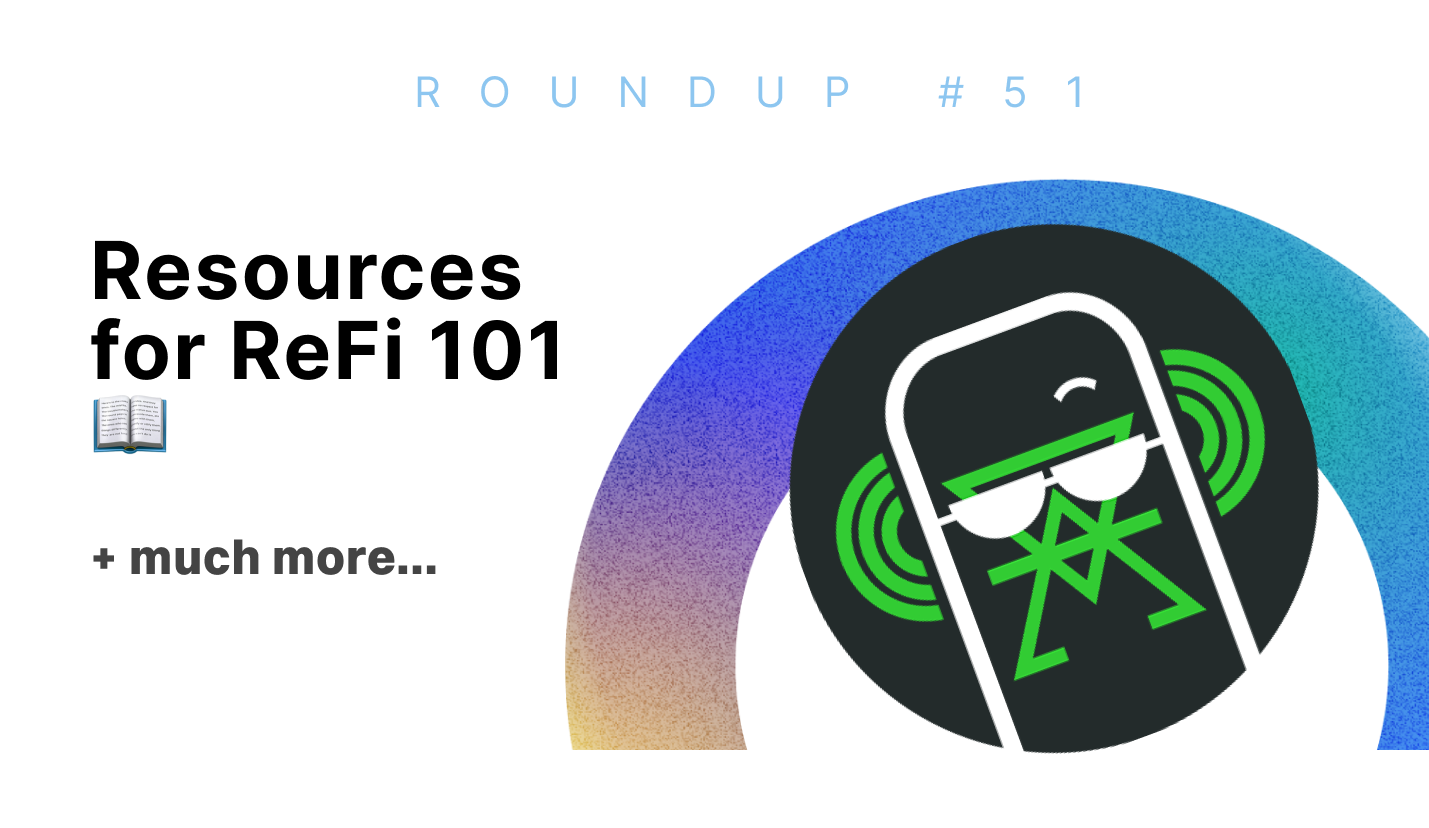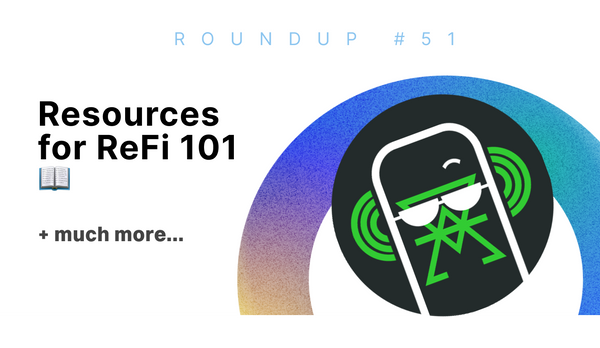 Greetings, fellow regens! I'm Phaedrus, contributor at KlimaDAO and the ReFi Podcast, and host of the Planet of the Klimates podcast. I'm honoured to have been invited to share my perspective on ReFi this week through another ReFi Roundup!
---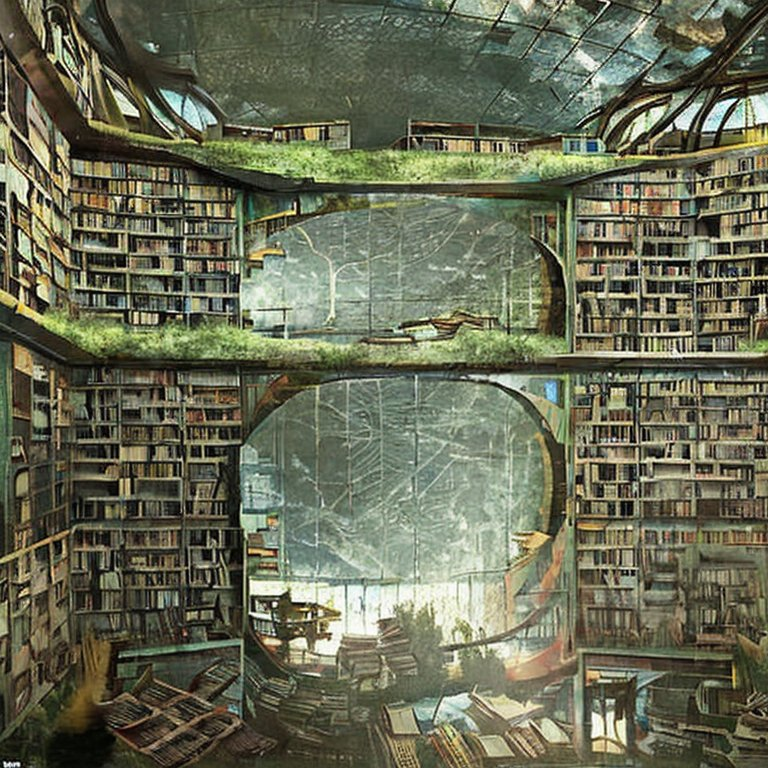 Where to start in ReFi? 🤔
Most of us have heard this question before. Yet whether it's a regen-curious degen, a sustainability professional interested in blockchain, or just an interested friend, it can be challenging for newbies to learn the basics and find their place.
Maybe your just getting started yourself, or maybe you want to share the word with friends and colleagues, here are some new resources that popped up this week👇🏽
Beggining down the rabbit hole 🕳️ 🐇
Boyd Cohen from IoMob & Wheelcoin created a quick-fire guide on some of the essential resources and starting points for anyone looking to get into ReFi: "Going down the ReFi Rabbit Hole".
ReFi Glossary Entry 📗
Kevin Owocki & Evan Miyazono launched a ReFi glossary entry at Coinmarketcap providing a great starting point for definitions and explorations into the major impact areas of ReFi. You can also check out Kevin's Greenpill book for deeper reading and insight.
Blockdata's definition and market map 🧭
Blockdata - an organisations providing tools and insights to accelerate enterprise blockchain adoption provided their answer to the question of What Is Regenerative Finance?. They also created their version of a ReFi market map based on use cases with 22 organisations from in the sector 👇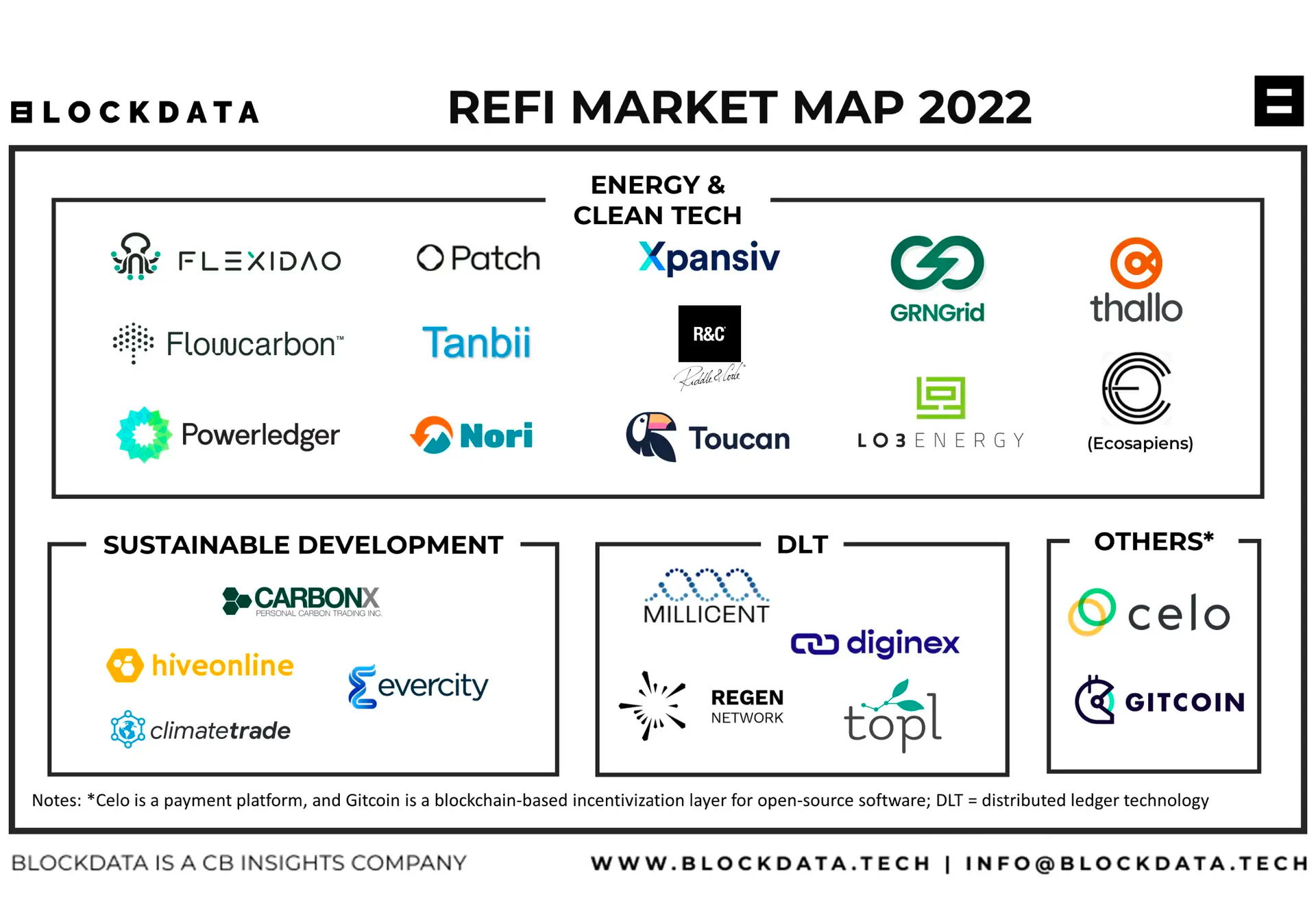 Klima DAO webinar series 📺
KlimaDAO launched their new 'On Set' webinar series this past Tuesday. The first event focused on the fundamentals of digital carbon and was designed to appeal to as broad of an audience as possible. With over 850 sign-ups across the ReFi and blockchain worlds, as well as key academic and voluntary carbon market players, it's fair to say there is a strong appetite for accelerating climate action with the tools that web3 provides.
Registrations included representatives from 67 different countries, and it was interesting to see the majority of attendees had not interacted with the digital carbon market in any way before. ReFi is far more than echo chamber of familiar faces, we're thriving and reaching an ever-growing audience looking to make an impact.
Check out this Twitter thread to replay the webinar, dive into some of the key observations made during the event, as well as register for 'On Set' part 2!
Sharing is caring 🔈
There is always room for more regens in the community. The more people are aligned with the ReFi movement, the more impact we can create as a whole. LFShareeee 🗣️
---
🔥 Projects of the Week
A showcase of top voted projects from the ReFi DAO website!
View More
Here were the top 5 most voted projects of the week at refidao.com: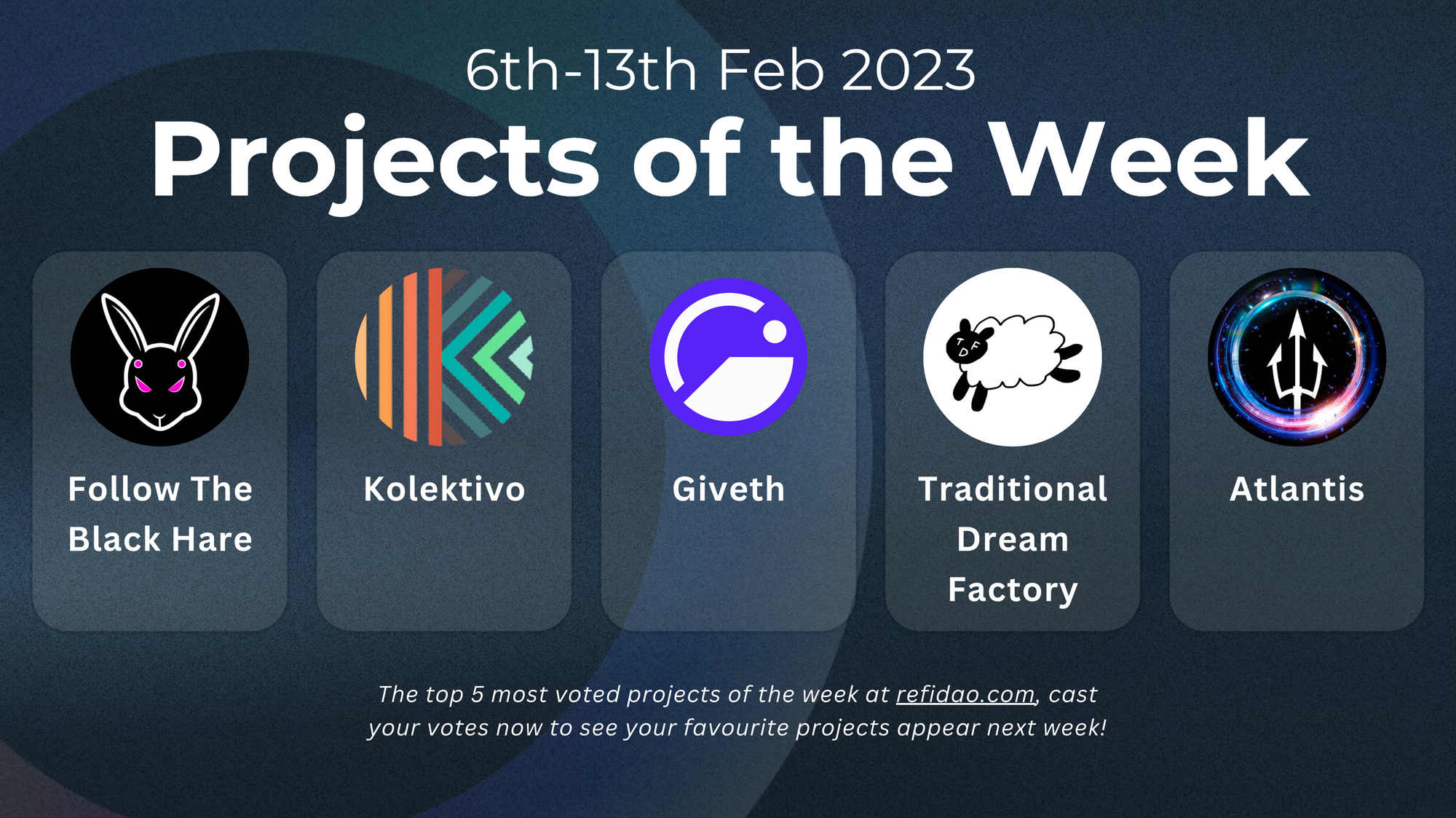 Votes have now been reset so head over to refidao.com, make an account, and show some support to your favourite projects in the ecosystem this week! 💚
---
Add your ReFi Project! 👇🏽
Have a project you want to add to our database? Click the button below to submit an application!
---
ReFi Podcasts 🎙️
Top audio and video content from creators across the web 😊
ReFi Podcast
ReFi Podcast dropped a fresh episode for listeners this week, exploring sustainable infrastructure funding with Ben Sheppard from Silta Finance.
Listen to the full episode directly or watch the conversation over on YouTube.
The Network State Podcast
Balaji just launched the 'Network State' podcast episode #1 featuring none other than Vitalik Buterin himself.
Planetary Regeneration
Red Ransil sat down with Gregory Landua on Regen Network's Planetary Regeneration Podcast, to discuss the voluntary carbon market, carbon accounting methodologies, and building a climate-positive informational infrastructure for #web3 with @filecoingreen:
Other 🔥 Podcasts on our Radar:
---
ReFi NewsBites 🗞️
The latest updates across ReFi Twitter and beyond...
Thallo's Launched Two-Way Bridge 🌉
ReFi player Thallo has just launched a two-way bridge, working with carbon credits from the Puro.earth registry:
ICYMI: ReFi's Tree-Planting World Champ! 🎉
This one has roots that go back just a bit further than one week, but recently ReFi community member and marathon Twitter Spaces host Jimi Cohen (Treegen) apparently broke a tree-planting world record - with 25,650 mangrove propagules planted in just under one day! 👀
HBAR Foundation Sustainable Impact Fund! 🎉
The HBAR Foundation revealed a deep dive thread on the investment thesis behind their Sustainable Impact Fund - which is designed to fight climate change and make ReFi a reality by bringing the balance sheet of the planet to the public ledger:
---
ReFi Events 🪩
Get your ReFi on with friends in-person and online...
View more
Looking Forward 📍
Some of the exciting events coming up soon... Make sure to grab some tickets and support the ReFi regenerative renaissance wherever you are from!
(February 14th, 2023 17.30 UTC): A LinkedIn audio event featuring  Jasper Driessens of Glo stablecoin, who is working to end poverty, and Utkarsh Patel of Earth coin, who is dedicated to funding climate solutions.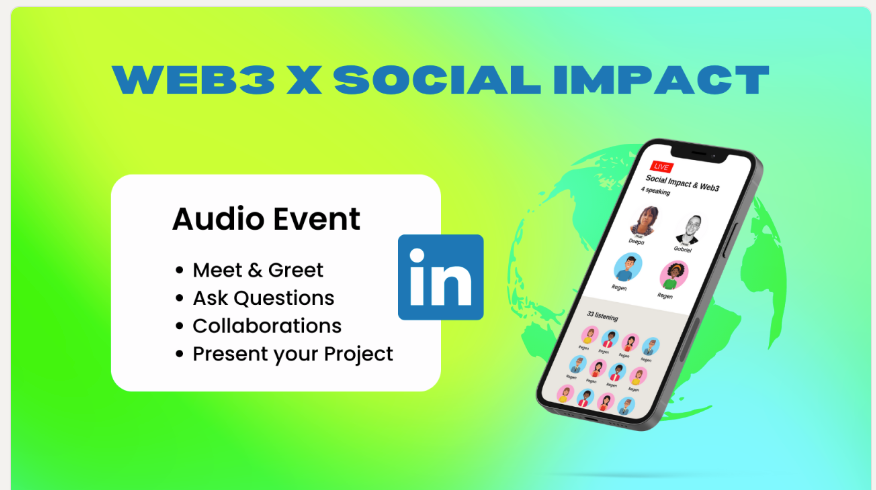 (February 16th, 2023, 17.00 UTC): A discussion with Paul Reginato & Daniel Goodwin on funding research and building community around climate biotech.
(February 7th, 2023, 18.00 UTC, Lisbon): The 1st ReFi Lisboa event, with talks from leading developers, web3 founders, and social entrepreneurs.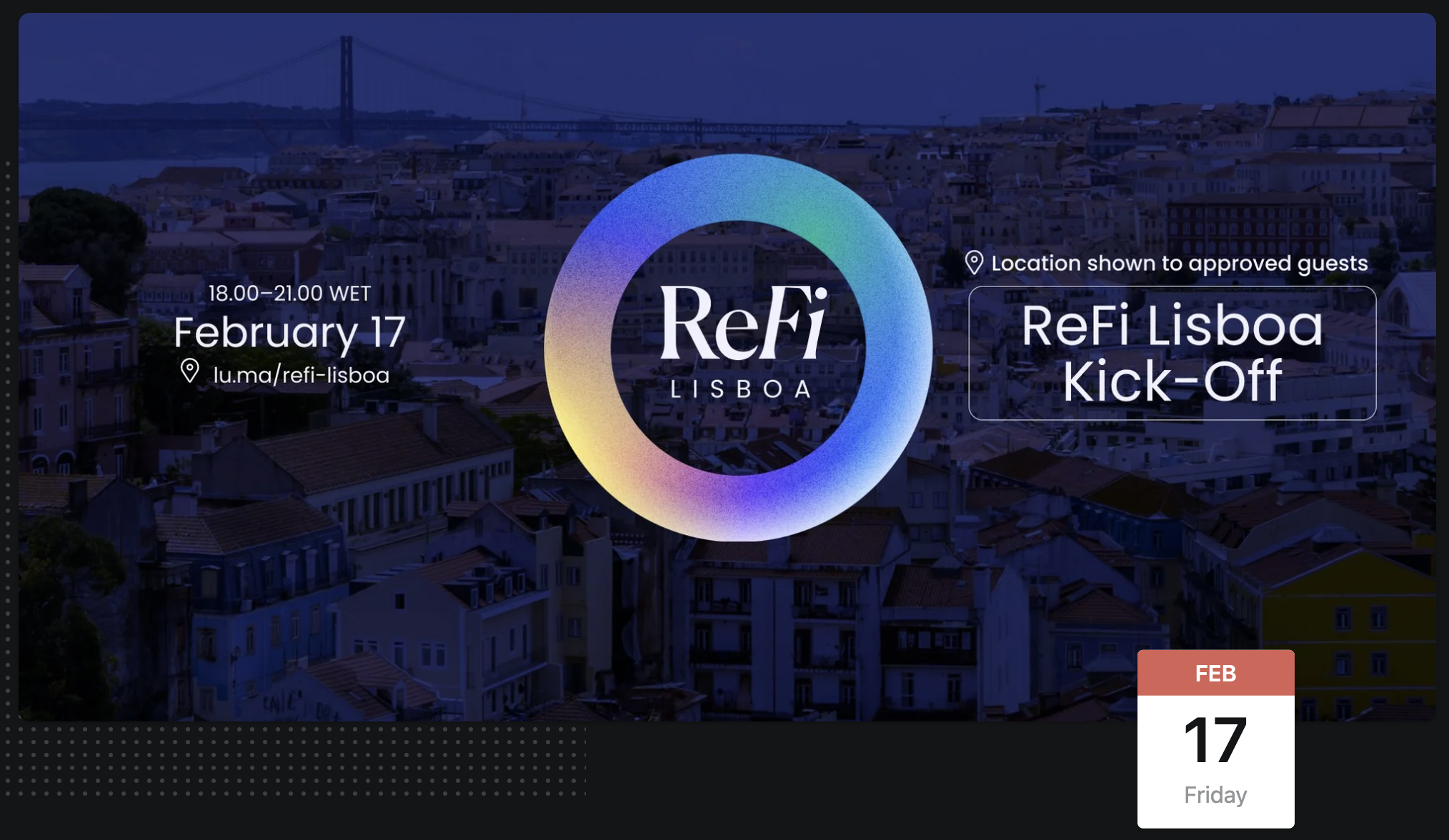 KlimaDAO "On Set" Webinar Series #2 🎪
(March 7, 2023, 1600 UTC): As a follow-up to their February 7th launch event, the second in Klima's "On Set" series of webinars exploring the Digital Carbon Market (DCM), will bring together even more builders to explore how the fundamentals of digital carbon are being leveraged to accelerate climate finance.
(May 24th -25th, 2023, Seattle): ReFi Summit will return this coming May, following it's launch event last year. You can get in the loop and learn more about this year's offering from founders during a live Twitter Space event coming up Friday, February 17th. Set your reminder using the link in the post here:
---
Add your ReFi event! 👇🏽
Got a ReFi, crypto, or climate event coming up and what to have it featured in the newsletter? Add yours to ReFi Spring!
---
ReFi Jobs 👩🏽‍🚀
Find your next gig at a leading ReFi venture...
View more
AtlantisDAO is looking for a Motion Designer. This fresh opportunity isn't up on our ReFi Jobs site (yet!), but hit up the Twitter thread to connect with their crew and learn more:
As always, keep an eye on ReFiJobs for great job opportunities across the ReFi space as they pop up 👇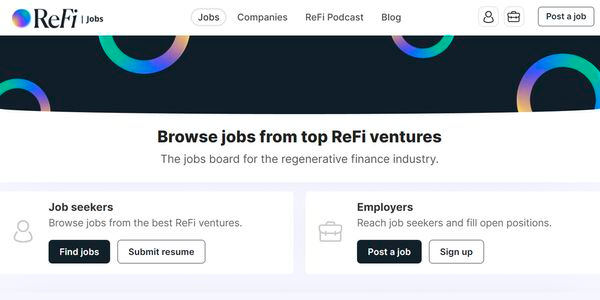 ---
ReFi Newsletters 🗞
See other amazing newsletters from the ReFi Community.
Here are some of the awesome newsletters that caught our attention this week:
Giveth's latest blog by Griff Green "Evolving Nonprofits into Regen Economies"
dClimate "Data Refined" 1st edition: The Newsletter for All Things Climate Data ⛅
---
Thank you! 🤩
For being a part of the ever evolving movement to create a radically better future...
⚫
"
Those who contemplate the beauty of the earth find reserves of strength that will endure as long as life lasts
." - Rachel Carson (author of 1962 book '
Silent Spring
')
Have a fantastic week, friends & we'll see you again next time! 🫡
Enjoyed this newsletter?
We would be super grateful if you could help spread the word of ReFi by clicking the button below:
---