Roundup #45: Gratitude, Soulbound Impact & ERC-Cool 💚❄️
ReFi Gratitude collection, Soulbound token applications in ReFi+ the latest news, updates, jobs and events in ReFi and beyond!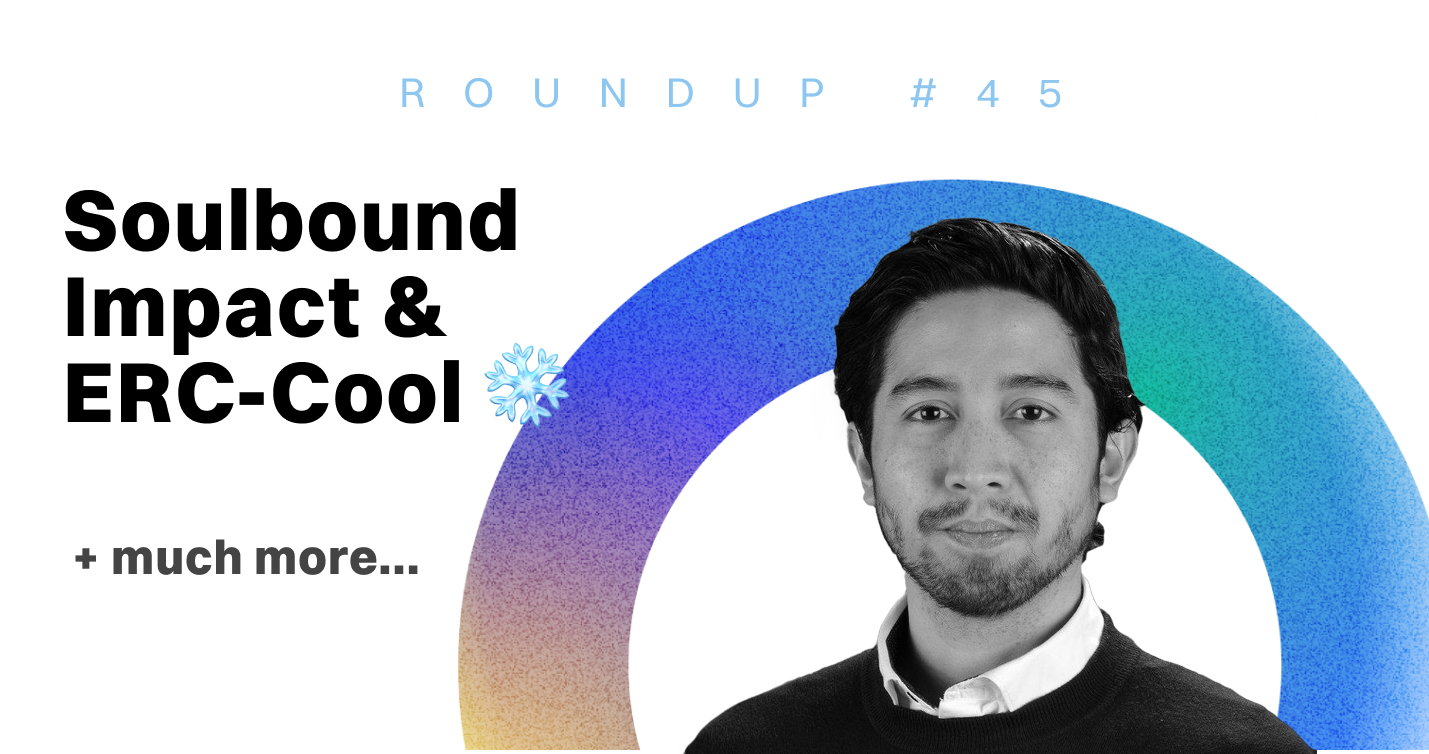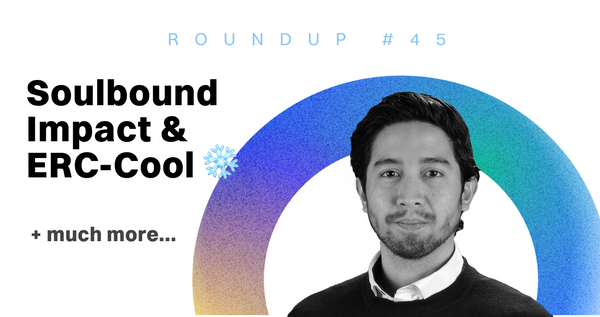 Hello ReFi frens, Nura here and I'm back with the latest ReFi Roundup 😊 I'm a sustainability tech professional by day, ReFi writer by night. Shipping articles @enjoytheweather, writing with the 1729 community, and a member of ECOTA (European Carbon Offset Token Association). I'm writing this week's roundup! Let's dive in...
---
Soulbound Impact  🪪
Vitalik, Glen Weyl  & Puja introduced the arrival of Soulbound Tokens (SBTs) earlier this year in May with the seminal paper 'Decentralized Society: Finding Web3's Soul' and the opportunities for identity, reputation, and impact seem hugely exciting (What Are Soulbound Tokens? Learn more here.)
"Imagine a non-profit whose mission is to plant trees would drop governance tokens to people who hold a mix of environmental action SBTs, gardening SBTs, and carbon sequestration tokens—perhaps dropping more tokens to the carbon sequestration token-holders".
Decentralized Society: Finding Web3's Soul
In the last week's roundup, we heard about the launch of Return Protocol and the concept of a Soulbound impact profile - a non-transferable NFT to represent verifiable climate positive actions. It got me thinking, since the arrival of SBTs - what are other use cases and examples of projects in ReFi that are already pushing the frontier here? Here's what I learned 👇
Financial inclusion
Billions of people in the world are living outside the traditional finance system (TradFi), with no access to basic services like banking or credit. Web3 provides some tools that can help here and SBT's can be a way to create and build digital identity. Masa Finance is one of the projects leading the way here with use-cases including the facilitation of DeFi loans, KYC process, governance voting, and many more. This is hugely important work if crypto is able to provide genuine opportunities for underserved communities.
Proof of Donation
It feels good to support a cause that we believe in. But what if we can tie this act of kindness to a person's identity. Wooy, a platform that supports environmental and social initiatives, is working on what they called a soulbound Proof of Donation (PODs). A way for a donator to show the initiatives that they are supporting and a way to track who is making the donation.
Hope that these examples inspire more builders to use soulbound token in a regenerative way!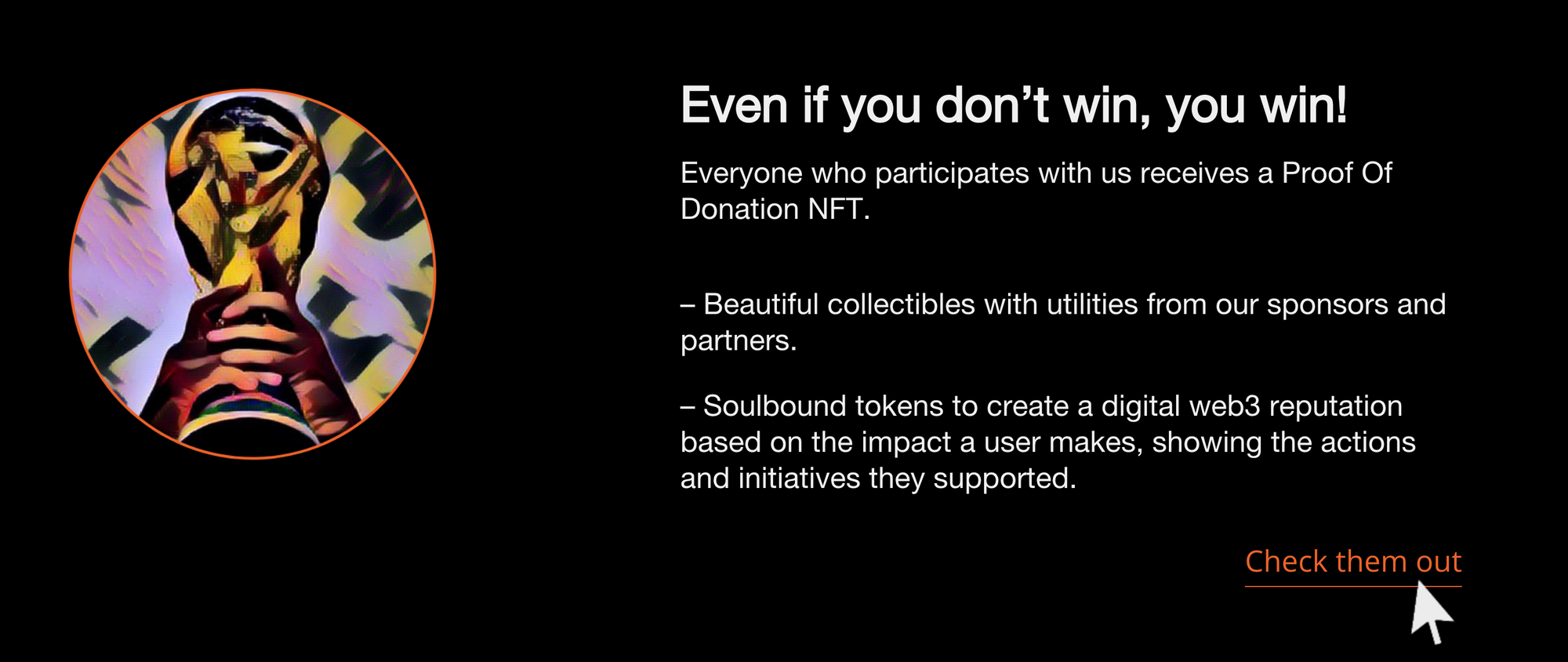 Aligned community
Karma is real. In a spiritual sense, in subreddit groups, and in Web3 communities. For example, Trusted seed, an association supporting early-stage crypto communities committed to creating regenerative microeconomies. Members can earn $Trust, a soulbound reputation token, by providing financial support or other contribution (e.g. building an open source library).
Gratitude
Much of Web3 seems to focus a lot on financial incentives, but gratitude and appreciation can go along way in creating healthy, motivated, & productive communities. More on this coming soon with the ReFi Gratitude Collection NFT drop coming soon! 😉 Sign up to the greenlist today and get ready to spread some love and appreciation this holiday season. 💚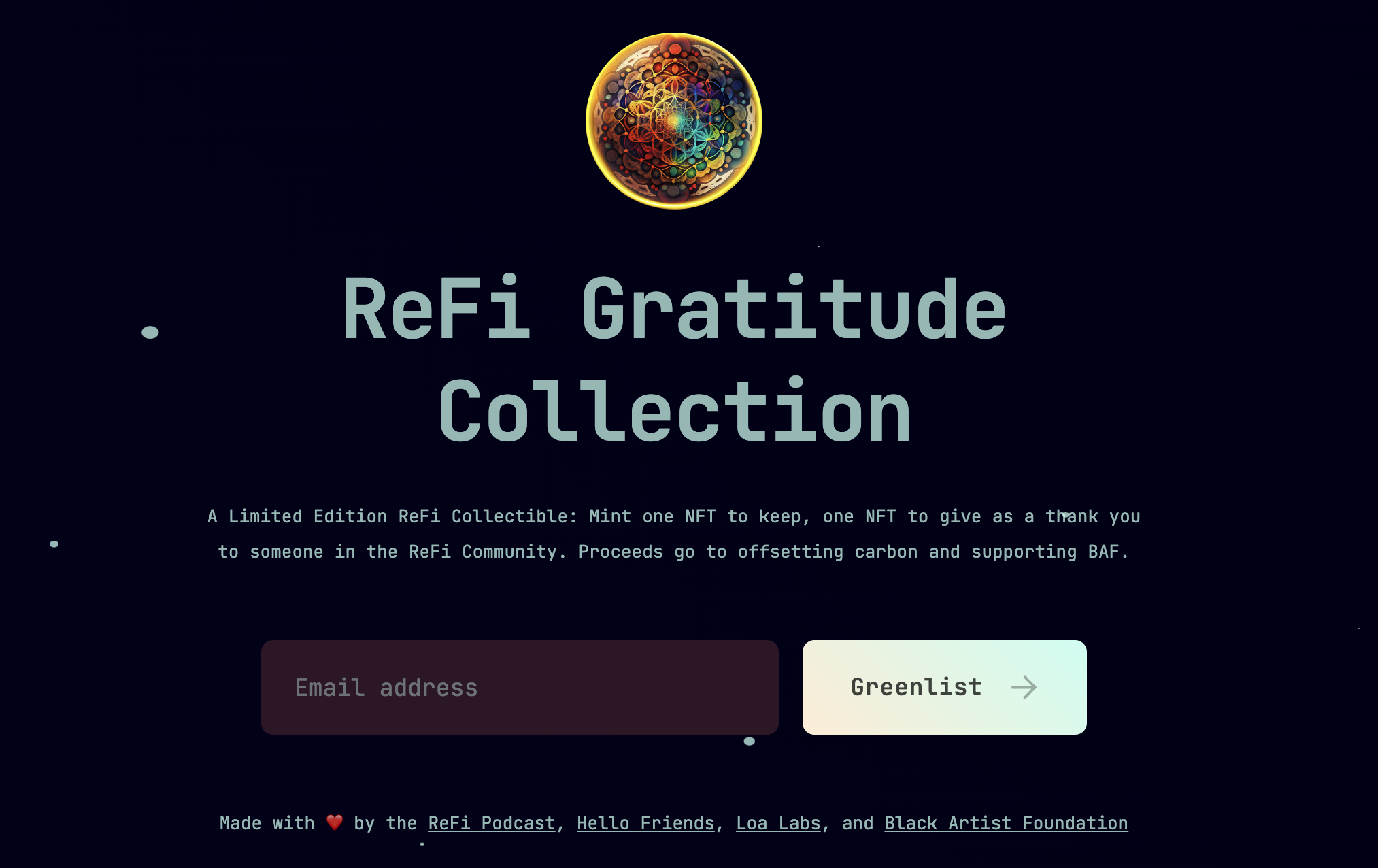 ---
Impact Identity
Now imagine a society where we can own every climate-positive decision and action we take and build our impact identity. This could even feed into providing better terms for financial solutions, higher social capital, discounts, access and more... This is the world the SBT help to enable and, amoung others, is also the world that DottyLand is helping to build. Go check out their website and subscribe for updates on their launch coming soon!
The Impact Self 🫀is an aggregated overview of an individual's impact, and score of climate-positive choices.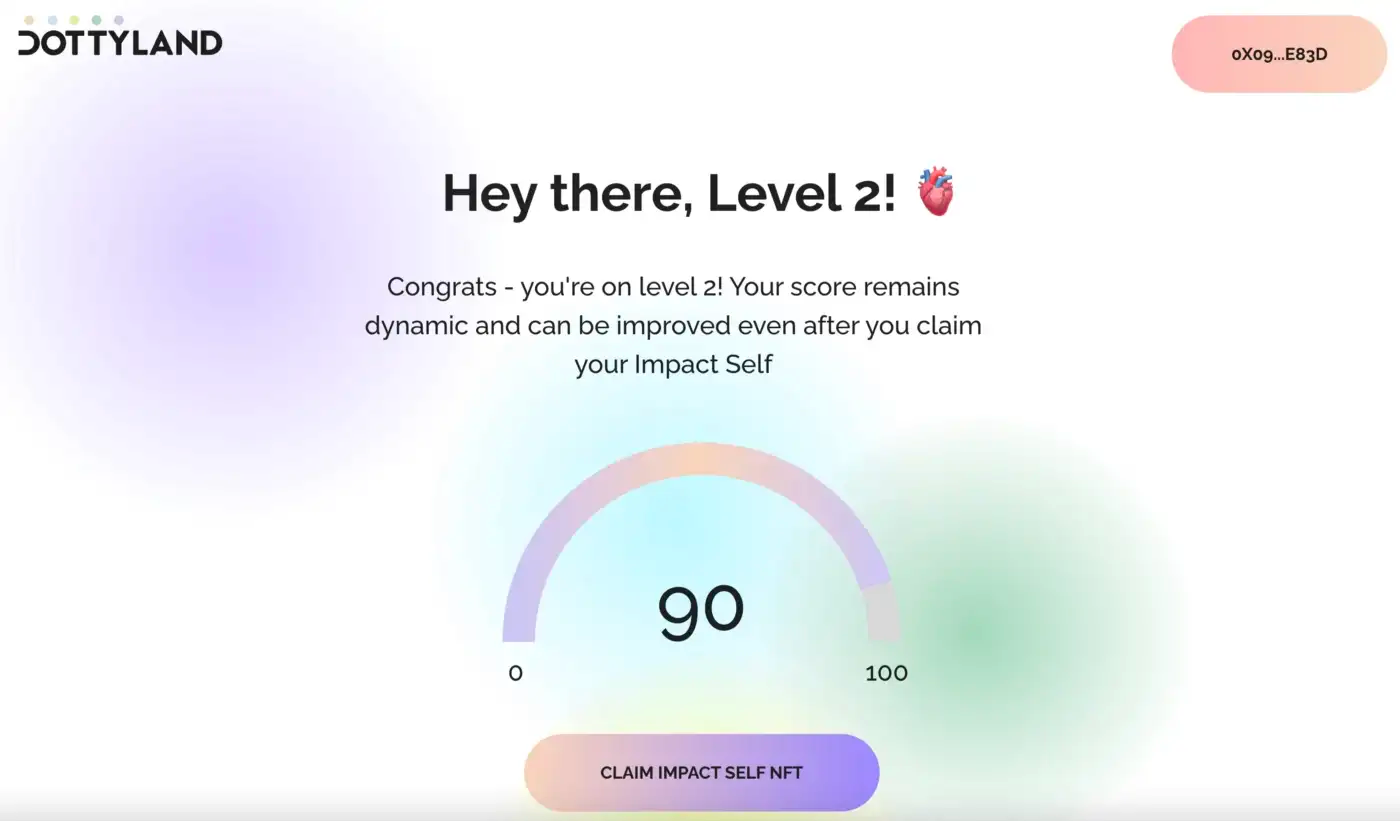 ReFi Podcasts 🎙️
Top audio and video content from creators across the web 😊
ERC-Cool with Leanne from Trés Cool Labs | ReFi Podcast S2E19
Johnx25bd is joined by Leanne Bats, founder of Trés Cool Labs and Co-Author of the new ERC-Cool Standard which is looking to embed climate action through carbon removal technologies into the cultural fabric of Web3.
Other 🔥 Podcasts on our Radar:
---
ReFi NewsBites 🗞️
The latest updates across ReFi Twitter and beyond...
KlimaDAO in Web3 for 2030 report 🎉
There are various ways to solve the climate coordination failure. Glad to see that @UNDP also acknowledge that Web3 can help to achieve the Sustainable Development Goals. Klima DAO was recently featured in UNDP latest report.
ReFi Litepaper
@Openearth published Current state of ReFi: a Litepaper exploring how to create interoperability in the ecosystem. Summarizing the current state of ReFi ecosystem, key areas for collaboration, and roadmap for the future!
Also on our radar this week
🤟 Who's who in ReFi Twitter? Check out this thread from @rel_lefekcor (author of Web3/carbon week newsletter) to find some of the top accounts to follow in ReFi. If you haven't already, go open the gates of regeneration to flow into your feed.
🤟 The Greenpill thesis: @owocki shared a 3 pager manifesto on regen web3. From the foundation, opportunity, and early success.
🪞Founder Reflections: Story is a powerful tool to build community. @climateXcrypto shares his own experience about how @ReFiDAOist was born, the progress thus far, and gives us a peak at what is to come 🚀
---
ReFi Events 🪩
Get your ReFi on with friends in-person and online...
View more
Looking Forward 📍
Some of the exciting events coming up soon... Make sure to grab some tickets and support the ReFi regenerative renaissance wherever you are from!
Wasset Community Hangout "Let's talk about ReFi and Waste Management" (17th of December in Lagos, Nigeria): Wasset, a blockchain protocol that incentivizes conscious waste management, is holding their first community event.
---
ReFi Grants roundtable (16th of December, Online): Learn about amazing grants available for ReFi projects. Including speaker such as @Benwest & @Coleenchase from @Gitcoin, @RKollegala from @RegenFdn, and others.
---
Regeneration Pollination Networking (3x times a month, Online): inclusive networking events designed to cross- pollinate the world's regenerators.
---
Jimmi's MAX IMPACT MEGA SPACE (16th of December, Twitter): Join ReFi OG @JimiCohen in a fun and impactful twitter space with many guests, giveaways, & musical performances.
---
Event Retrospectives 👀
Highlighted discussions from some of the exciting ReFi events going on across the globe and through the interwebs 🕸
ReFi India Summit 🎪 (1st of December in Bangalore, India): @checkfit and regens in India held a successful first ReFi event ever in the region!  
---
Add your ReFi event! 👇🏽
Got a ReFi, crypto, or climate event coming up and what to have it featured in the newsletter? Add yours to ReFi Spring!
---
Exciting Projects! 📡
A showcase of new, exciting, and upcoming ReFi projects..
View More
ReFi DAO helps to maintain the largest public database of ReFi projects at refidao.com. More and more exciting projects are flowing into the database daily, here are some that have crossed our radar this week:
🏡 Solarpunk nomads: A project working to spread web3 and regen knowledge by roaming the world with a solarpunk-style solar-powered EV.
📈 Web3 beach: Honduras based project accelerating web3 education and adoption through public goods project with social and environmental impact. Based in Honduras.  
Technology is important, but education is key. Its super exciting to see many projects spreading ReFi to the masses...  LFG 🚀
---
Add your ReFi Project! 👇🏽
Have a project you want to add to our database? Click the button below to submit an application!
---
ReFi Jobs 👩🏽‍🚀
Find your next gig at a leading ReFi venture...
View more
New gig listed on ReFiJobs! 👇

Check out the ReFi Jobs platform for more! 👇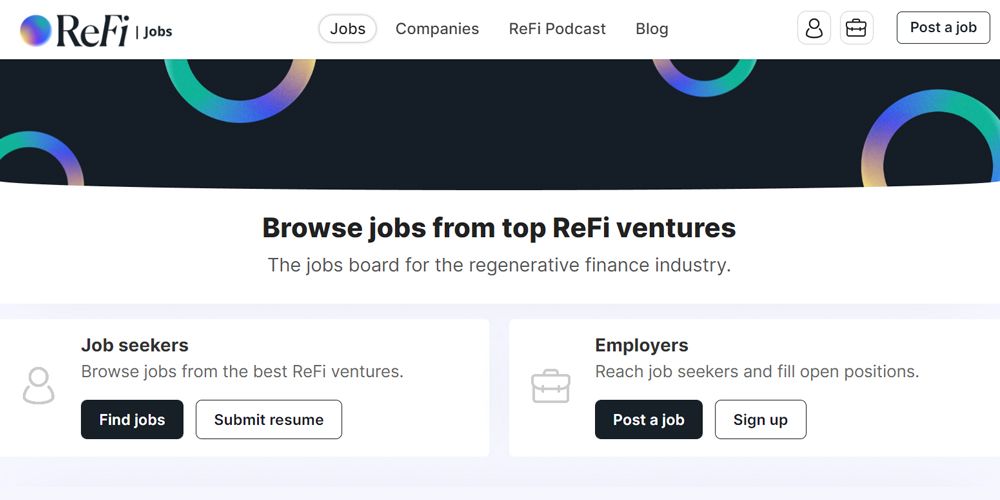 Other jobs related to ReFI👇

---
ReFi Newsletters 🗞
See other amazing newsletters from the ReFi Community.
The ReFi Roundup is one way to stay up-to-date but their are plenty of others each with unique angels and takes. Here are some of the newsletters that caught our attention this week:
---
Thank you! 🤩
For being a part of the ever evolving movement to create a radically better future...
You have more than a billion choices to read online. Thanks for sticking by the ReFi movement. Let's be grateful and reflect on our achievements, challenges, and learnings this year.
Have a great weekend with your loved ones! Peace ✌️
Enjoyed this newsletter?
We would be super grateful if you could help spread the word of ReFi by clicking the button below: