Blockchain for Scaling Climate Action 📈❄️ | Roundup #62
The World Economic Forum's Crypto Sustainability Coalition WhitePaper + the latest news, updates, jobs and events in ReFi and beyond!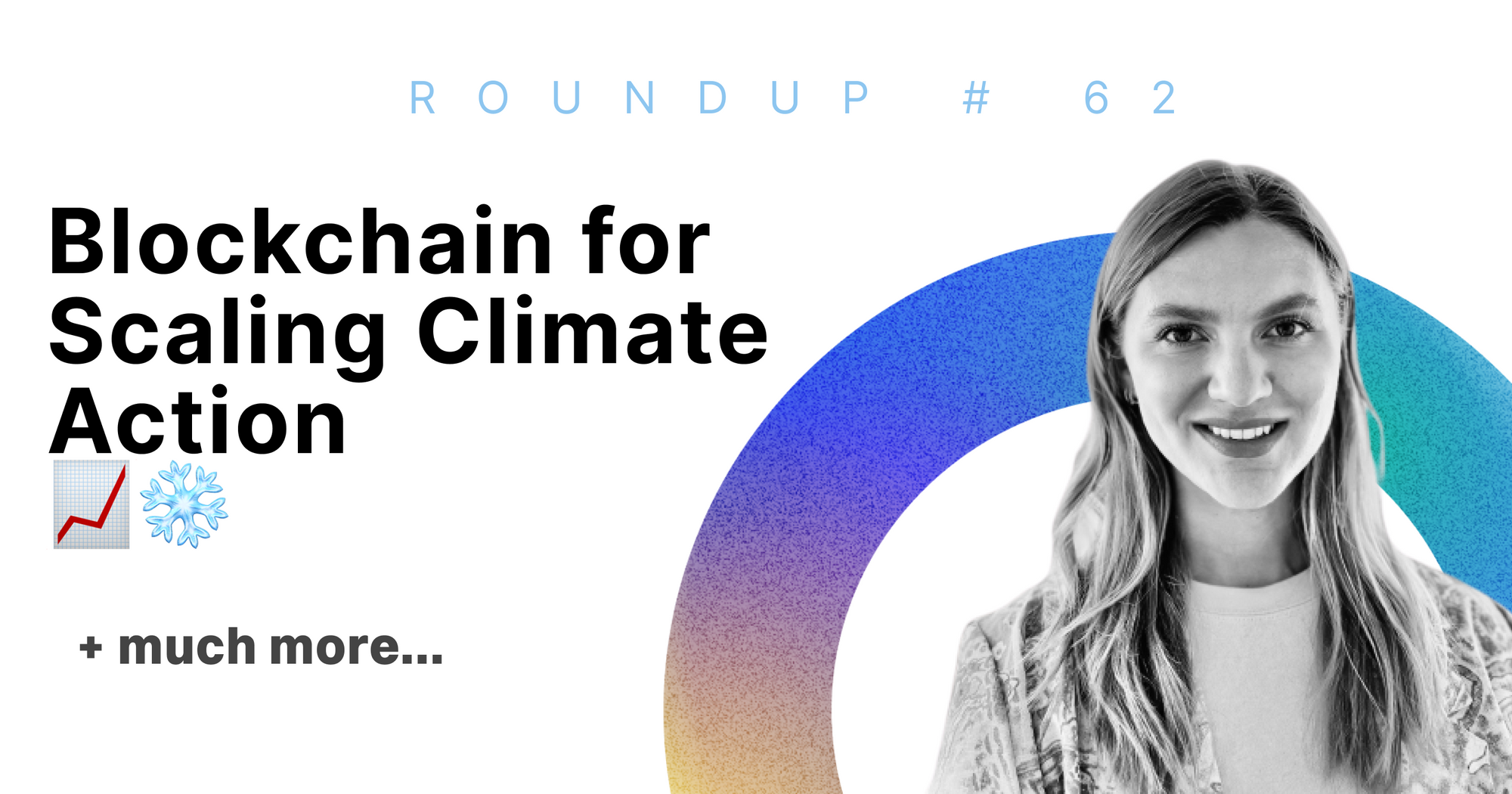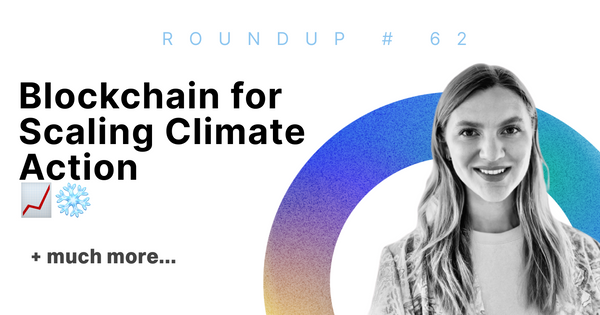 ---
Hey there Regens! 🌱 Maya here, an academic researcher and digital ethnographer of web3 and climate. I'm excited to be back this week to share some exciting news from my working group at WEF Crypto Sustainability Coalition – we have recently published a comprehensive whitepaper on blockchain for scaling climate action 🎉 So in this week's roundup we will cover a snapshot summary of the publication, and as always, the top news and developments from across the world of Regenerative Finance (ReFi). Let's get into it! 🤓
---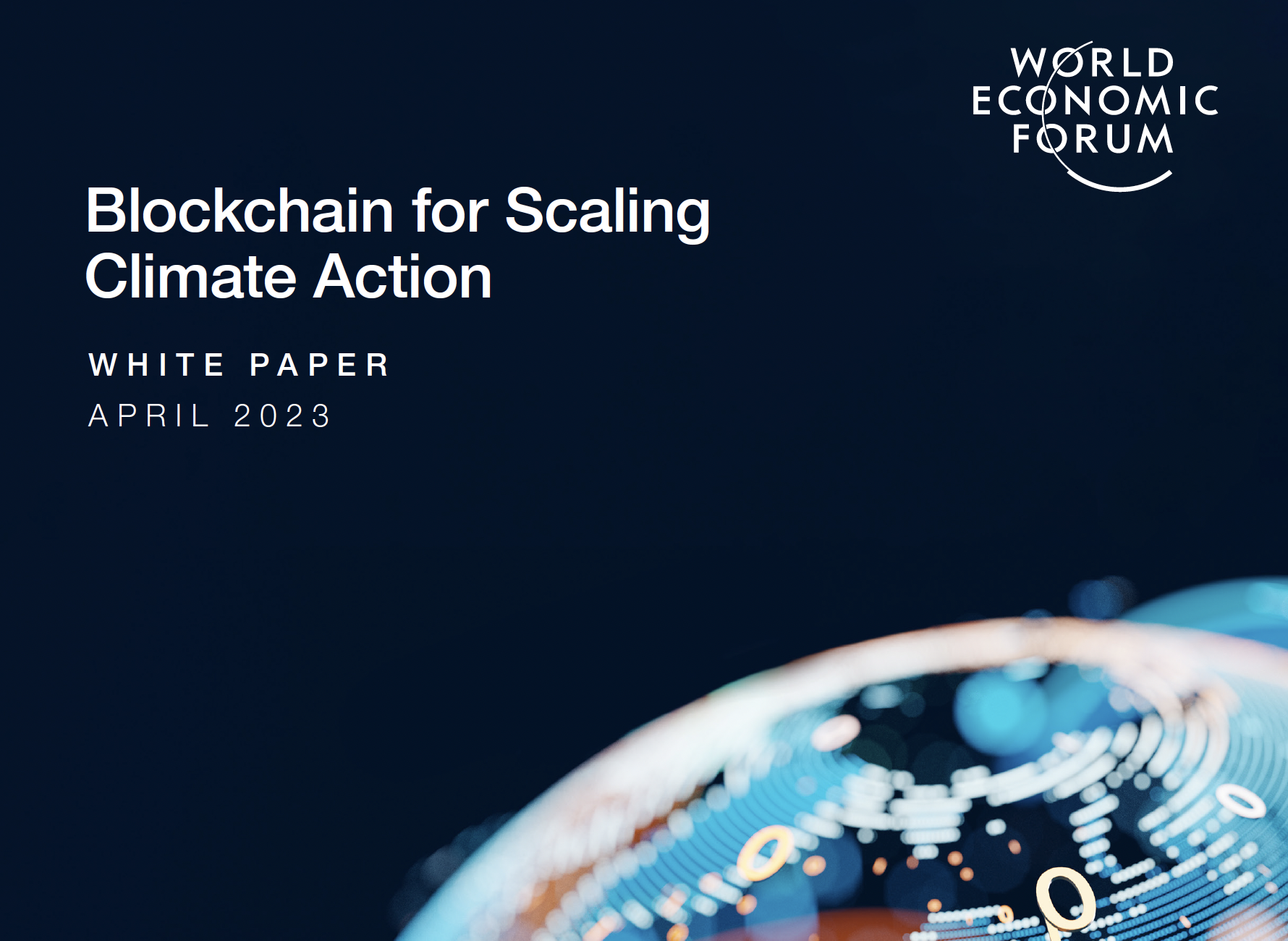 Blockchain for Scaling Climate Action 🦋
When most people think of cryptocurrency, they may immediately conjure up images of volatile prices, scams, and questionable use cases. And while it's true that this has played a prominent role in crypto's history, there is more to the story than meets the eye. Beneath the surface is a technology that has the potential to be a game-changer in the fight against climate change and other pressing global issues.
The key to unlocking this potential is understanding how blockchain and other decentralized technologies can be harnessed in the right way and building the right partnerships to make it happen. But how can we speed this process up?
The WEF Crypto Sustainability Coalition
Made up of over 30+ key partners, The World Economic Forum (WEF) announced the launch of the Crypto Sustainability Coalition in September 2022. The aim has been to investigate how Web3, crypto, and blockchain technologies can be utilised to achieve positive climate action, support research & development, share best practices, and influence positive regulation on climate-related matters.
Check out the working group dashboard on ReFiDAO.com 👇
Now, after 7 months of research, the working group has just published a comprehensive whitepaper on blockchain for scaling climate action. Let's dive in to key findings 👇
More funding, less warming 💰
We have interviewed 23 leaders and experts in the ReFi sector and collected over 60 survey responses 📃.  This paper investigates how blockchain is incentivizing a planet-positive economy focused on financing regeneration and climate action at scale. It is particularly urgent as trillions more dollars of climate finance investment are needed to maintain the 1.5°C pathway set by IPCC.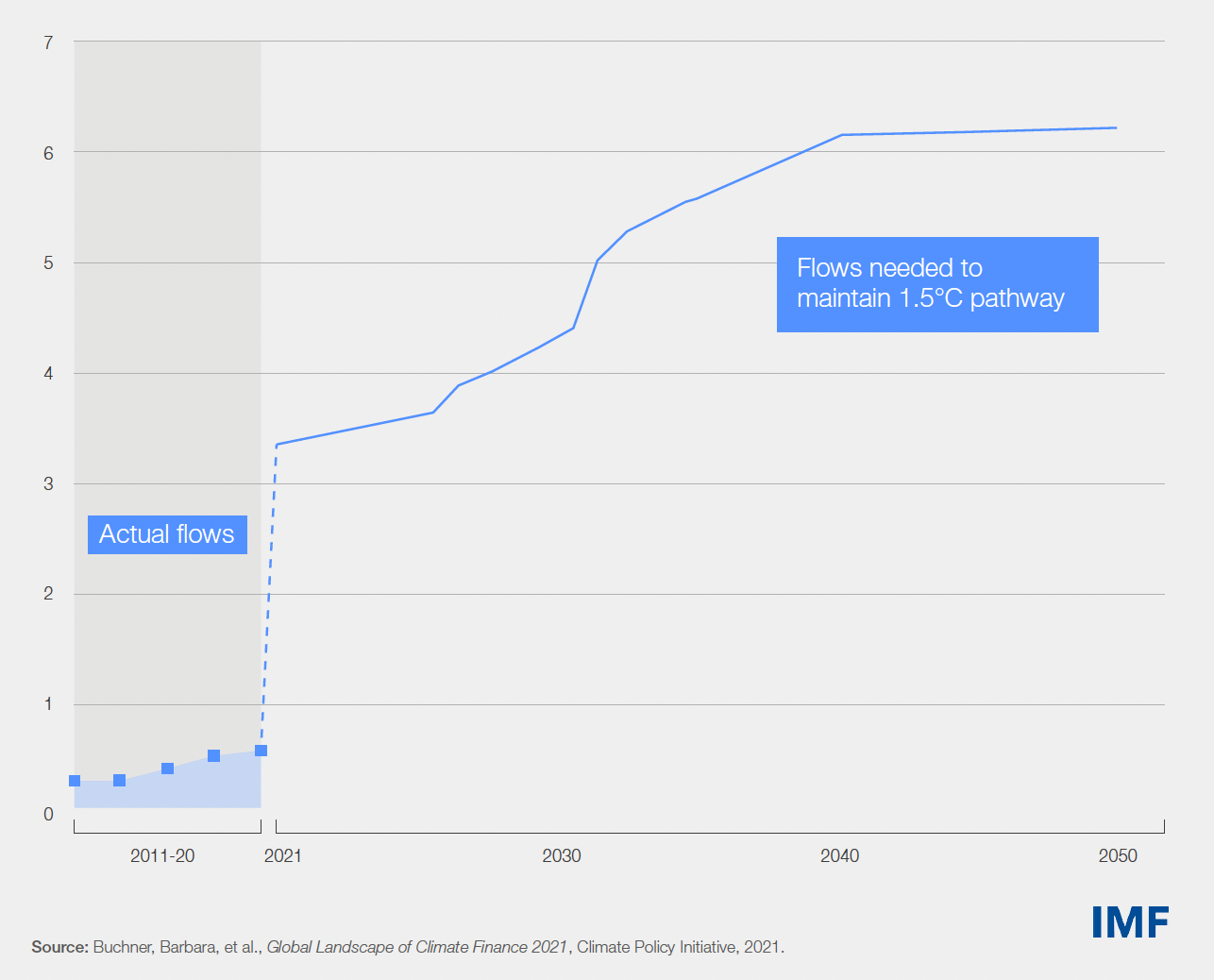 Why Blockchain X ReFi? 🧐
Blockchain can provide the necessary infrastructure to combat climate change at speed and scale. Specifically, the whitepaper identified:
💪 Blockchain can strengthen trust and ambition in climate negotiations.
📈 Blockchains and digital Measurement, Reporting, & Verification (MRV) technologies can improve market transparency and credibility.
💸 Digital carbon markets can funnel more money to project developers.
🌱 Digitization democratizes access to climate action.

ReFi intersects with climate technology, sustainable development, climate finance, economics, regenerative practices, impact investment and climate justice – to name a few 🌿
Industry trends  📊
The current market development is headed in the right direction, utilizing cutting-edge blockchain technology for climate-focused innovations.
The challenges 🫣
But it's not easy, there are several challenges that we need to tackle to fully maximize blockchain for scaling climate action.
🚀 Implementation at scale requires unprecedented speed and coordination
📰 The blockchain industry is facing serious reputational challenges
👩‍🏫 Complexity and education gaps in the space persist
🔎 Real-world impact goes before digital engagement
👩‍⚖️ ReFi suffers from regulatory uncertainty
Recommendations and what's next 🔮
All in all, the speed and scale of adoption will depend on constructive regulation. To get there, the blockchain industry should learn from the evolution of the climate industry, build multi-stakeholder partnerships and focus on scaling responsibly. Developing these partnerships, alongside educational campaigns & effective storytelling, will deepen institutional ties and accelerate progress.

In summary, ReFi founders, investors, and buidlers need to stay laser-focused on solving real-world problems and providing evidence-based, measurable impact to ensure industry momentum and credibility. Let's level up! 💪
---
ReFi NewsBites 🗞️
The latest updates across ReFi Twitter and beyond...
ReFi DAO is live on Gitcoin 🎉
We're on a mission to realize a global regenerative economy rooted in startup cities all around the globe. With this long-term goal, ReFi DAO is supporting the emergence of a network of regenerative villages in strategic startup cities in 2023 with the belief that regeneration begins within 🧘‍♀️
Thanks for being part of our journey and supporting us along the way 🙏🏼
Gitcoin coordiNATION game 🕹️
Together with Green Pill, Regens Unite, Metacrisis.xyz, and others, ReFi DAO is hosting a four-day coordiNATION game rooted in a multitude of cities across the globe. The aim is to onboard new donors, funders, and projects into the Gitcoin ecosystem - for the Beta grants round and beyond 💫  Come get involved!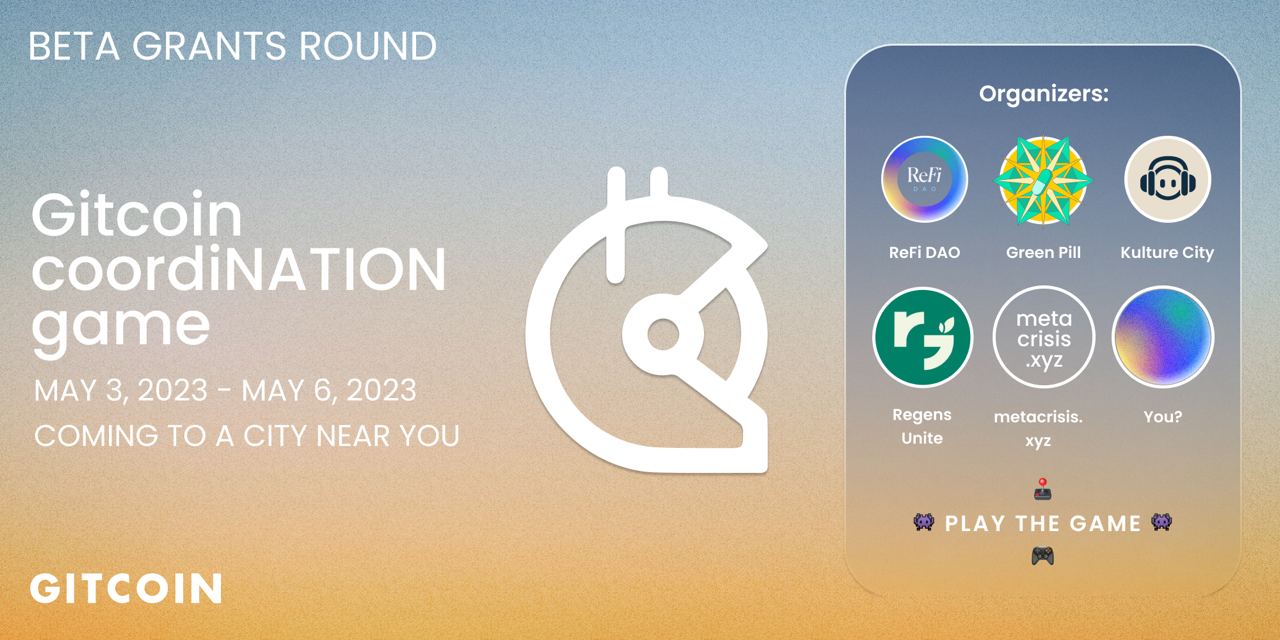 ReFi Hippies NFT collection has dropped 🎉
LOA Labs launched the ReFi Hippies NFT collection as part of Regen Network's Earth Day drop with the Stargaze NFT platform 🌍
ReFi at Consensus 🏙️
CoinDesk brought together a hand-selected mix of DeFi, ReFi, and Institutional participants to sit around tables and discuss how blockchain can accelerate climate action. Regens had a strong presence Consensus 2023 with talks by Dave Fortson, Filecoin Green, Regen Network and Ethereum Climate Platform 🌿
ReFi & Regulation 👩‍⚖️
The Blockchain Law for Social Good Center has launched the Earth month celebration by featuring insights on policy and regulation by key thinkers in the ReFi space 💚
Also on our radar this week
---
Submit content ideas or feedback 👇🏽
Want to see a story featured in next weeks Roundup? Or have any feedback? We would love to hear from you!
---
🔥 Projects of the Week
A showcase of top voted projects from the ReFi DAO website!
View More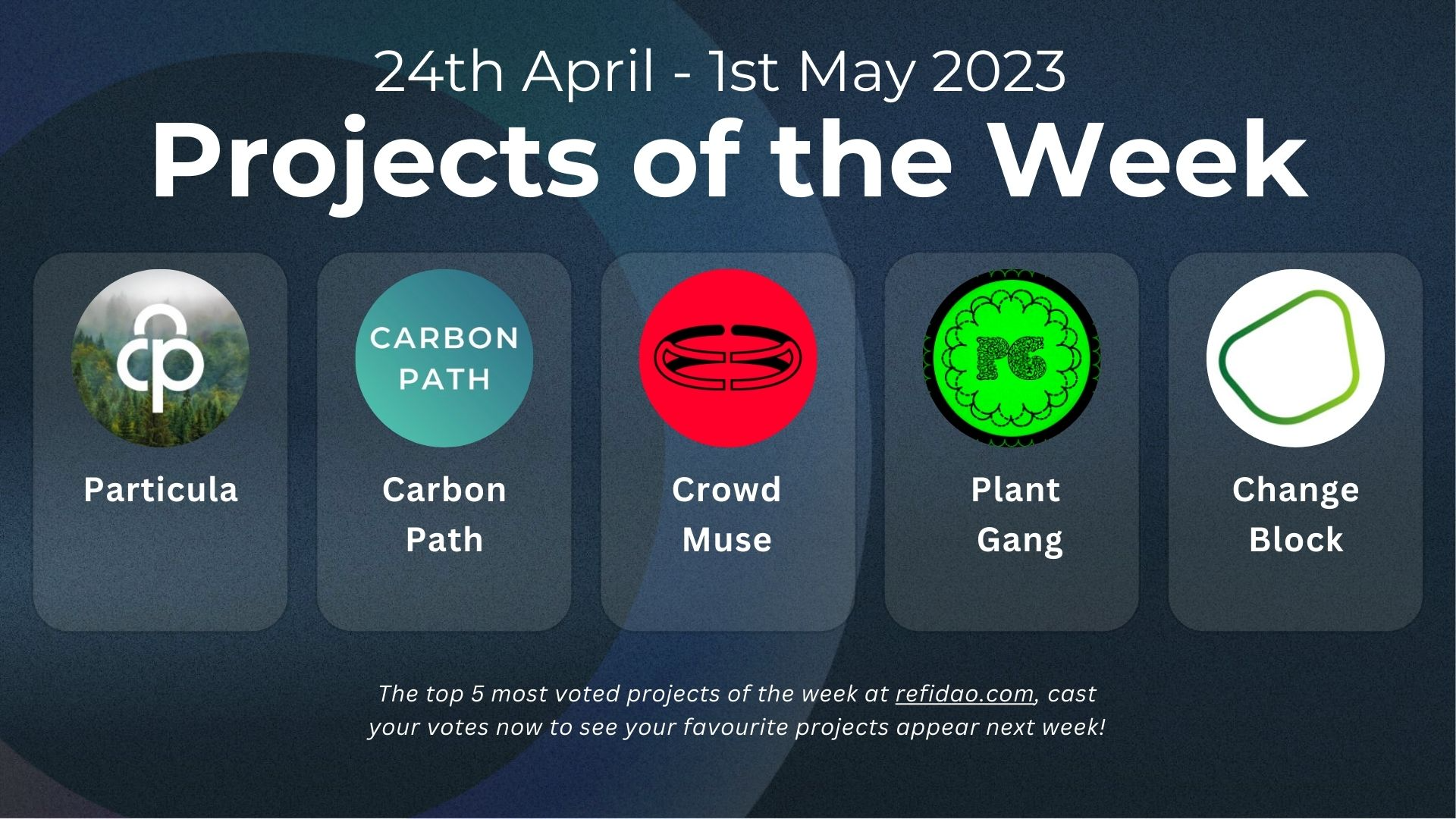 Top 5 most voted projects of the week:
Votes have now been reset so head over to refidao.com, make an account, and show some support to your favourite projects in the ecosystem this week! 💚
---
Add your ReFi Project! 👇🏽
Have a project you want to add to our database? Click the button below to submit an application!
---
ReFi Podcasts 🎙️
Top audio and video content from creators across the web 😊
Next Generation Quadratic Funding with Joel Miller 💰
Tune in to episode #109 of the Green Pill podcast with Kevin Owocki to learn about Joel Miller's (PhD candidate at the University of Illinois Chicago) research on pluralistic quadratic funding, collusion resistance, and incentivization across social differences 💻.
What goes into making carbon with Nori...🎥
Learn how carbon removal memes get made and how Gordon Ramsay can help you create a waste biomass lifecycle analysis in a rare ~video~ episode of Reversing Climate Change with Nori 🌊
ReFi Events 🪩
Get your ReFi on with friends in-person and online...
View more
Explore ReFi Events at ReFiDAO.com 👇🏽

Here are some highlighted upcoming events that caught our eye this week. Make sure to grab some tickets and support the ReFi regenerative renaissance wherever you are from! 👇
(May 4th, online): ​Together with Curve Labs, Regens Unite is hosting an evening to talk about an exciting way to fundraise for your impact project through the magic of Gitcoin's quadratic funding mechanism 🪄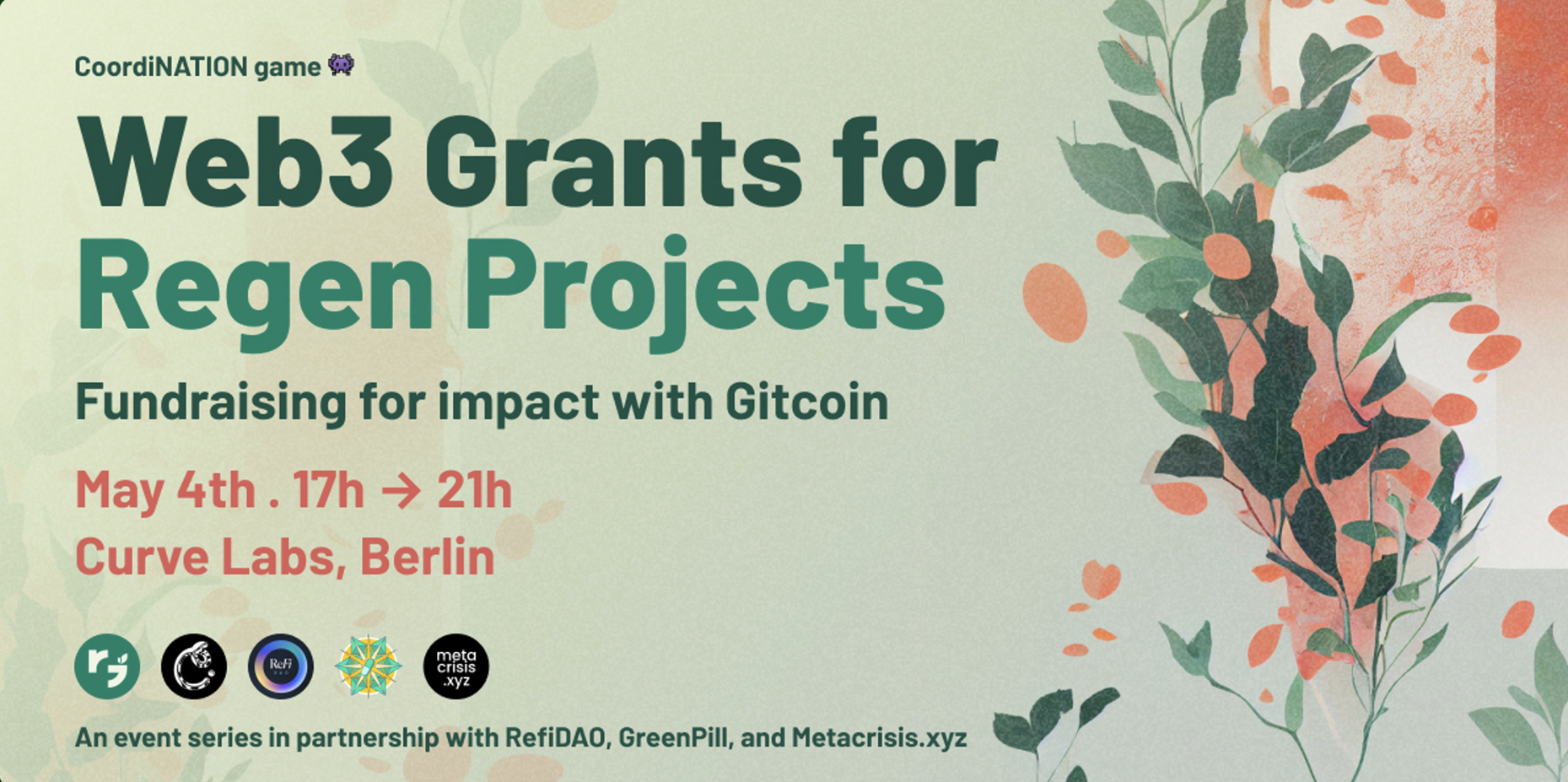 (June 8-11, Portugal 🇵🇹) Experience four magical days filled with connection, community, and impact. 30+ dialogue-focused talks and panels, workshops, and co-labs. Thematic pods and focus areas. Musical acts and live performances. An immersive art program 🎨
(May 4-5, online) Join to learn the successes, challenges, and visions for a galaxy built on principles of equity, justice, and empowerment ✊
---
Add your ReFi event! 👇🏽
Got a ReFi, crypto, or climate event coming up and what to have it featured in the website & newsletter? Add yours to the database!
ReFi Jobs 👩🏽‍🚀
Find your next gig at a leading ReFi venture...
View more
New gigs listed on ReFiJobs! 👇👇

---
Thank you! 🤩
For being a part of the ever evolving movement to create a radically better future...
⚫
Thank you for reading! To conclude I wanted to highlight the quote by
Lucía Gallardo
on the true purpose of ReFi:
"
ReFi is about stripping away the consumptive or extractive nature of a lot of our capitalist financial instruments, systems, services and reimagining them to be regenerative."
Have a fantastic week friends & we'll see you again next week 🫡
Enjoyed this newsletter?
We would be super grateful if you could help spread the word of ReFi by clicking the button below: