Welcome to the Weekly ReFi Roundup
A few people have kindly asked if I'd put together a summary of the major events happening at the intersection of climate action and web3, so here it goes! Let me know how you find it...
Welcome to the Weekly ReFi Roundup! John Ellison here. I lead the Growth team at Toucan Protocol in my day job. In my nights and weekends I invest as much as I can into the ReFi ecosystem to help scale climate impact in web3.
A few people have kindly asked if I'd put together a summary of the major events happening at the intersection of climate action and web3, so here it goes! Let me know how you find it...
What is ReFi?
ReFi is short for 'Regenerative Finance' which exists to fulfill two key economic goals:
Internalize negative externalities
Coordinate the management of common resources
Our friend Kristin McDonald helped crystalize these two dimensions, which reflects the emergent nature of the ReFi movement across many sectors, geographies and interest groups.
We see three pillars emerging across the ReFi movement covering:
Stabilize the climate (with a focus on carbon markets)
Restore ecosystems (with a focus on biodiversity)
Institute justice (with a focus on social systems)
You can read more in my working draft on What is ReFi?
Web3 Climate Map by Nirvaan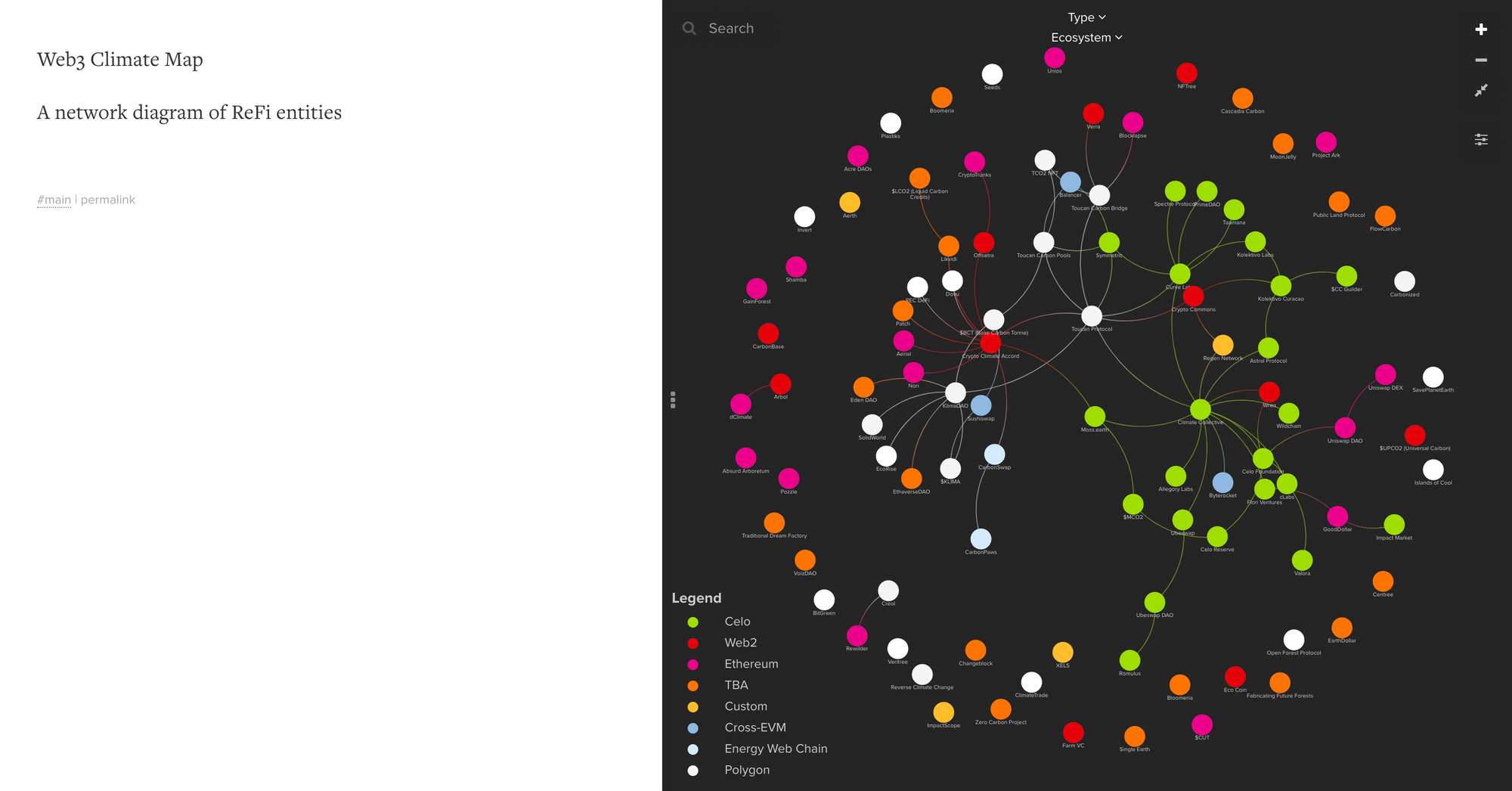 Our friend Nirvaan at the Climate Collective has put together a beautiful network map of all the ReFi Ventures. You can find a list of all 117 ventures experimenting at the intersection of climate and crypto at: https://climatecrypto.xyz/ (also a Twitter list)
Feel free to add any projects you discover! A major update is coming soon...
This week in DAOs...
1. ReFi DAO private launch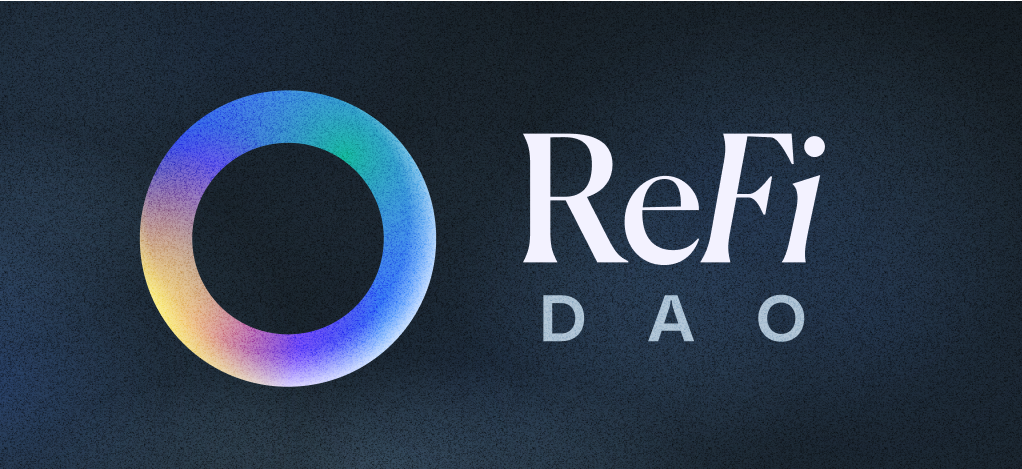 Last Friday, in a Twitter spaces hosted by @climateXcrypto a group of over 115 people explored:
"How might a DAO (decentralized autonomous organization) accelerate meaningful climate impact using web3 tools?"
What emerged was @ReFiDAOist for anyone interested in exploring this mission.
2. Diatom DAO Plastic Removal Credits Pre-Sale
A new experiment in the DAO space has raised over $8M to remove millions of tons of plastic from the ocean. You can read the Diatom DAO Litepaper to learn more. (this is not financial advice)
NFTs for Impact
A new ReFi project called Treejer Protocol is connecting funders to rural tree planters worldwide using the increasingly popular smart contract technology called 'NFTs' (non-fungible tokens).
This project shows how smart contracts can connect to real world events to accelerate climate impact. Think of the smart contract like a web page. The possibilities are endless! If you can dream it, you can code it.
Tree planting NFTs are just the beginning.
Toucan Protocol New UI Live
Toucan is building a unified carbon market in DeFi to fund the world's best climate crisis solutions. They've got a web3 application that anyone can use to bring carbon credits onto the blockchain to sell or offset for transparency.
Toucan's new UI which makes the whole process much easier and is laying the foundation for a new pool called "Nature-Based Carbon Tonne" coming soon.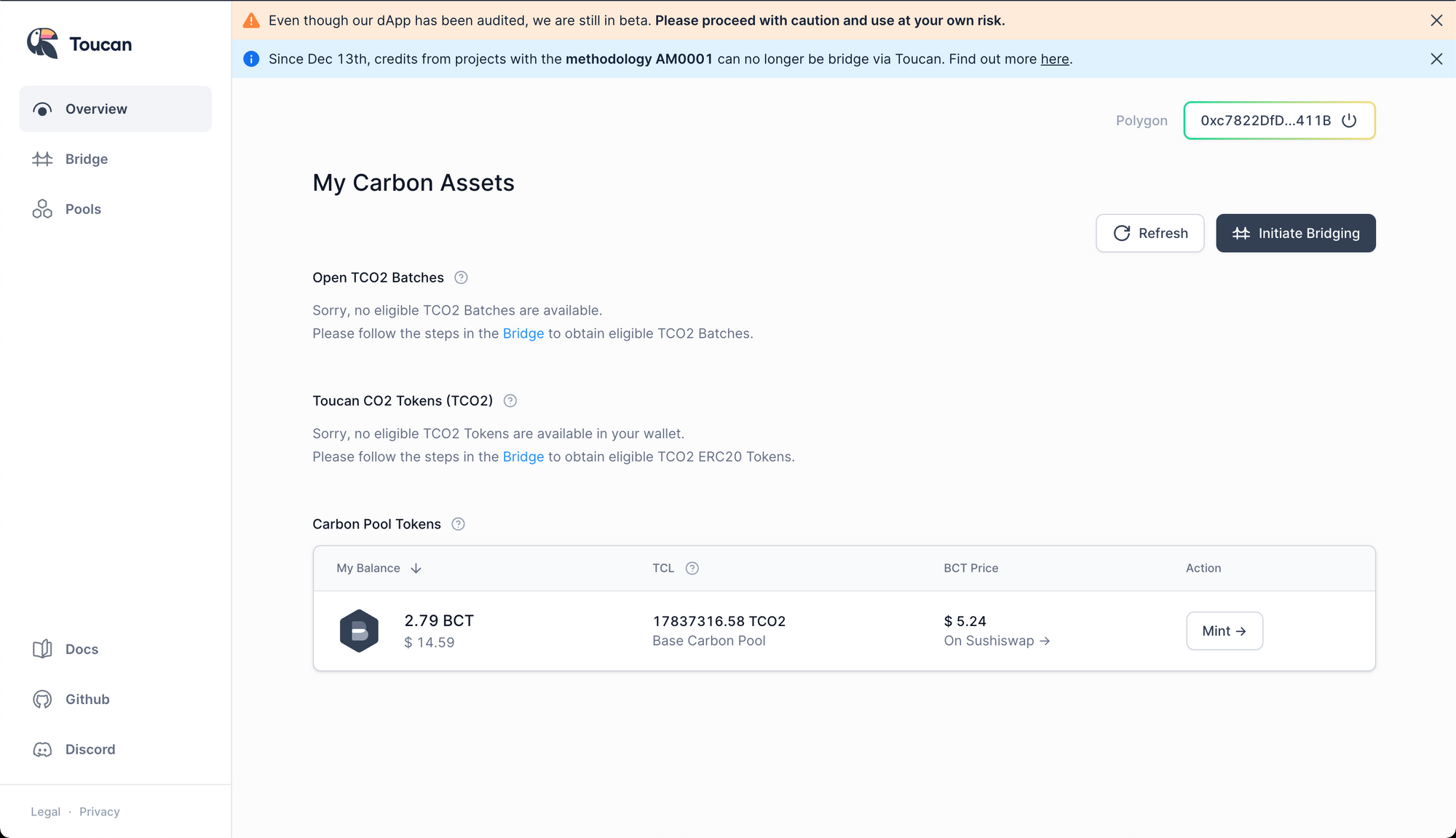 How a solar engineer ended up co-founding a $1B climate crypto startup...
Many of you have heard about KlimaDAO, no doubt. Did you know that one of the founding members Archimedes used to be a solar engineer? Check out his story below...
Conclusion
There's so much happening in the climate space and in the crypto space, it can be hard to keep up. Yet somehow, when you combine the two things accelerate even faster. The ReFi movement is moving fast and pushing boundaries on all sides.
We're grateful to have the opportunity to collaborate with the MCJ community to make sense of it all and create new friendships. It's humbling participate in this amazing community of builders, entrepreneurs, investors and climate scientists.
If you're interested to learn more about ReFi or get involved, feel free to reach out to me at @climateXcrypto, our friends at @ToucanProtocol or the community emerging at @ReFiDAOist for more information!