A Leadership Transition at ReFi DAO: Paving The Way for New Growth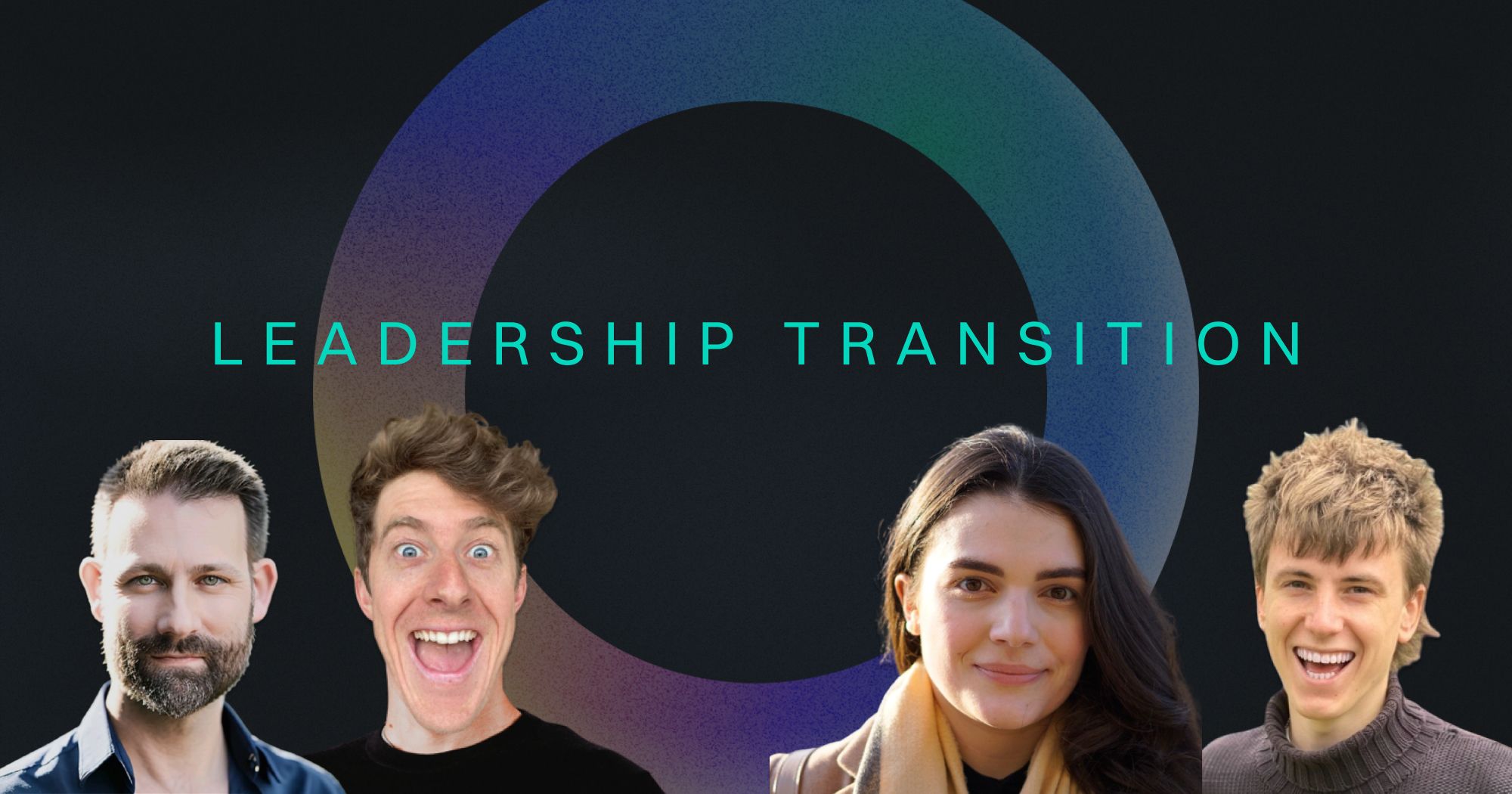 I am super excited to announce a major milestone in ReFi DAO's evolution as an organization: both Daryl Edwards and I are stepping down from leadership to pave the way for the next generation of leaders at ReFi DAO.
After nearly two years of service, we will be shifting into an advisory capacity, while Monty Merlin and Anna Kaic step into leadership to steward this next season of growth. We also want to use this opportunity to call forward leaders in ReFi who feel called to steward this movement towards its full potential!
With a solid brand, vibrant online community and a network of local nodes in place, we are in an amazing position to continue this path of progressive decentralization while honoring local sovereignty and laying the foundations of a global movement for the next cycle.
What we're up to…
After nearly 16 years of building startups I am going to take a break to regenerate myself, spend time in nature and make space for my next contribution in the growing regenerative movement. Daryl is going to focus on providing executive coaching and advisory services to various web3 and climate tech startups.
Monty and Anna are an incredible duo to lead ReFi DAO into the future. They have the conviction, consistency, heart, openness, and drive that is exactly what ReFi DAO needs going forward.

— Daryl Edwards
ReFi DAO's origin story
Before handing over the baton, I wanted to quickly recap my personal journey founding this organization with the hopes of honoring all the amazing people and organizations that made this journey possible!
ReFi DAO: The Cultural Epicenter of ReFi
Thanks to the support of this amazing community across Gitcoin, Celo Foundation and Climate Collective—we've been able to lay the foundations of the cultural epicenter for the ReFi movement, both in-person and online. Our hope is that these building blocks can be leveraged through each cycle to deepen the capacity of this network to make publicly-verifiable impact in the physical world—leveraging the most powerful tools of our time…
Emerging in response to the influx of talent inspired by the Toucan x Klima launch in 2021, ReFi DAO was initially an online startup community of early-stage founders. Our vision expanded significantly in late 2022 as we saw the power of combining our online community with ReFi Spring and their network of in-person events.
Today, we're proud to support a global network of founders, investors, and community builders who are using the power of decentralized technologies to solve the most pressing challenges of our time.
Impact in numbers:
Supported 300+ founders across 3 cohorts
Engaged 60k+ listeners across 48 episodes
Enabled 75+ events across five continents
Formed 40+ local nodes in key communities across the globe
Deployed over $55k in grant capital to Local Nodes via Gitcoin
Glimpsing ReFi from The Edge
My journey into ReFi began in August 2021 after exiting my pandemic startup Goodery. I had started building a list of all the projects using blockchain to finance climate action and found inspiration in the work of Celo, Regen Network, Nori and Moss… along the way I stumbled across a project called Klima DAO which led me to CO2ken (now known as Toucan Protocol). This search drew me deep down the ReFi rabbit hole and within a few months I found myself invited to serve as an Interim Head of Growth at Toucan.
This gifted me a unique perspective on the cutting edge of the movement while introducing me to dozens of top founders, investors and community builders from around the world. The vision I gained during this time is distilled in the "What Is ReFi?" post on mirror I co-wrote with Dr. Anna Watson.
I am forever grateful to Rob, Raphaël and John at Toucan who invested in me and helped me navigate the early days of this very complicated and exciting movement. 🙏🏼
---

ReFi Podcast: Making sense of Regenerative Finance
Around the same time I joined Toucan, I kicked off ReFi Podcast as a personal journey to make sense of the complex web of ideas and technologies emerging from the ReFi movement. Huge gratitude to all the devoted listeners and amazing guests as well as Toucan, Celo Foundation, Climate Collective and The Momus Collective for their support. Also shout out to my brilliant co-hosts John Hoopes and Simar Mangat! 👏
We're almost halfway through Season 3 and have an amazing line-up for the rest of the year—follow, subscribe and watch the shorts. Check out some of this season's episodes below:
---

ReFi Spring: A network of in-person events
At the same time, we began supporting the formation of a network of in-person ReFi events, a genius idea from Felix at the CCA. Huge shout out to Felix Fritsch, Giulio Quarta, Hereward McGillvray, Marcelo Silva, Sam Delesque, Jeremy Agnew, and Bea Fonseca for all their contributions across our collective journey! Creating a cohort-based program to support local ReFi events in the global south wasn't easy, but it was a pivotal piece of the puzzle that became ReFi DAO.
This network of in-person wouldn't have been possible without the support of Climate Collective and amazing folks like Ed Walters, Anna Lerner, Nirvaan Rangathan, Craig Wilson and Alison Filler! 🙏🏼
---

Founders' Circles
The beating heart of ReFi DAO in our first season was Daryl's work supporting early-stage entrepreneurs through Founders' Circles. We hosted three cohorts attracting over 300 founders with brilliant entrepreneurs like Helena and Douglas from Spirals, Adrian from Senken, Kennedy from Shamba, Magenta from Bloom Network and many more! I'm super grateful to Daryl, Maximilian Hachtmann and all the other stewards for their service in this time!
This venture was made possible by Gitcoin's quarterly climate round and the massive community support around us. Big shout out to Ben West, Pranav Khanna, Colleen Chase, Jon Ruth and all the donors who contributed to this work!
---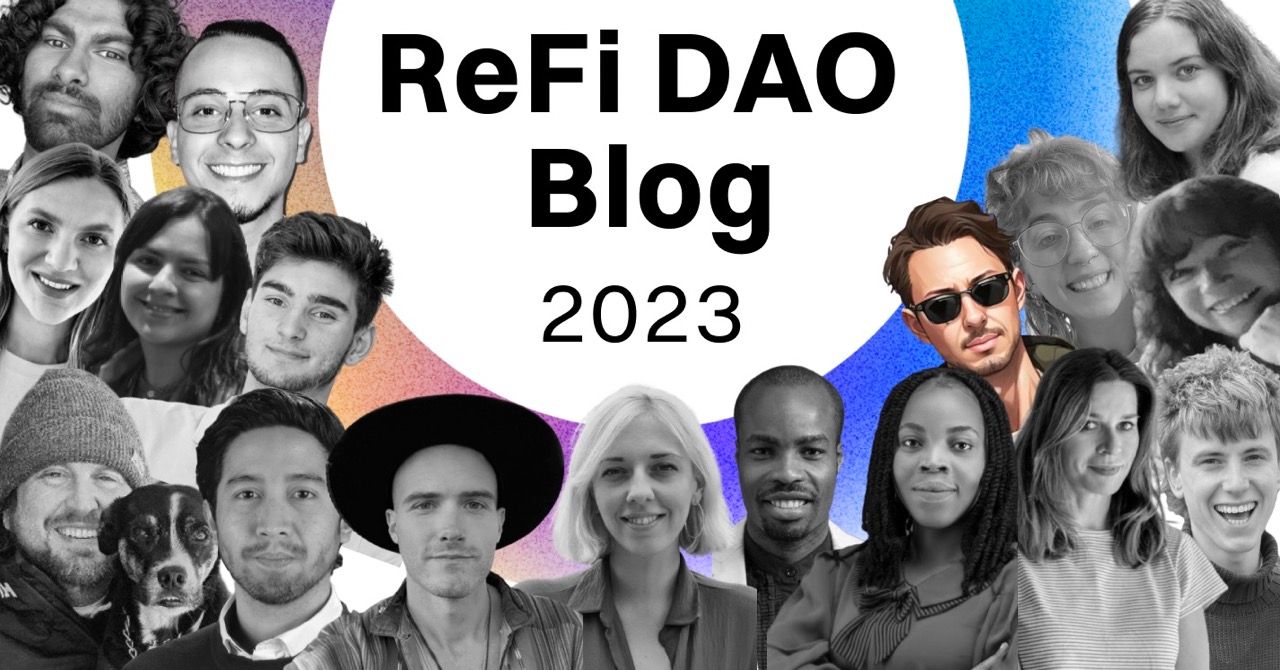 ReFi DAO Blog
From the first post in December 2021, we've been able to leverage bounties to co-create an audience of over 3300 weekly readers with a diverse network of over 51 content contributors from around the world. Big shoutout to coordinators Monty and Nura Linggh (who has now spun up his own dMRV startup called Pleno 👀)!
Anna Kaic and others will be rebooting a simplified version of the roundup, coming soon!
---

ReFi Knowledge Graph
The earliest ReFi DAO website was a list of impact and web3 projects. Thanks to the hard work of Monty Merlin and a collaboration with Simbiotica and Catalist Network we've expended this list towards the goal of becoming a global graph of all the key people, projects, content, deals and events across the ReFi Nation. We also built a localized knowledge graph at ReFi Lisboa as an initial map of the regenerative ecosystem in the city. Super excited to see where this goes and how it continues to evolves to serve network mapping across all our network of local nodes!
---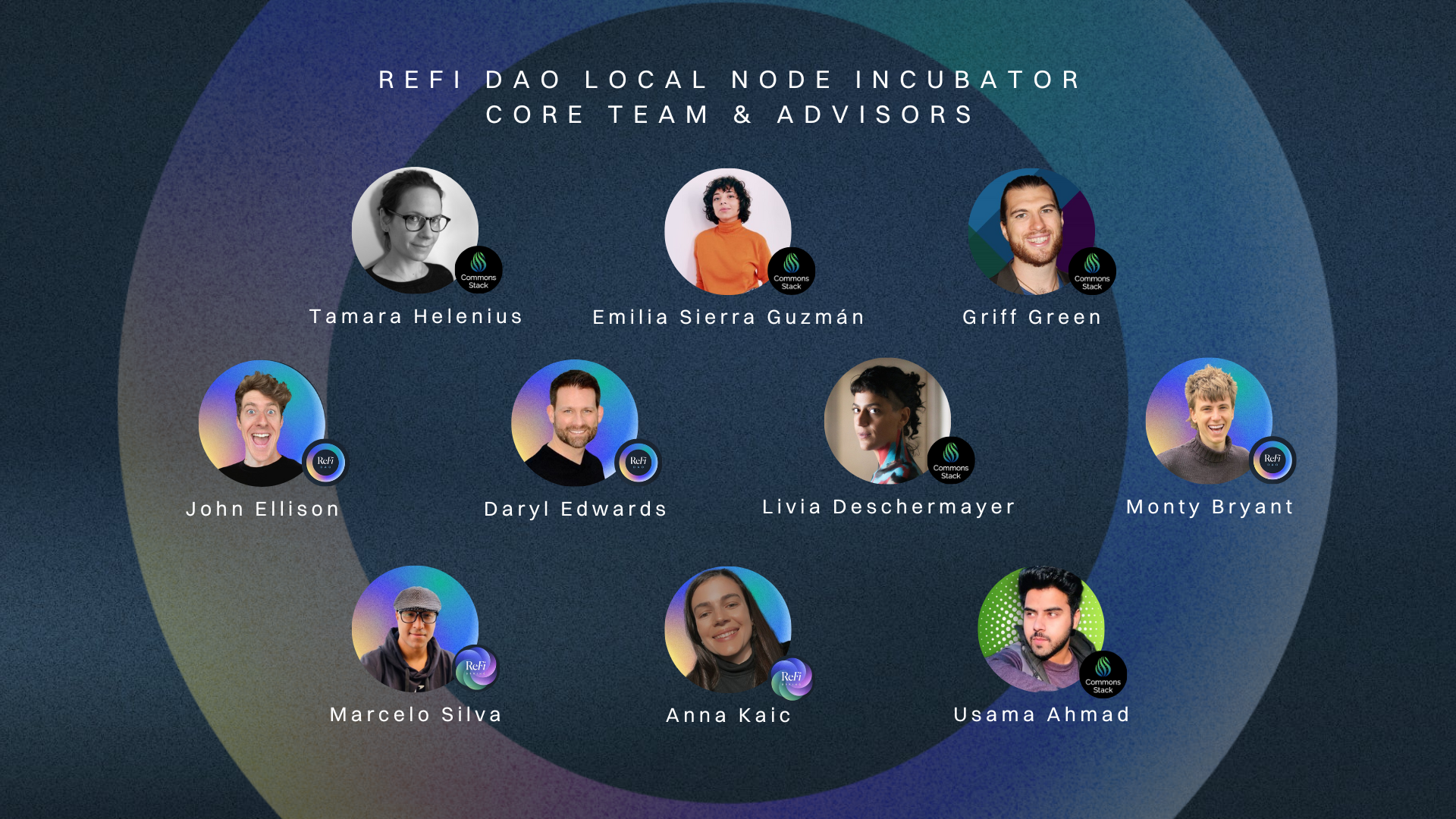 Local Node Incubator
As we began looking at our long-term vision, we saw the power of experimenting with network state architecture, namely: An online community with shared values that gathers locally for collective action. To build the first component of this system, we partnered with the brilliant team at Commons Stack to build out the Local Node Prize to incubate autonomous local startup communities that would onboard talent and capital into ReFi through regular events.
This was the first major milestone of decentralization for the network, using our own treasury to fund the localization of ReFi communities using quadratic funding. Big shout out to Daryl and Anna for their contributions to the Alpha incubator program that supported over 24 local nodes!
Since then, we've run two Gitcoin featured rounds and allocated over $55k of grant capital thanks to the support from previous donors, Celo Foundation, Celo Europe DAO and Konekti DAO. Huge shout out to the folks at ReFi Medellín, ReFi Costa Rica, ReFi Tulum, ReFi Cape Town, ReFi Phangan, ReFi Miami and of course my friends at ReFi Lisboa for helping to bring this vision to life!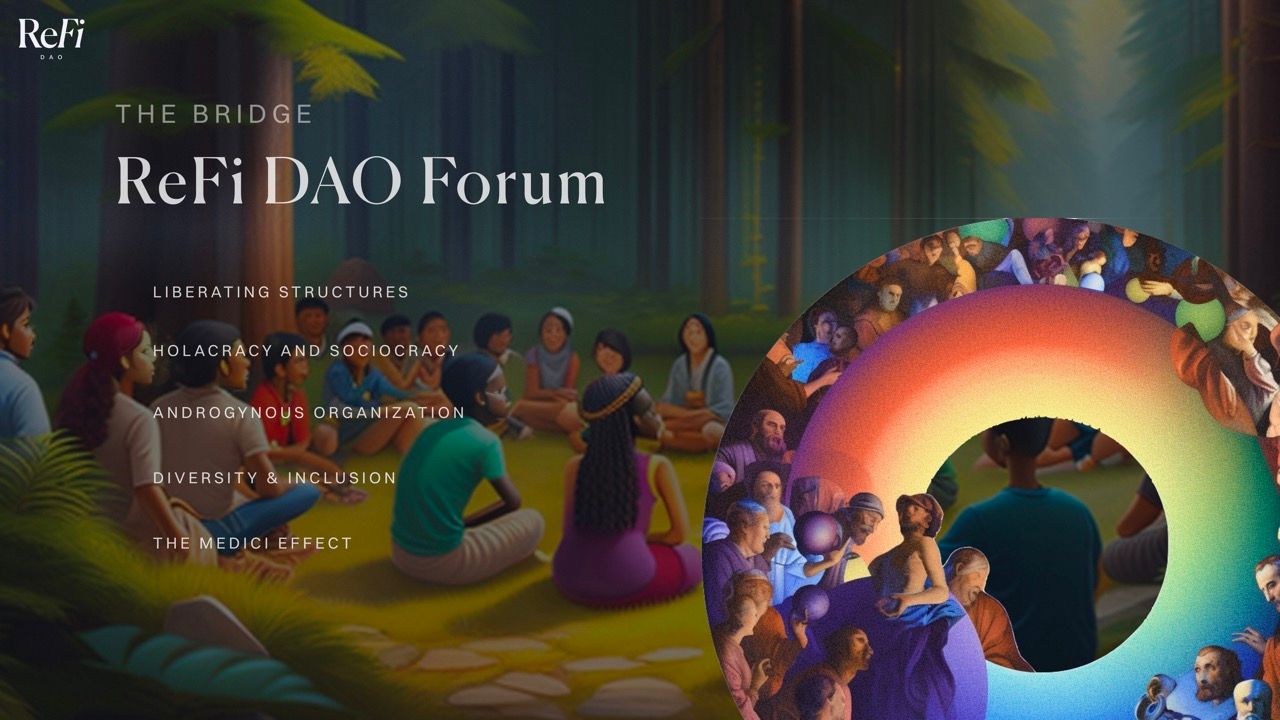 ReFi DAO Forum
With the local node architecture in place, we began hosting formal Forum discussions to evolve as organization using a consent-based governance model. Through this model we discussed new concepts such as network societies and coordiNATIONs in place and made a collective decision to shift away from the network state framing to adopt the more cooperative, inclusive and regenerative terminology that we hold today.
---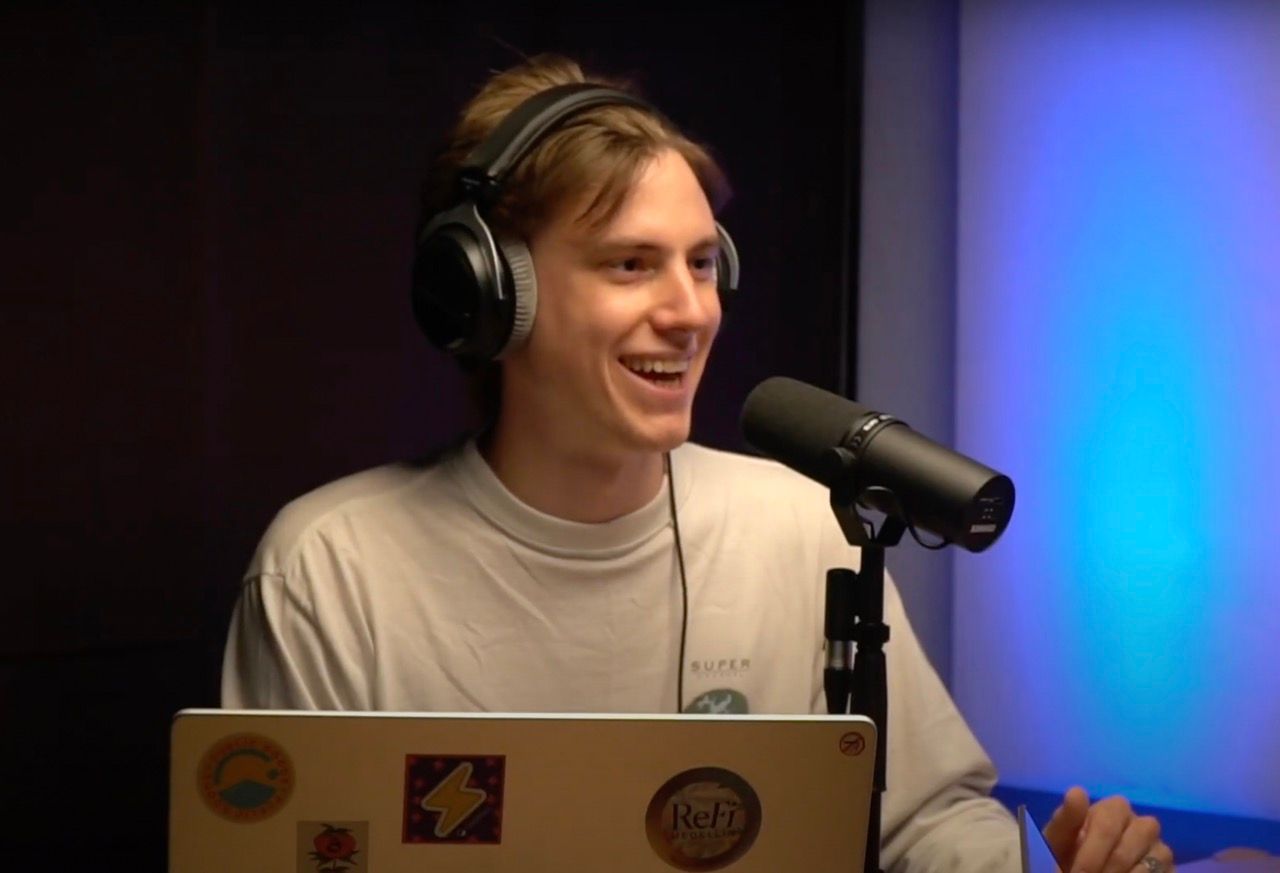 Monty Merlin's magic 🪄
Since joining ReFi DAO in November of 2022, Monty has become a key contributor through leading ReFi Roundup, Website & Knowledge Graph, ReFi DAO Forums, and ReFi London—not to mention his persistent contributions to the Ecological Benefits Framework (EBF). His passion for startups, environmentalism and effective governance makes him the perfect fit to steward the vision of ReFi DAO for the next chapter. It's been an honor to see Monty speaking on the conference circuit and becoming a leader across the ReFi movement!
"Growing up in a family at the forefront of the 1980s green consumer movement, sustainability principles have always guided me. This foundation propelled me into the realms of technology, economics, and philosophy, ultimately leading me to the transformative field of ReFi. A pivotal moment was connecting with John after my Tedx talk 'Can Crypto Regenerate the World?'

His mentorship and endless inspiration have been a true blessing, as has the support of Daryl, whose work on Founders Circles and entrepreneurial mentorship has helped shape my journey. Monumental gratitude also extends to Anna, whose communication and enthusiasm are unmatched, and to the wider ReFi DAO community who have been our backbone of support.

As we step into the next chapter of ReFi DAO, I am incredibly excited to co-create a ReFi ecosystem that harmonizes humans, nature, and technology. The challenges ahead are immense, but so are the opportunities. I am inspired by the incredible people and organizations working towards these solutions.

Let's unite, old and new, to drive our vision of a global regenerative society. Together, we can fortify the ReFi movement, plant seeds of regeneration across our web of local nodes and online communities, and forge a future that's not just sustainable, but truly thriving.

Come get involved!"

— Monty Merlin
---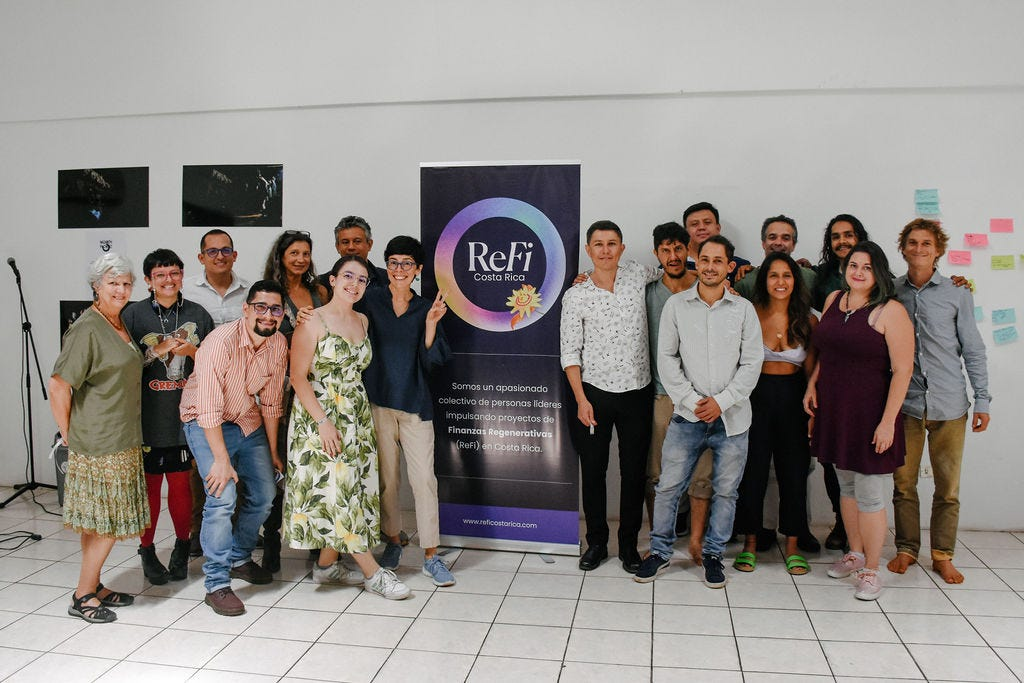 Anna Kaic's gifts 🎁
Since joining ReFi Spring in January 2023, Anna has been a rock solid support for our community, marketing and operations. She's helped us bridge the gap to different communities through her work in Spanish and Portuguese alongside the amazing folks at ReFi LatAm and has been a steady drum beat on quarterly Gitcoin rounds. Being at the forefront of a content-driven community, Anna's developed an amazing capacity to tell stories and bring people together online towards a shared vision of the future. I'm also super excited to see how Anna continues to flourish as she embarks upon her journey with Urbanika across Central and South America!
"Working on the first cohort of the Local Node Incubator with Daryl Edwards has been eye-opening for me. We were able to get so many insights about the challenges that different Nodes are facing in their local communities and this has fortified the belief in the power of regeneration coming from local startup communities.

I am incredibly grateful for the amazing journey I've had so far with the ReFi DAO team. John, Monty and Daryl have been of great support in my professional, but also personal journey. With this team I found a place to express myself, while sharing beautiful and hard times. Very excited to see what's coming up for Monty, myself and this amazing community we've all built together! We will be focusing on serving the network of ReFi DAO and showing up every day to do our best work.

— Anna Kaic
---
Sewing seeds for generations to come
I've been so grateful to have supported the growth of the ReFi movement over the last couple years alongside so many talented leaders. What began as a spark of possibility has now sewn the seeds of regeneration in startup communities all over the world. It might be hard for us to see on the frontlines, but what we have created together is nothing short of remarkable.
From the corners of a niche movement on the fringes of the internet, we are contributing to the evolution of the world's financial markets alongside human consciousness as we recognize what we really need to survive:
We need nature.
We need each other.
We need effective systems that value all of life.
Amidst the torrents of a highly extractive society, amidst rising temperatures, geopolitical instability and war—ReFi stands as a beacon of hope for leaders who believe in making the world a better place and have the courage to face these systemic challenges with their own hands.
---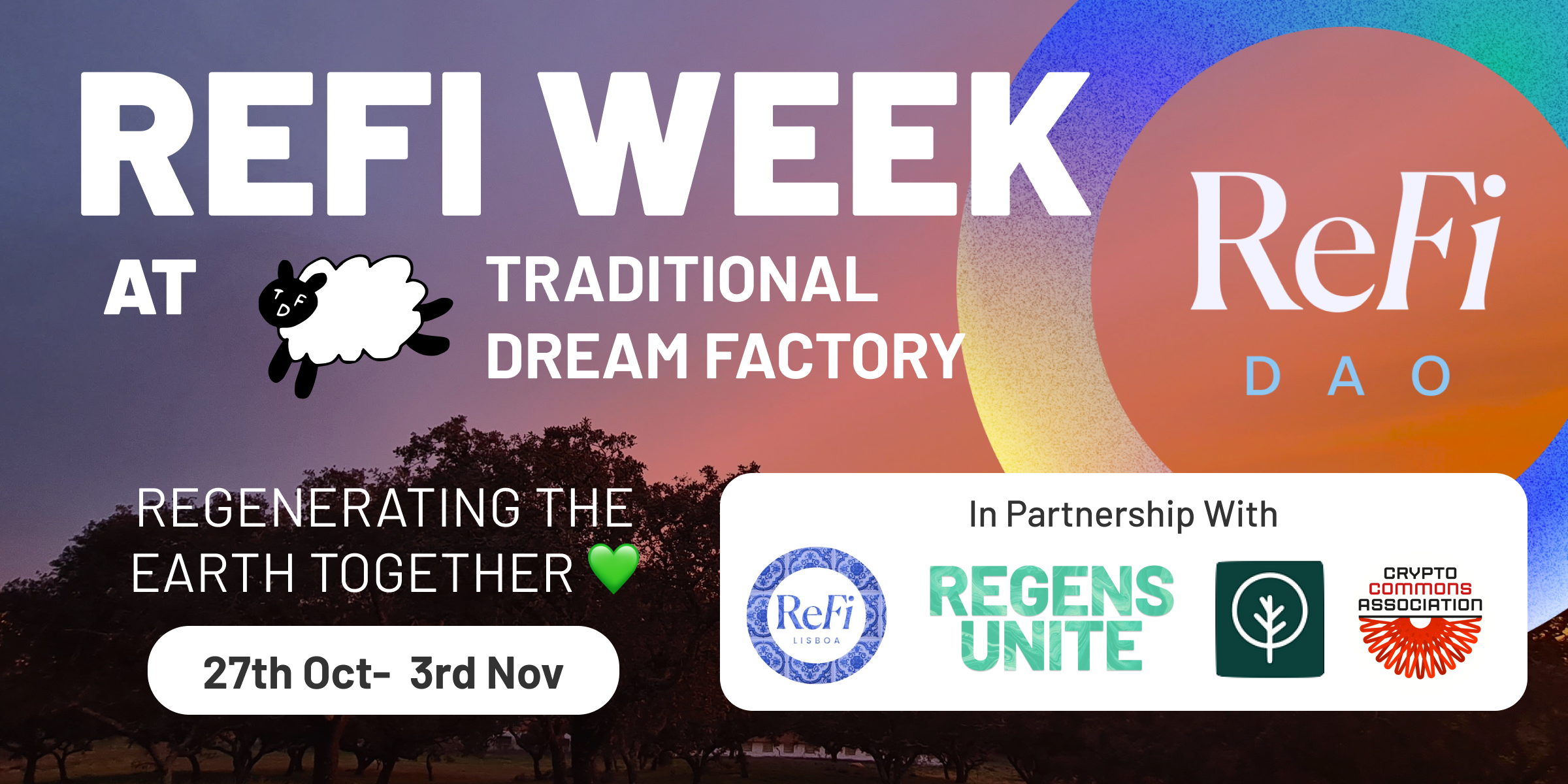 Exploring ReFi DAO 2.0 at ReFi Week 🚀
I very much look forward to exploring the next evolution of ReFi DAO as we co-create the mission, vision and values of this movement together with dozens of leaders from across ReFi at TDF over the next five days. We're so grateful to have the support of members from Regens Unite, Gitcoin, Silvi, Treegens, dMeter and other incredible organizations at this pivotal moment in our organization.
Subscribe to the blog and stay tuned for updates and opportunities to get involved in upcoming Forums, Local Node programs and Gitcoin grant rounds!