Diversity, Equity, Justice and Inclusion with Gilberto Morishaw │Season 3 Episode 5 🎧
Dive into discussions on regeneration, diversity, equity & inclusion in the latest episode of ReFi Podcast with Gilberto Morishaw from Kolektivo. 🌟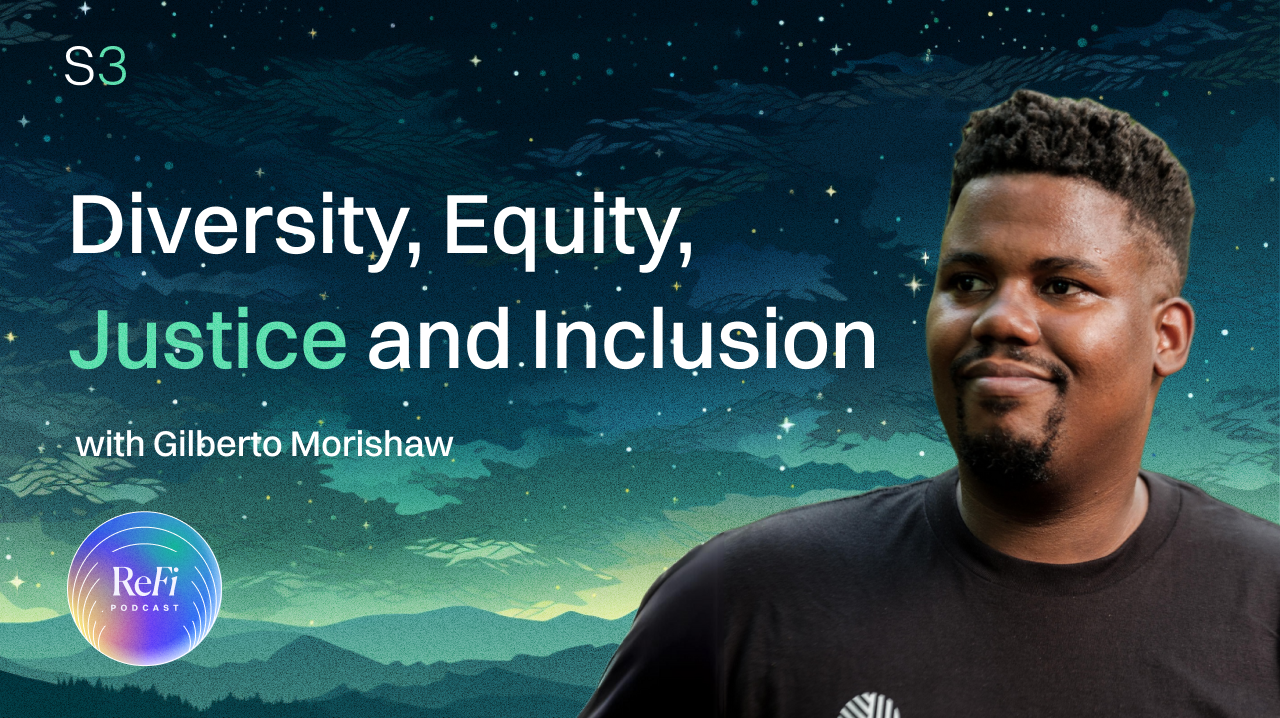 Hey ReFi Nation! 👋

Anna here, excited to bring you another episode of the ReFi Podcast, where we not only discuss but also reflect deeply upon matters of regeneration, diversity, equity, inclusion, and justice.
In this episode, John Ellison of ReFi DAO had the pleasure of welcoming Gilberto Morishaw, a dear friend and the Head of Impact, Equity, and Inclusion at Kolektivo. Gilberto's roots in Curaçao and his life in Amsterdam have painted his worldviews with unique shades, providing him with rich insights into regeneration from a holistic perspective.
Gilberto shares his viewpoint on the work Kolektivo is doing in Curaçao. Born and raised on this beautiful island, he provides us with an insider's perspective, presenting a vivid picture of the on-ground realities and challenges in Curaçao. Through his eyes, we explore the true essence of regeneration as Kolektivo sees it— a process entangled with the lives and roles of the people in the community.
What are we all working towards? What does the end state of our collective regeneration mission look like? These are complex questions, and our dialogue with Gilberto attempts to shed light on these. The conversation is a tapestry of thoughts, ideas, and visions about the future we are building, the purpose driving our actions, and the destination we envision for our communities and the Earth.
This episode covers:
02:21 Meditation and alignment
06:25 Building regenerative communities
11:04 Tokenization and regenerative systems
14:24 Justice, equity, diversity, inclusion
19:57 Diversity and innovation in economics
22:39 Going fast, not going deep
26:10 Urgency and doom in climate crisis
29:59 Conservation and indigenous stewardship
34:43 Dancing with the devil in capitalism
38:53 Web3 and public verifiable impact
42:24 Redefining wealth
45:18 Transitioning economic systems for equity
48:15 Overcoming comfort for future growth
52:07 Holding yourself in love
56:25 Lack of end state
59:03 Mainstreaming blockchain technology
01:03:20 Inclusion and regeneration
01:06:19 The world is changing
Join the Conversation 🌟
We await your thoughts and feedback on this episode. Dive deep into the topic, reflect, and join the conversation on Twitter and LinkedIn. We're looking forward to meeting you on the other side of the discussion.
And if this episode has resonated with you, make sure to share it and spread the word! Thank you. 💚