Internet of Impact: IXO And ReFi Cape Town with Shaun Conway & Shawn Alimohammadi │ReFi Podcast Season 3 Ep. 6 🎧
This episode of ReFi Podcast introduces IXO's innovative blockchain system for a tokenized impact economy, with features enhancing the verification of impact claims and facilitating significant capital flows for renewable energy and preservation efforts in Asian and African markets.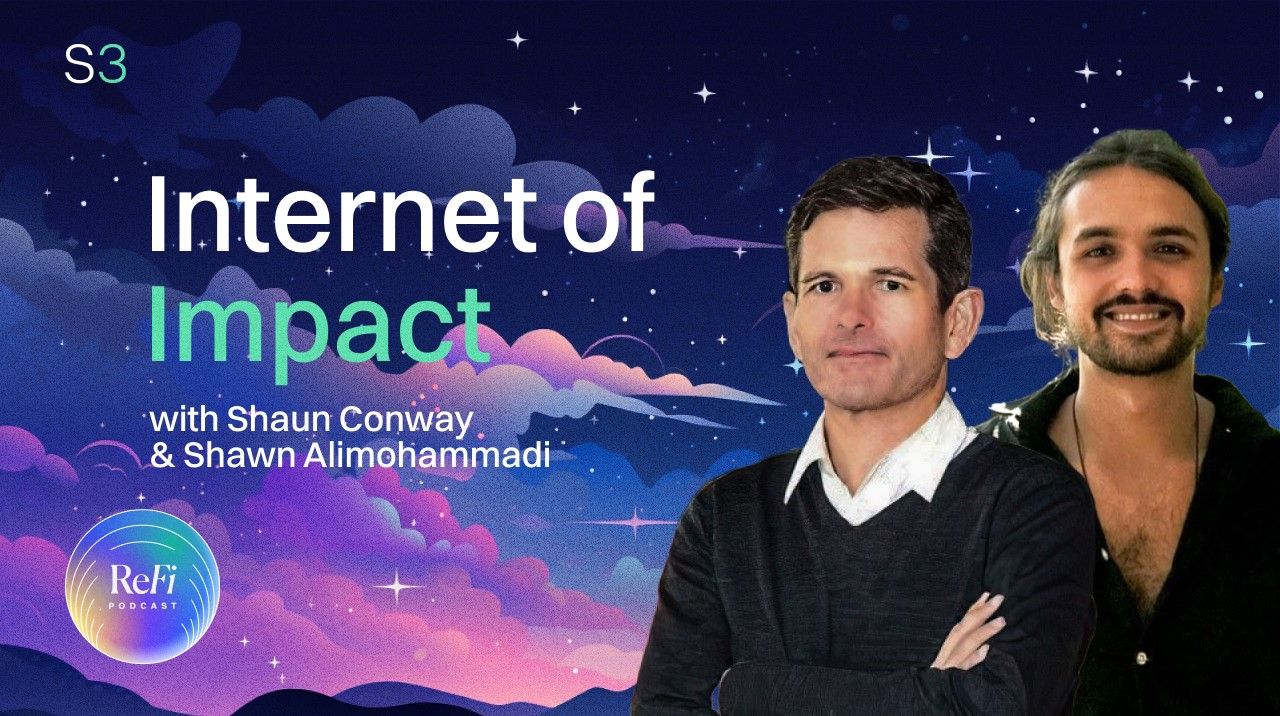 Hey ReFi Nation! 👋
We are incredibly excited to share another episode of ReFi Podcast featuring Dr. Shaun Conway and Shawn Alimohammadi of IXO: a blockchain built with the Cosmos SDK for a tokenized impact economy.
Dr. Shaun shares his vision of a sustainable world harmonizing people and planet through decentralized ledgers. On the other side Shawn, a ReFi Local Node movement pioneer, has actively initiated regeneration seeds in Cape Town, inviting local leaders to partake in this vision.
In this episode, they introduce IXO's innovative system, addressing the current impact economy's fractured models. With AI integration, they've improved the verification process of ground-level impact claims, promoting accuracy and reliability while highlighting a technology layer explicitly designed for the impact economy. They also share the progress, successes and challenges of the ReFi Cape Town Local Node.
Through IXO, access to Asian and African markets becomes seamless, paving the way for multi-billion-dollar capital flows essential for renewable energy and nature preservation endeavours, especially amidst the voluntary carbon market's declining growth.
This episode covers:
00:00 - Teaser
00:50 - Introduction
4:38 - Meditation
7:44 - The Tokenized Impact Economy
10:54 - We Don't Know What Matters for Planetary Health
13:00 - A Public, Verifiable Proof of Making Good in the World
19:20 - The Local Currencies Experiment
22:55 - Presenting IXO
34:11 - Why Would a Project Choose IXO?
48:11 - What is Coming Next for IXO?
55:14 - The Culture of ReFi Cape Town
1:03:57 - How Can You Access the Power of IXO?
Join the Conversation 🌟
Your insights and reactions to this episode are incredibly valuable! Explore the topics, ponder their implications, and then join the conversation on Twitter and LinkedIn. We can't wait to see your unique perspective.
Should this episode strike a chord within you, don't hesitate to share it far and wide, amplifying its reach and impact. Thank you for your support! 💙