Liquid Climate Finance with Stenver & Rez of Solid World │ ReFi Podcast S3 E7 🎧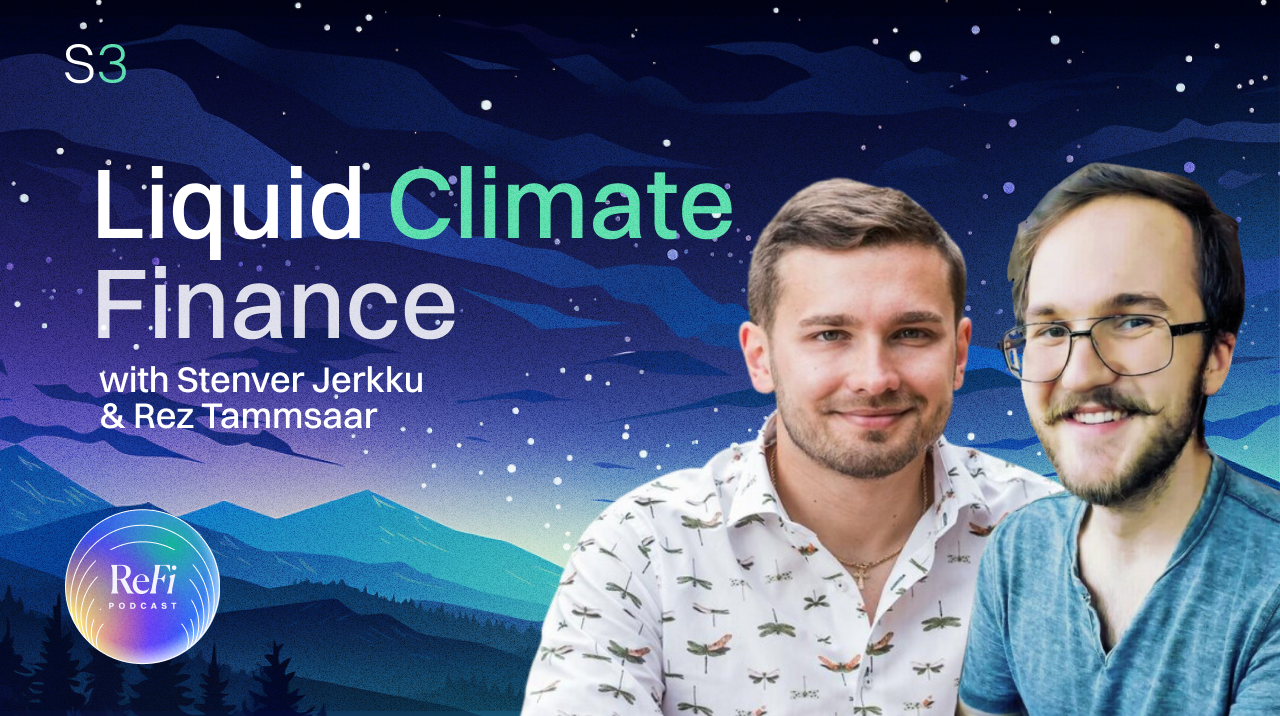 What is good, ReFi Nation?! 👋

Anna here from ReFi DAO excited to share with you the new episode of ReFi Podcast with Stenver Jerkku and Rez Tammsaar from Solid World! Big shout out to Celo Foundation and Climate Collective for making this show possible. 🙏🏼
Solid World is a climate finance platform that provides critical funding to carbon avoidance and removal projects around the world via pre-paid carbon credits. They currently have over $2.19M in TVL (and growing) offering over 14% vAPR across their mangrove restoration and clean cookstove projects. 🤯
This project is quintessential ReFi: Solving a specific piece of the climate finance stack, offering real-world assets and competitive returns. Join us as we dive deep into Solid World with two of the brightest minds in the industry! 👏
Stenver and Rez are not just ordinary builders in the ReFi space. These are two serial entrepreneurs with a wealth of experience in climate finance and software engineering. Stenver and Rez got industry insights into the challenges of the carbon market during their previous successful venture eAgronom.
They developed a hypothesis about how to finance projects in a way that actually works for the project developers on the ground, and after many months of engineering, fundraising and partnerships have launched their platform with a sizable supply of pre-paid carbon credits from top project developers like Vlinder, and Allcot. Along the way, Solid World built an all-star line-up of industry partners including Mastercard Lighthouse, StarCB, Toucan, dClimate, Open Forest Protocol, Mangrove DAO and Climate Collective.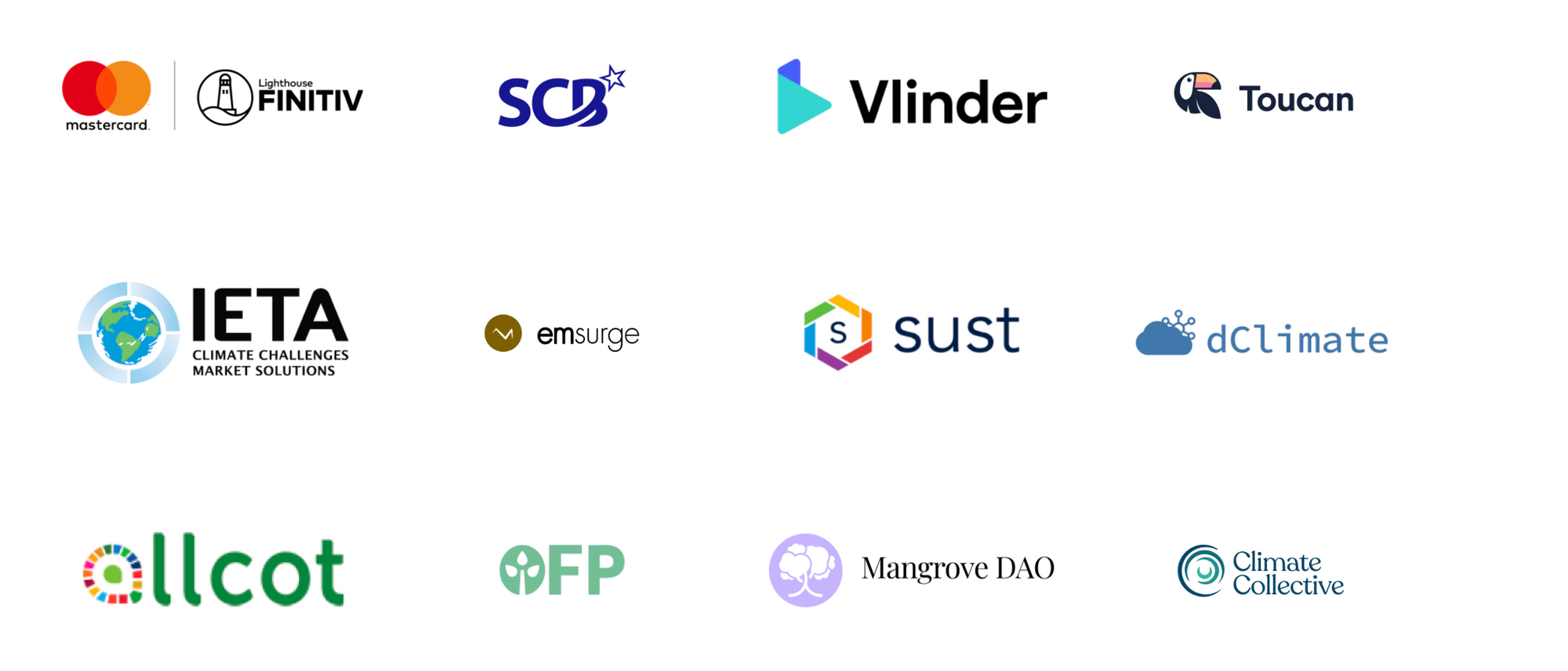 This liquid forward financing innovation that Solid World provides is nothing short of revolutionary, solving a key bottleneck in the current carbon credit project development lifecycle: Forward financing.
In other words, Solid World's innovation ensures they receive the necessary capital upfront, enabling projects to take climate action now, as opposed to waiting three to five years to get their first batch of credits issued! The traditional voluntary carbon market has been negotiating bi-lateral 'over the counter' deals to provide these type of financing mechanisms, but now thanks to Solid World and their CRISP framework, the industry has a liquid supply of pre-purchased carbon credits for both mangrove restoration and clean cookstoves—already reaching over $2M TVL since launching this summer.
The discussion delved deeper into the technological foundations and methodologies adopted by Solid World. Their approach to risk assessment and the potential expansion beyond the voluntary carbon market offers a massive expanding horizon of opportunities.
The OG Story of ReFi
We also touch on the real story of how ReFi got started, which not many people seem to talk about! 👇
This episode covers:
[00:00:00] Teaser
[00:00:46] Introduction
[00:02:31] Who is Stenver Jerkku?
[00:05:20] Who is Rez Tammsaar?
[00:06:53] The Limitations of the Current Financial Instruments
[00:10:00] Solid World: How Does It Work And Who Is It For
[00:13:48] Liquidity & Trust
[00:16:11] From Order Books to Web3
[00:18:52] Using Market Activity to Set Liquidity Pool Parameters
[00:20:03] Redefining Carbon Markets
[00:22:09] Building Resilient Systems: The Robustness of Crisp-M
[00:29:46] The Origins of ReFi: Myanmar 1764 and TreeCoin
[00:38:09] The CRISP Framework and the Pursuit of Transparent Climate Action
[00:44:50] Assessing Carbon Credit Risk and Ensuring Quality
[00:42:01] Commitment, Innovation, and the Current State of the Market
[00:56:16] Navigating the Digital Frontier
Solid World's MASSIVE growth 📈
The market is taking onto Solid World's innovation and is fueling massive growth with a 63.6% increase in TVL on Polygon in the last week of September. They say that "Capital flows at the speed of trust" and this is clearly a signal from the market that this solution is working...
Join the Conversation 🌟
Every voice matters in this conversation about our planet's future and the myriad of solutions available to take action today. Let's continue to foster these valuable discussions and drive meaningful action together.
Join the conversation on Twitter and LinkedIn or check out one of the 70+ local ReFi communities in a city near you.
If this episode resonated with you, we'd be super grateful for a five-star review where ever you listen to your podcasts! 💙