ReFi Roundup #42: From DeFi to ReFi, Degen to Regen 🌱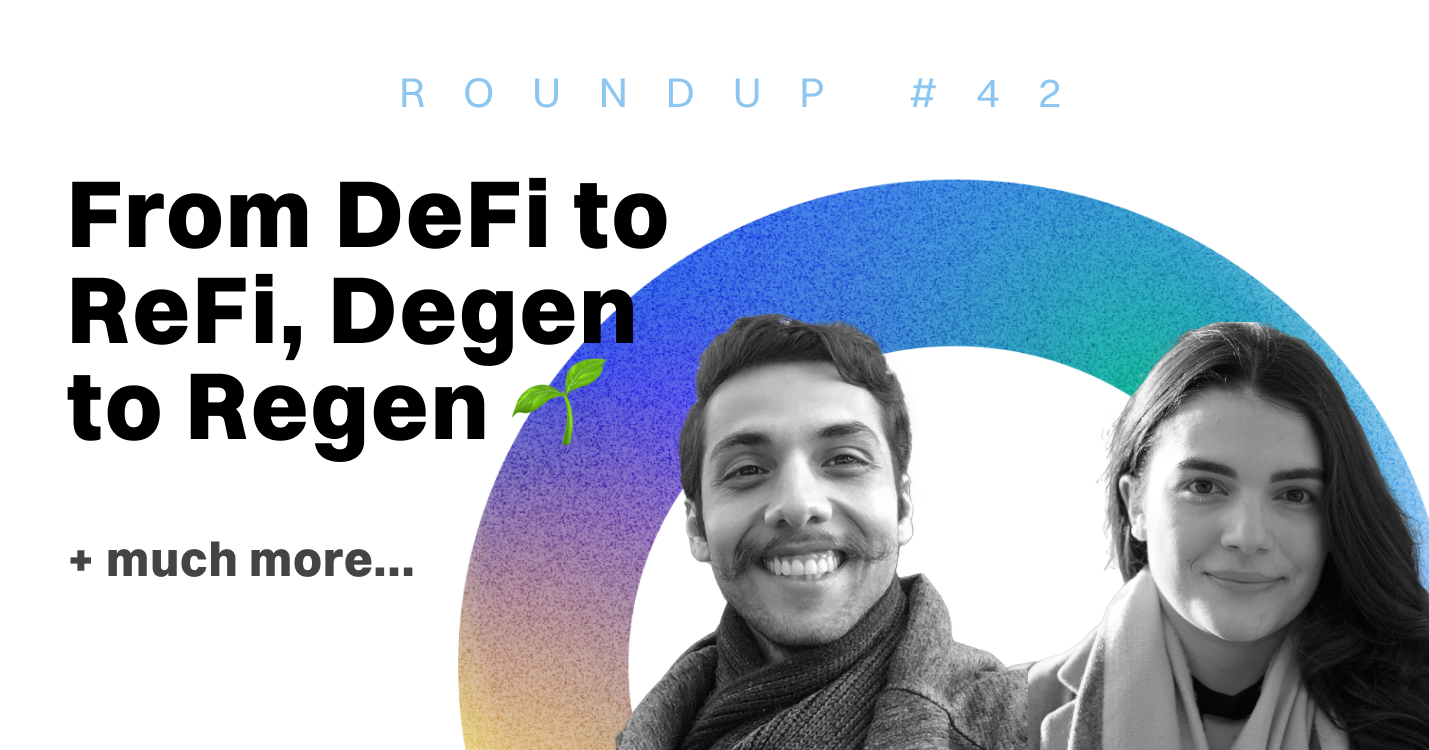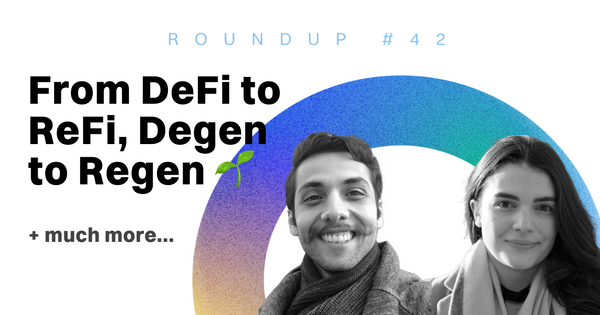 Hello! Humberto and Anna here, happy to be bringing you the latest ReFi Roundup ✨ We are a team dedicated to facilitating education on post-capitalism at the urban level. Our school, Urbánika, offers video capsules, IRL immersive challenges, and a complete course on urban regenerative governance through the Commons perspective and the Web 3.0 stack. Do check us out if you wish, but first, let's dive into the top ReFi news of the week... 🤸
---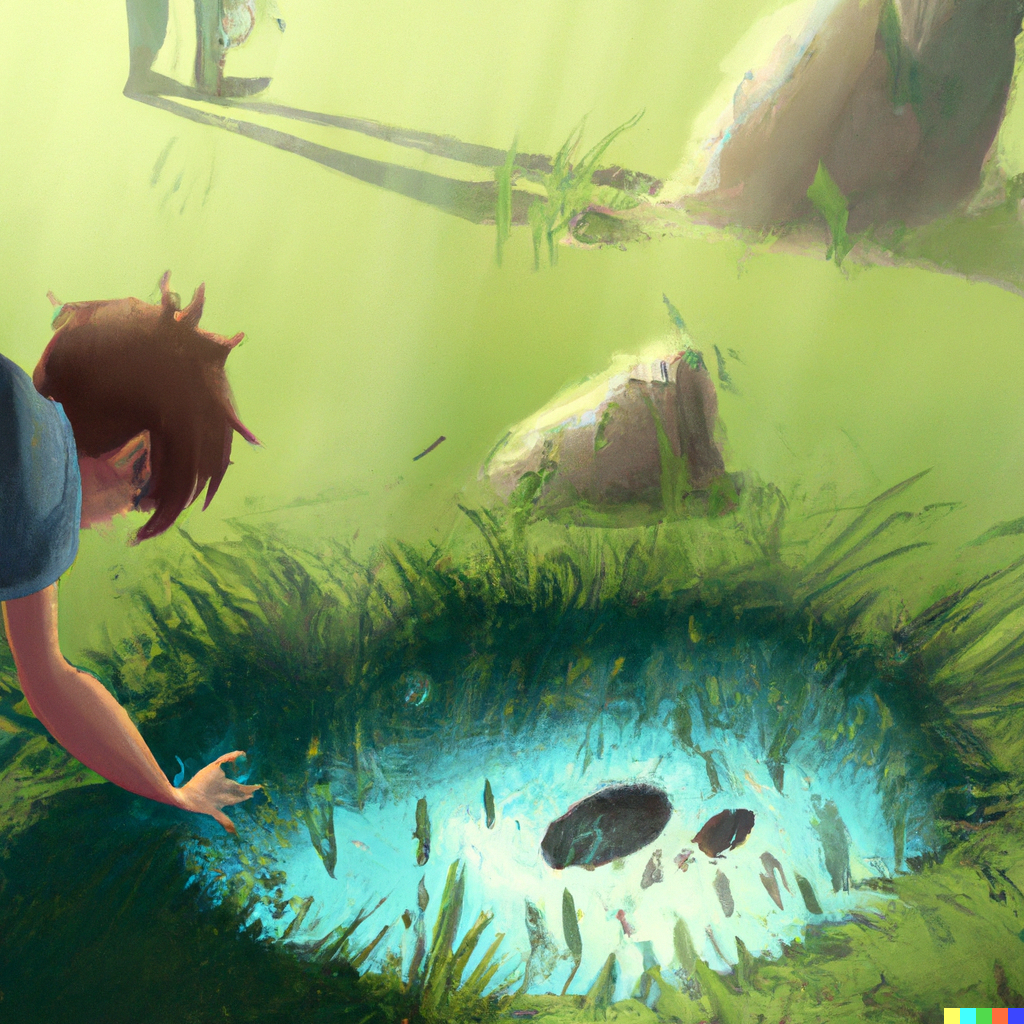 Evolving DeFi for ReFi... ✨
The Automated Market Maker is the underlying technology we know as Decentralized Exchange, and UniSwap was the first one put into use what Vitalik Buterin described in 2017. That historic moment marked the democratized access to trading and market-making for anyone with a crypto wallet. No more intermediares!
So that's the DeFi part. Where is the ReFi part? Drums, please. 🥁🥁🥁
Automated Regression Market Makers (ARMMs)
Blockscience has developed an algorithmic trading solution with the potential to optimize the identification and automated matchmaking of carbon credits beyond only price.
So, how does it work? Trading can occur when the price of a certain good, let's say a carbon credit, matches the attributes a buyer is looking to offsetting. For example, the Mode (Governmental, Commercial, Residential), the Means of carbon removal (Renewal energy production, Forestry, GHG reclaim, Efficiency), the Location, the Tonnes willing to remove, and the Quality of these.
In easy words, an ARMM enables a person or organization to set trades when a highly complex set of attributes match. For example, a person would like to purchase a maritime carbon credit produced in his/her country or region, with reef reforestation as means of offsetting and a high-quality certification. Then this can happen!
Blockscience, Hedera, Object Computing, and Tolam Earth are working right now to operationalize their theory into Regenerative Decentralized Exchanges (DEXes) that are highly liquid, publicly auditable, and provide ESG marketplaces based on open data and price discovery. The economic impact could be huge with $851 billion for carbon markets and $2 billion for voluntary carbon markets, read the full article below 👇
---
ReFi Podcasts 🎙️
The best audio and video content from creators across the space...
In this new section of the newsletter we want to feature a curated selection of the top audio and video ReFi & Web3 content from creators across the web - enjoy 😊
Speed & Scale with Ryan from Kleiner Perkins 💫 | ReFi Podcast S2E16
In this week's episode of the ReFi podcast, John and Simar are joined by Ryan Panchadsaram. Get ready for a deep dive into Ryan's backstory, discover all about Speed & Scale, hear a resounding CTA and much more. Read the deep dive, listen to this podcast episode on your favourite platform, or check it out on Youtube.
Novel Coordination Architectures with Awa Sun Yin 🌐 | Green Pill #64
Awa Sun Yin is co-founder of Anoma, the decentralized application architecture which allows for complex applications with new primitives. In this episode, the boundless possibilities of the Anoma design space is explored, orbiting around new mechanisms for coordinating at scale. 💪
---
ReFi 🐦
The latest across ReFi Twitter and beyond...
Verra announces dMRV pilot with Pachama 🛰
One of the outputs of Verra's digital measurement and verification working group was a pilot with Pachama to leverage their platform to improve the MRV of verra's forestry credits.
Partnerships happening in the Global South 🤝
Climate tech startup Atlantis DAO has announced a new partnership with Shamba Network to support pilot projects with farmers in rural India and strengthen ReFi across the Global South.
Join the ReFi Rabbithole 🐇🕳️
What is ReFi? Would you like to help answer to this question? Our friend Sev Nightingale has created a ReFiSpring + ReFiDAO working group to do exactly that. Writers, editors and designers can join by filling out this survey!
COP27 Clickbait 👀
"Apocalyptic headlines" related to COP27 have been spreading all over mainstream media outlets. Read Karl Burkart's article first, and don't fall for the clickbait.
UN IPCC's Conclusions 🧵
Future Quest DAO sharing an easy-to-read thread about the conclusions of the Intergovernmental Panel on Climate Change of the UN.
Women in ReFi  💪
Grit Daily presents woman-led ReFi projects that leverage the superpowers of quadratic funding. Find the full article here.
We Have Solutions 🍊
Just a small reminder from Mike Hudema. A better future is possible, we have the solutions, and it's time to act.
ReFi Events 🪩
Get your ReFi on with friends in-person and online...
View more
Looking Forward 📍
Some of the exciting events coming up soon... Make sure to grab some tickets and support the ReFi regenerative renaissance wherever you are from!
Sustainable Food Summit LA 👐
📅 November 29th (São Paulo, Brazil)  
Are you looking to agitate the minds of executives from multinational corporations? The Sustainable Foods Summit LA is gathering organizations working on regenerative agriculture. It might be the perfect place for a Web3 regen to attend and close some high-impact agreements. ;) Check the event page here.
Public Goods Gathering by ReFi Berlin 🌳
📅 November 23rd (Berlin, Germany) Event Page
From Berlin? Make sure to join this Public Goods Gathering where DeSci, ReFi, and Funding the Commons communities will come together for an afternoon of good vibes and new connections!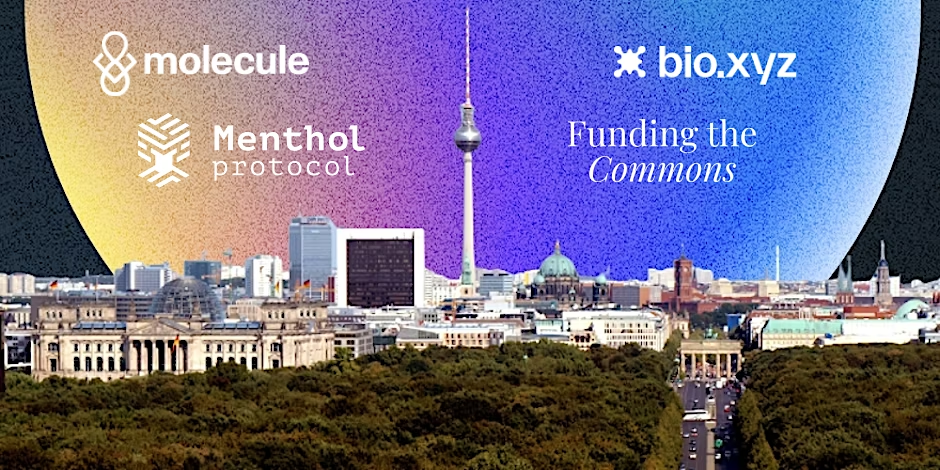 Office Hours of ReFi DAO ⏰
📅 November 21st (Online on Discord)
ReFi DAO's office hours are continuing, this time on the topic of token engineering with Longtail Financial! Join via Discord here.
Crypto, Climate, and Regenerative Finance - ReFi Bristol  🌱
📅 December 6th (Bristol, UK) Event Page
From the UK? Connect with the local regen scene with an evening of talks led by Monty Bryant, Alison Filler, Charlie Pool, Maryam Mazraei, and Harry MacKenzie.
ReFi Founders Retreat 🏠
📅 May 24th (Reichenau an der Rax, Austria) Event Page
ReFi project founder? This gathering of leaders is designed as an unforgettable week of expert talks and consultations, collective narrative weaving and ample leisure activities in nature with nourishing practices for body and soul. Follow Commons Hub events here.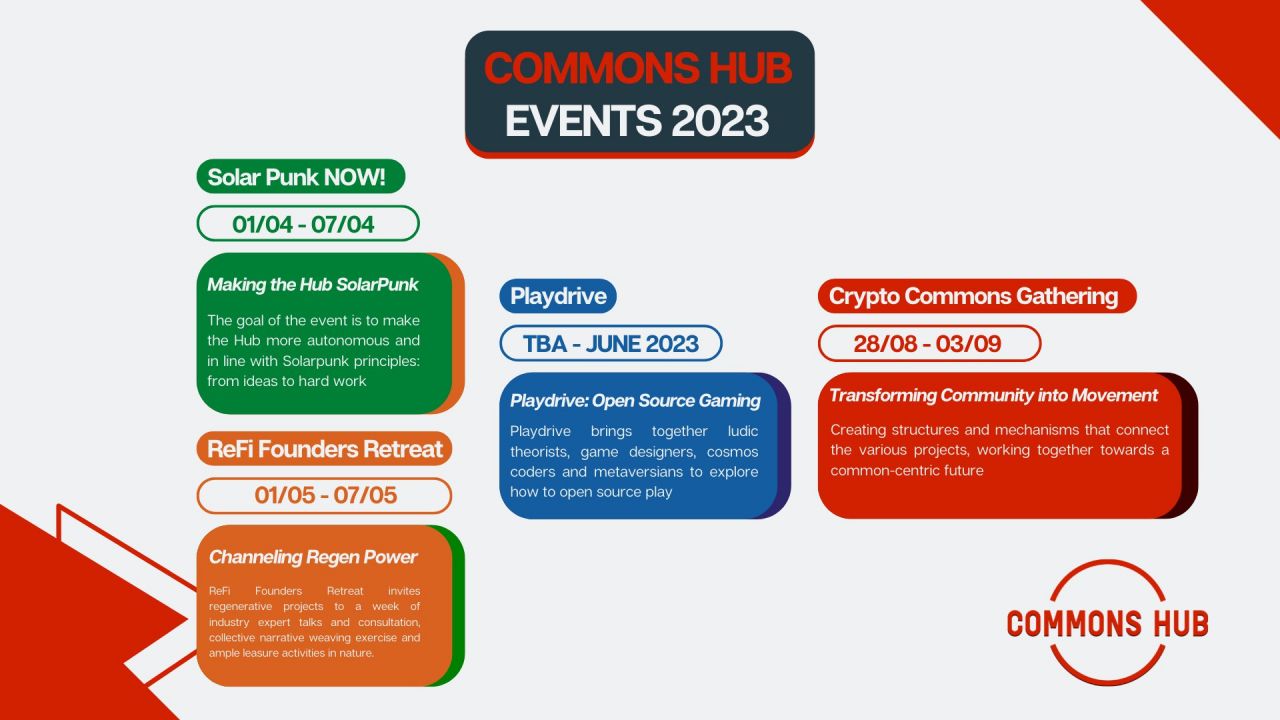 Event Retrospectives 🚶
Highlighted discussions from some of the exciting ReFi events going on across the globe and through the interwebs 🕸
Flori Ventures Web3 x Climate Showcase ⛰️
📅 November 16th (Online) Event Page
A compact masterclass from leading ReFi projects - 15 founders explain their work. Click on a project for details on fundraising, jobs, or partnerships and you can request an intro! It's still open but the deadline is November 23rd so get going! Happy hunting :)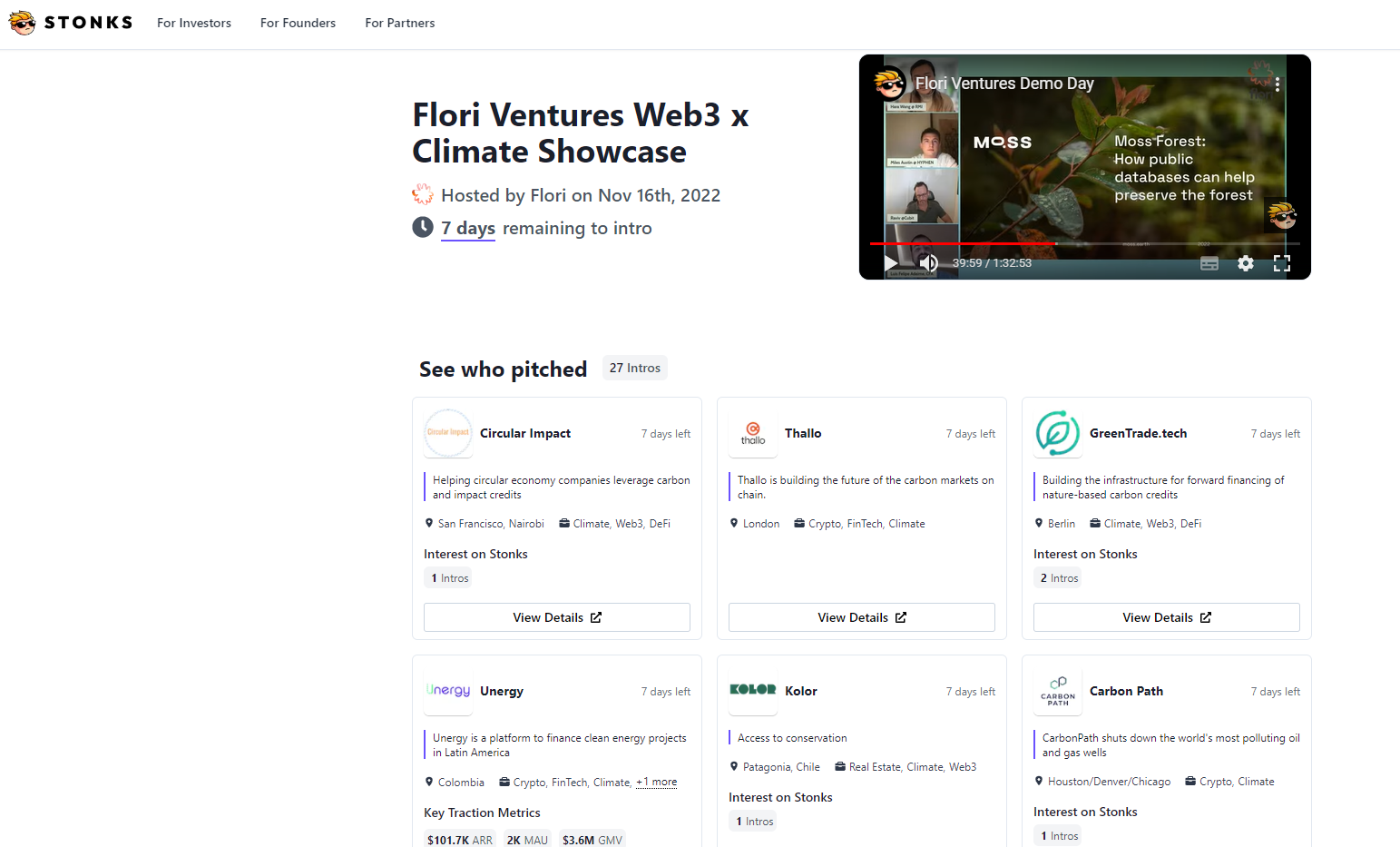 The SolarPunk Guild 🪄
📅 November 15th (Online) Event Page
A new initiative and weekly space for SolarPunk public goods funding have launched! The aim is to support projects with tools, comms, onboarding, impact assessment, and more... Go check it out to get involved!
---
Add your ReFi event! 👇🏽
Got a ReFi, crypto, or climate event coming up, and what to have it featured in the newsletter? Add yours to ReFi Spring!
---
New Projects! 🌱
A showcase of new, exciting, and upcoming ReFi projects..
View More
Here are some of the exciting projects that have crossed our radar this week:
🚌 Solarpunk Nomads collective: SolarPunk Nomads is gathering a tribe to build a Solarpunk society that makes use of four-edge technologies: EV vehicles, printed solar panels, cheap satellite connections, and blockchains. Currently operating in Europe.
🏰 Atlantis DAO: Do you imagine the potential of earning from completing climate-positive actions in your local community? Well, that's what Atlantis DAO is enabling! Currently operating in India.
🌿 EthicHub: The First DeFi protocol connecting unbanked smallholder farmers with yield farmers and lenders globally. And the most amazing thing is that if the rural farmers are not able to pay back, the protocol will cover you. Currently operating in Mexico.
Don't you get excited to see so many different ReFi projects doing great impact all over the globe?? They give us hope, inspiration, and direct ways to adopt ReFi in our lives...LFG! 🌱🚀
---
Add your ReFi Project! 👇🏽
Have a project you want to add to our list? Click the button below to submit an application to our database!
---
ReFi Jobs 👩🏽‍🚀
Find your next gig at a leading ReFi venture...
View more
Regen Network Position!
Implement strategies to grow Regen Network's brand and digital products. Check the full job post here.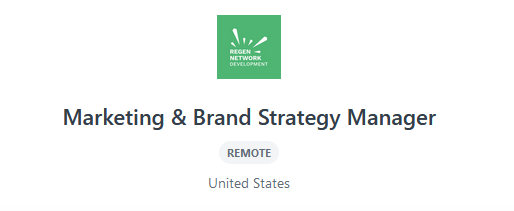 ---
ReFi Newsletters 🗞
See other amazing newsletters from the ReFi Community.
A newsletters that particularly caught our attention this week:
"Wait, WTF is MetaGame" - MetaGame's newsletter brings web3-based post-capitalistic questions and gives practical quests to engage, learn, and contribute to DAOs on the field, making an impact. This edition caught our eye by inviting us to zoom-out of the game we all call life and realize that the rules are not set in stone...
---
Thank you! 🤩
For being a part of the ever evolving movement to create a radically better future...
Signing out 🫡
Pheew! That was a packed roundup! We hope this week's edition has sparked some ideas and insight and contributed to our collective regenerative consciousness. We also want to say thank you to Monty @ReFi DAO, who invited us (Anna and Humberto) to lead this roundup. We hope you have enjoyed it!
---
If you have any news you'd like to feature in the roundup, or have any comments, or creative ideas, please let us know! Submit feedback below!👇