ReFi Roundup #48: Gitcoin Alpha & ReFi Davos ⭐🏔️⛷️
Gitcoin's AlphaRound is live, ReFi is @Davos and, as always, the top news and events from the frontlines of crypto and climate this week. Enjoy :)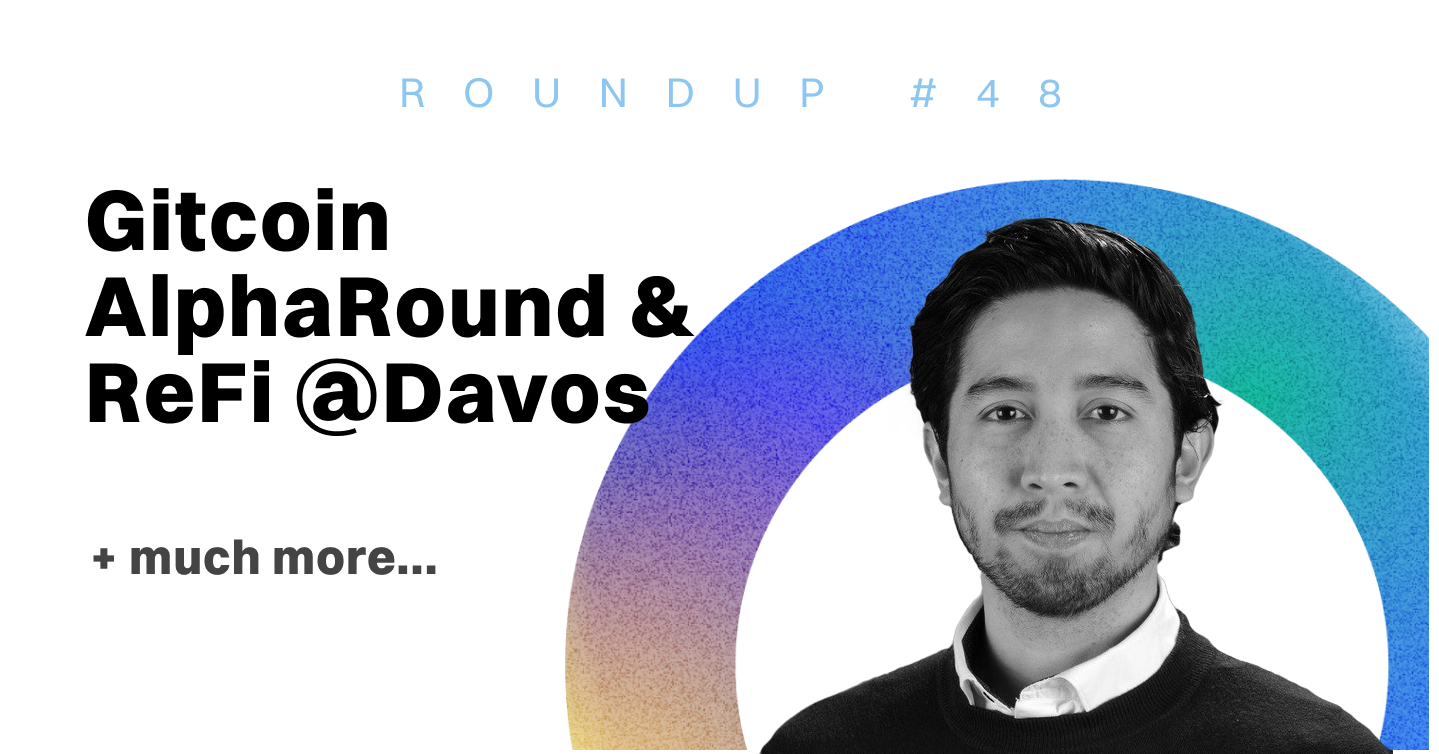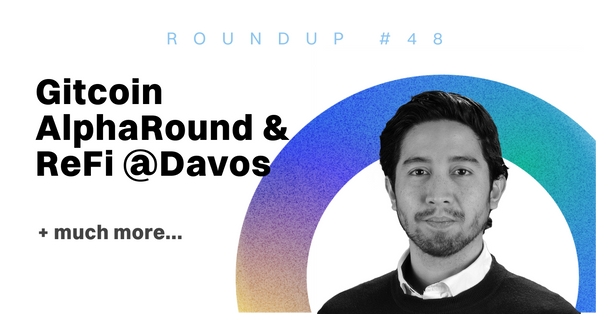 Happy Friday Regens, Nura here with the latest ReFi Roundup 😊 I'm a sustainability tech professional by day, and ReFi writer @enjoytheweather by night. Let's dive in…
---
Gitcoin Alpha Round  ⭐
This year started with a surge of excitement around the new Gitcoin Alpha Round that launched this week. Supporting grantees in Open Source, Ethereum Infrastructure, and Climate Solutions, with a total matching pool of $1M!
Within Climate Solutions, there are 50 awesome projects, including our friends at ReFi Spring and our newly launched ReFi Commons project with Commons Stack, plus many other exciting projects in regenerative agriculture, renewable energy, Web3 education, and many more. Make sure to support as many of them as you can! 👇
What's so special about this round?
A New Decentralized Protocol: the Gitcoin DAO has been building and testing a permission-less and open source grants protocol. After successful test rounds with UNICEF and Fantom last December (Covered in ReFi roundup #44), the new protocol is up and running with the Alpha Round this week. The idea is for for any project or community to be able to openly use it's quadratic funding mechanism in their own ways, and build on top of the protocol. If Gitcoin were a garden, it's now open for anyone to cultivate and blossom 🌼.
Updated Gitcoin Passport: The gitcoin passport is a sybil resistance tool for controlling access to a project or community and rewarding contributors with recognition "stamps", while still protecting privacy. If you haven't gotten your Gitcoin passport yet, check out the thread below and claim your passport here 🪪.
Some users have experienced difficulties ase a result of the high volume of requests for passport stamps, so please remember: This is Gitcoin Alpha!
Gitcoin also has a new slick grants explorers and a POAPs quest to win VIP Schelling Point packages. We are wishing well for all projects in this round and calling all regens to show love and community 👐
---
ReFi Davos ⛷️
The World Economic Forum at Davos was also happening this week. Where politicians, business leaders, and civil society from around the world meet at the Swiss ski resort. Some might criticize that it's only for rich people with private jets, but it could also act as a leverage point for change with the powers that be, and this time we had regens on-site to bring ReFi onto the agenda. Let's see what's been going down... 👀
ReFi Panels 🌱🗣️
ImpactScope hosted a great event on Web3 for SDG: John from ReFi DAO moderated various panels with Anna from Climate Collective, Gregory from Regen Network, Steve from Verra, Amir from Menthol Protocol and more..
Hedera organized a packed agenda of several days worth of talks around ESG, carbon, mobility, and much more at the Carbon-negative Hedera Haus.
Global Blockchain Business Council (GBBC) hosted multi-day events as a schelling point for ReFi and Defi, in the middle of the tradfi world of Davos. THey announced the launch of BxClimate with our friends from BICOWG and Loa Labs onboard!
Rene from Celo green pilling the world in a CNBC event "Great Crypto Reset" 👏
CoinDesk's session on Web3's approach to climate:
Takeaways
Events like these are a great way to share ReFi with the world and a great place for builders to meet IRL and create meaningful connections. For example, we saw the launch of Blockchain x Climate Leadership Network (BxClimate). Connecting organizations in Web2, Web3, and the non-profit sector to collectively work on the most pressing issues around climate and the environment.
Here's to ReFi making it further into the mainstream this year 🥂
---
ReFi DAO has been maintaining the largest open-source directory for ReFi projects since 2021. Inspired by the Speed and Scale methodology, it aims to map the work of projects in the ReFi ecosystem according to some key impact areas.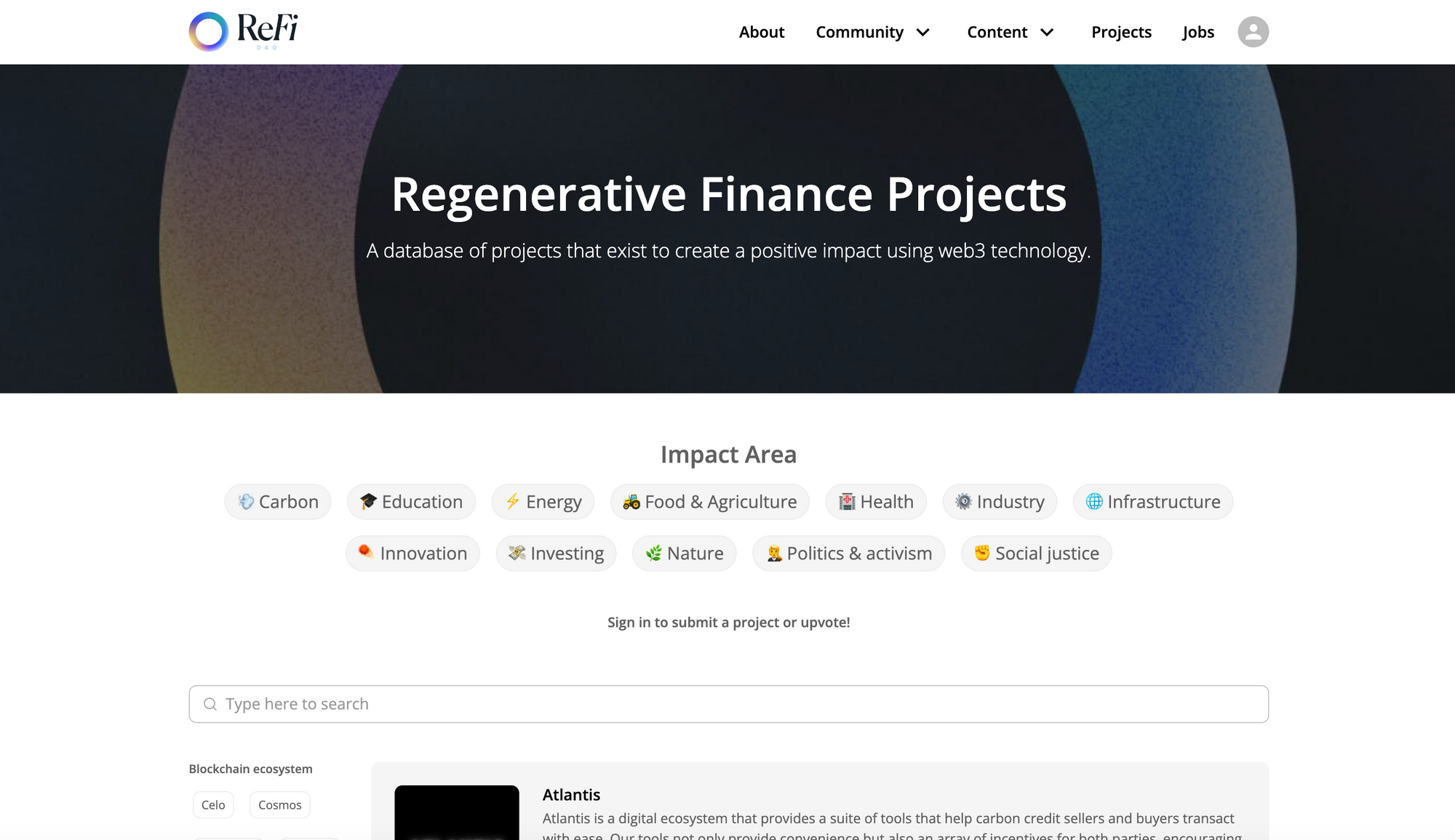 It also has the potential to help surface new and exciting projects, and with that in mind, we have recently implemented some changes...
Voting: In order to create a more dynamic space, we will now be resetting the voting counter each week. The voting system should not be seen as categoric rankings but as a fun and informal way to surface energy around new projects each week and combat the formation of static lists. Resetting will fall in line with the weekly Roundup where we will celebrate  🚀
Accounts: A new accounts system will enable submission of projects and upvoting features, and will also form the base of new functionality coming soon... 👀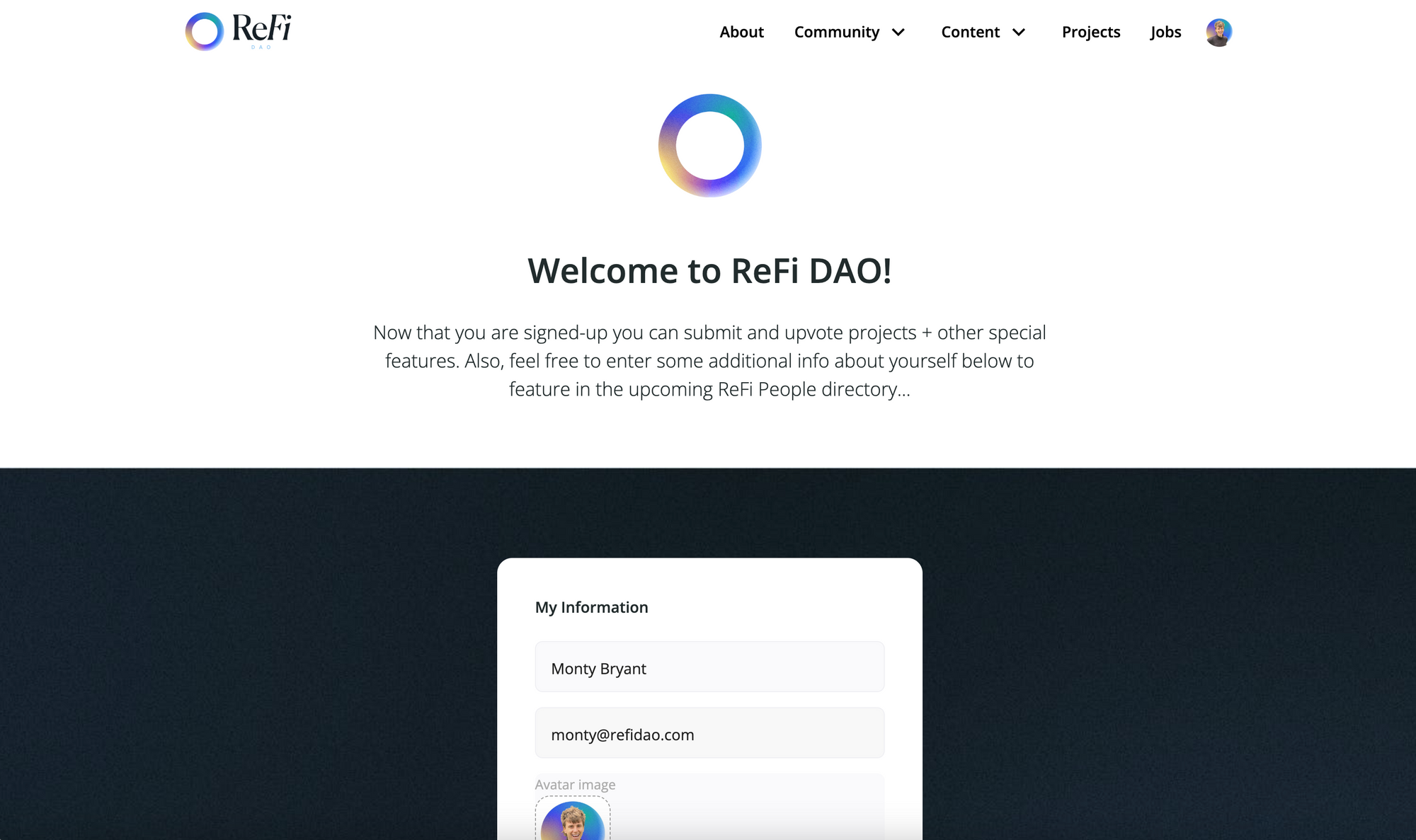 So with the votes now reset, head over to refidao.com to cast yours now!
Got any feedback, comments or ideas? We would love to hear from you - reach out to Monty Merlin - monty@refidao.com :)
---
ReFi Podcasts 🎙️
Top audio and video content from creators across the web 😊
The next round of ReFi Podcast (season 3) is coming soon, but in the meantime, check out some of these podcasts from regen frens👇🏼
---
ReFi News Bites 🗞️
The latest updates across ReFi Twitter and beyond...
A partnership between ReFi DAO and Commons Stack has been announced to see the launch of a ReFi Commons Incubator. This will kick-off with a prize to catalyze  three local start-up communities with three key objectives:
Onboard new talent and capital into ReFi
Create radical startup experiments for exponential impact
Build public, private and civil society partnerships
Any support would be much much appreciated! 👇
Digging into Thallo's €50m deal withIMPT.io
This week, Thallo announced one of the biggest deals in on-chain carbon with an organisation known as IMPT. Big deals in ReFi are something to be celebrated, but there have also been some questions raised about the legitimacy of IMPT. 👇
Thallo responded to the situation:
While we are yet to see the full outcome of this, with ReFi set to attract ever more people, projects, attention and capital this year, we think these sorts of mindful questions and discussions are important to have.
Verra Public Consultation Summary
After a half-year-long process (mentioned in roundup #28), Verra shared the inputs they received. From KYC requirements, on-chain registry, retirement, to NFT fractionalization. No conclusion yet as to what will happen, so let's wait and see how it turns out...

With 24 local chapters in 10 countries and 30,000 people active on the ground, Bloom has been doing some incredible work in mobilising action.  Now they are inviting people everywhere in the world to start Local Bloom groups with the goal to massively scale climate action and increase wellness in every watershed and life on the planet.
To help with this, Bloom offer a social network focused on regeneration, templates for getting started at every stage of development, and a global community of local organizers who have experience working on food security, indigenous solidarity, and local economies. Have a look at their Local Bloom Guide below and give their Gitcoin Grant to support their awesome work 💚
---
ReFi Events 🪩
Get your ReFi on with friends in-person and online...
View more
Looking Forward 📍

(1st-7th April, Austrian alps): A fun week of ReFi, Permaculture, and IOT.
(16th-17th March, Johannesburg, South Africa): Rene from Celo will talk about "Why ReFi is the Future of Web3".
---
Event Retrospectives 👀

DeSci London 🧬
Our very own Monty Bryant was speaking at DeSci London conference last weekend!
Looks set for much more to come at the intersection of DeSci x ReFi this year..
---
Add your ReFi event! 👇🏽
Got a ReFi, crypto, or climate event coming up and what to have it featured in the newsletter? Add yours to ReFi Spring!
---
Projects Radar 📡
A showcase of exciting projects on our radar this week
View More
Fundraising and investing is the hot topic this week, here are some other cool projects in the space:
​​💸 Angel Protocol: providing tools to fundraise, coordinate, and invest capital. Connecting donors & investors with non-profits, social enterprises, and other changemakers around the world.
☀️ $Earth - Solarpunk Dao: currency for the solarpunk paradigm, backed by climate solutions. A borderless, capital efficient funnel to incentivize, mobilize & allocate capital towards climate solutions.
👐 Giveth DAO: a community supporting and rewarding the funding of public goods by creating open, transparent, and free access to funding opportunities in the Ethereum ecosystem.
Check them out on the ReFiDAO.com and vote for your favorite projects!
---
Add your ReFi Project! 👇🏽
Have a project you want to add to our database? Click the button below to submit!
---
ReFi Jobs 👩🏽‍🚀
Find your next gig at a leading ReFi venture...
View more
New gigs in ReFi! 👇👇
Check out more on the ReFi Jobs platform! 👇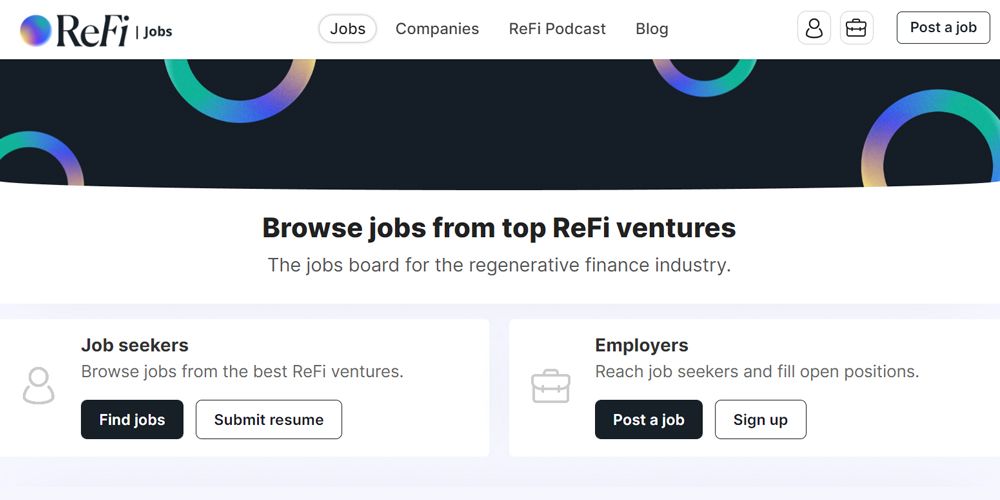 ---
ReFi Newsletters 🗞
See other amazing newsletters from the ReFi Community.
The ReFi Roundup is one way to stay up-to-date but their are plenty of others each with unique angels and takes. Here are some of the newsletters that caught our attention this week:
ReFi Weekly Rewind by ThoughtFloats
A recap of podcasts, articles, and the latest updates from up-and-coming ReFi projects.
This Week in ReFi by Klima DAO
Updates from Klima DAO and other projects in the ReFi space.
---
Thank you! 🤩
For being a part of the ever evolving movement to create a radically better future...
⚫
Thanks for reading regen! This month I am pledging to reduce my daily coffee expenses and use it to contribute to the Gitcoin Alpha Round ☕. And you can too, with quadratic funding, any amount matters! Till next time, Nura x
Have a fantastic weekend friends & we'll see you again next week 🫡
Enjoyed this newsletter?
We would be super grateful if you could help spread the word of ReFi by clicking the button below: