Funding Public Goods - Highlights from the Gitcoin Beta Round 🤖 🌱 | Roundup #64
Highlights from the Gitcoin Beta Round + updates at the intersection of climate, web3 and beyond.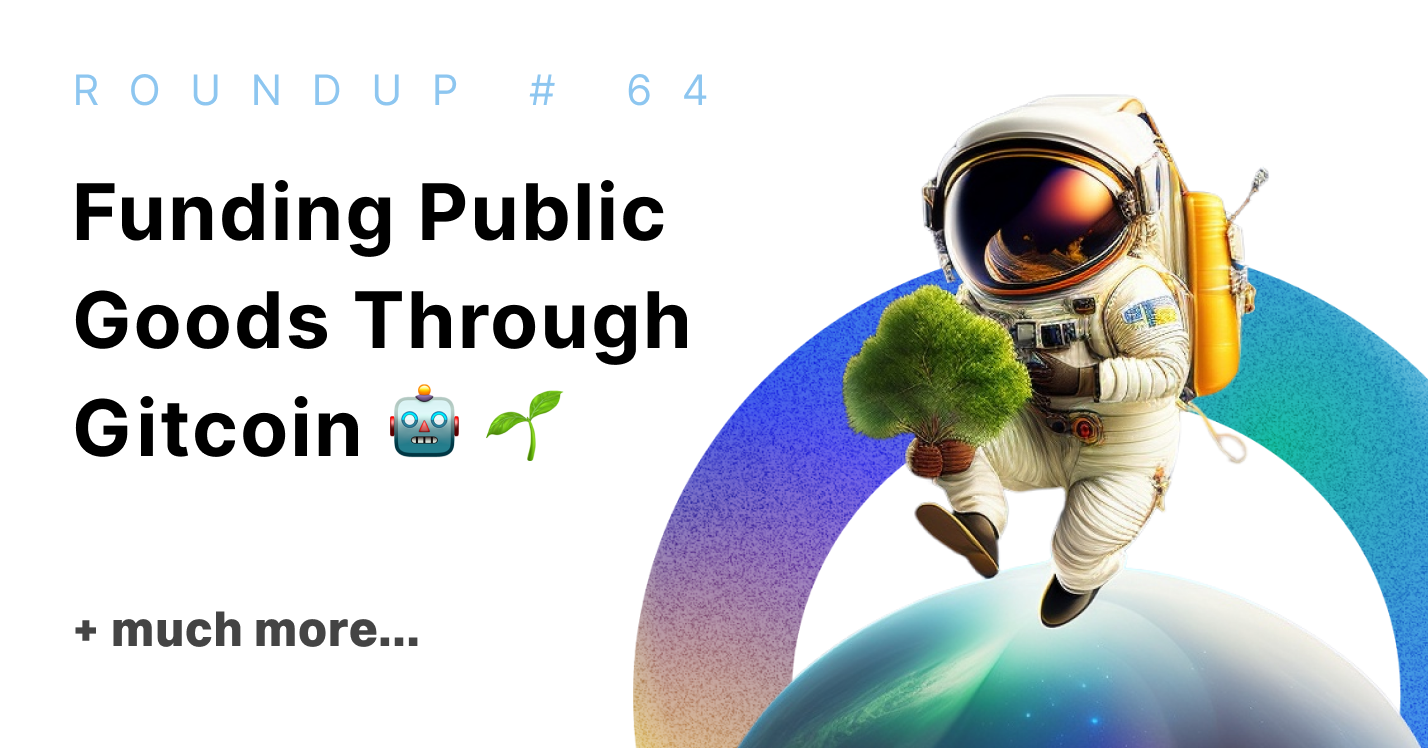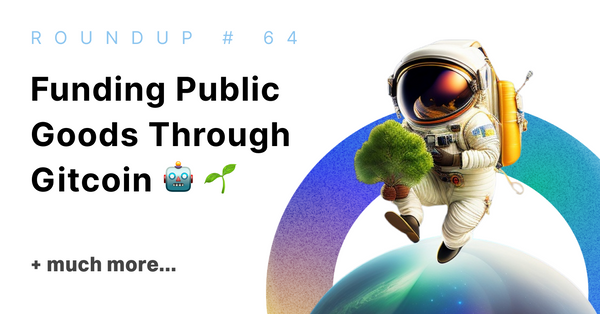 Hey there Regens! 👋 Anna & Monty here with the latest ReFi Roundup! We'll focus on the highlights of the Gitcoin Beta Round, and recap the most exciting news at the intersection of climate, web 3 and beyond. Let's dive right in!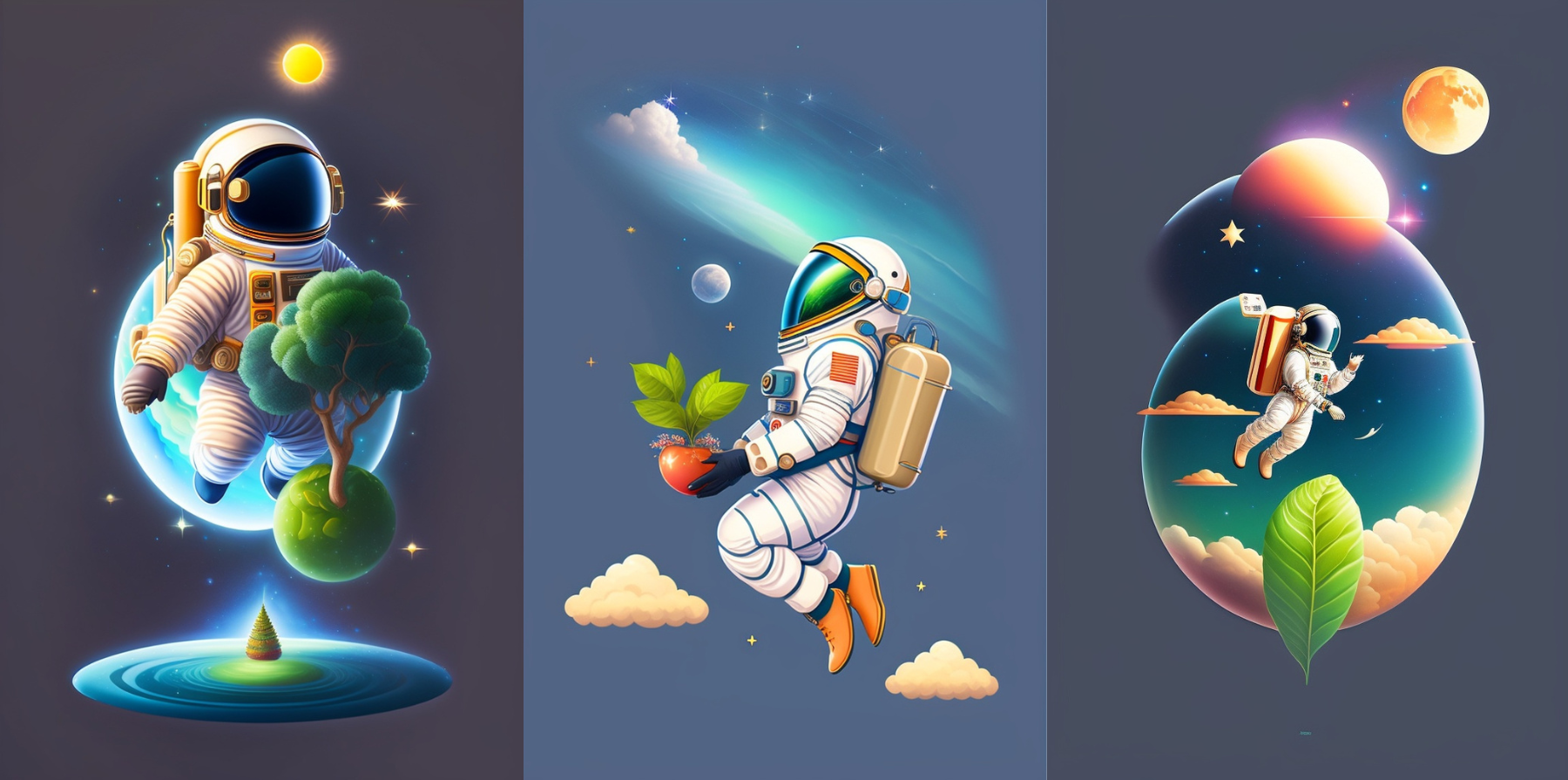 Gitcoin Retrospective - The Beta Round 🌟
Public goods play a vital role in promoting the well-being and progress of societies. Yet in our current national economies, they are often underfunded and managed inefficiently. The Gitcoin Grants Stack and the magic of quadratic funding provide an exciting new way of funding public goods and it's supporting whole ecosystems of new projects and initiatives.
After a successful Alpha Round at the beginning of this year, the journey towards collaborative and decentralized funding protocol with the evolving Gitcoin Grants Stack continued. Even with sky-high gas fees on Ethereum Mainnet, the Beta Round concluded last week with over $600,000 being donated to public goods!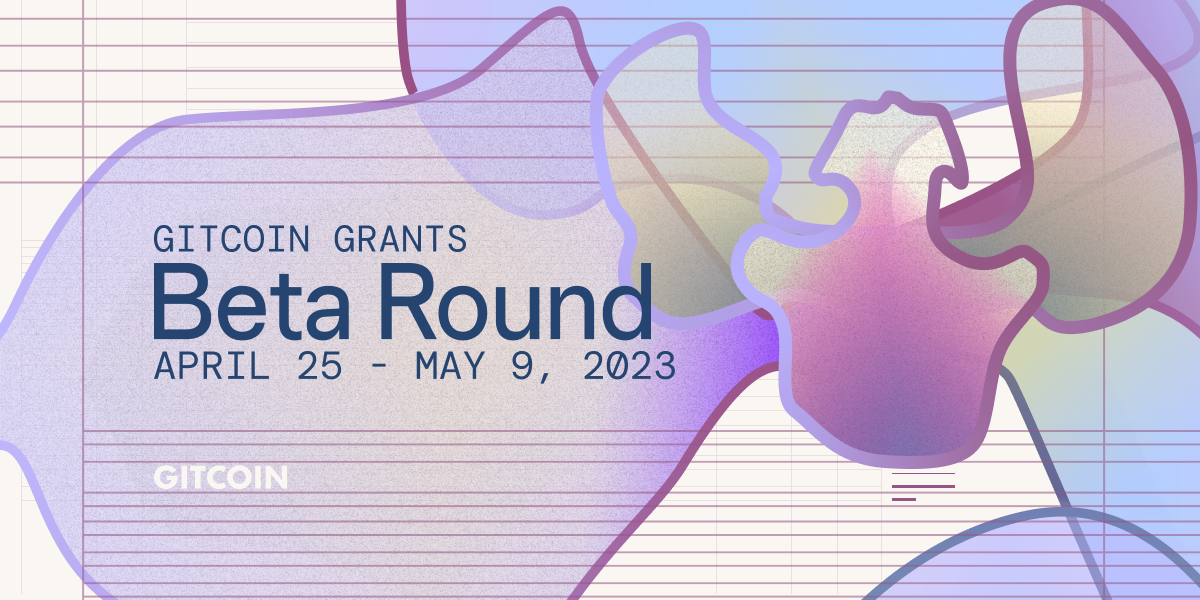 Within this round, there were a multitude of core and featured sub-rounds, each with matching funding provided by an array of awesome sponsors, including the Ethereum Foundation, Gnosis, Supermodular and the Token Engineering Commons, just to mention some.
Let's have a look at some of our favourite ReFi-related highlights and results. 👇
Web3 Community & Education
Climate Solutions
Metacrisis
ReFi DAO Local Nodes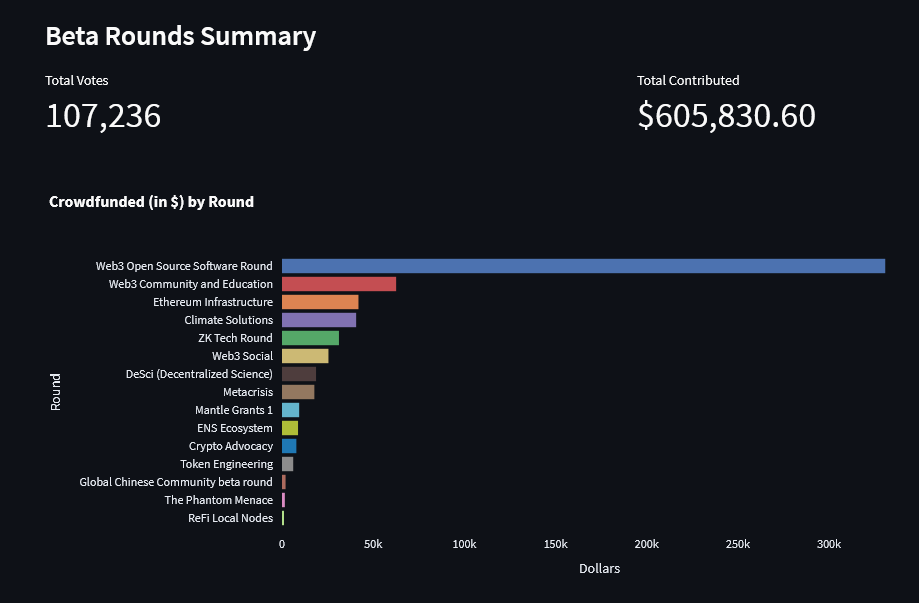 Community Takes Center Stage  🪩
Gitcoin embraced the awesome power of connection and collaboration by reintroducing the Web3 Community and Education round. It had the largest number of grantees - more than 200, and the second largest amount of total donations of over $300k!
Special congratulations to GreenPill Podcast, Trusted Seed, Impactopia and Regens Unite for being some of the top-funded ReFi-aligned projects of this round! 🎉👏
ReFi DAO was fortunate enough to take part in the Web3 Community and Education round, with a grant supporting the emergence of Local Nodes around the globe. THANK YOU for all the incredible support, we are super grateful to be on this journey of regeneration with you. 💚
Accelerating Climate Solutions 🌱📈
With one of the highest matching pools of $350k and 104 projects included, the Climate Solutions round gathered projects working on actively reducing greenhouse gas emissions (GHGs) or building foundational infrastructure for web3-based climate solutions. The Climate round received huge support from the community, gathering over $40k in donations.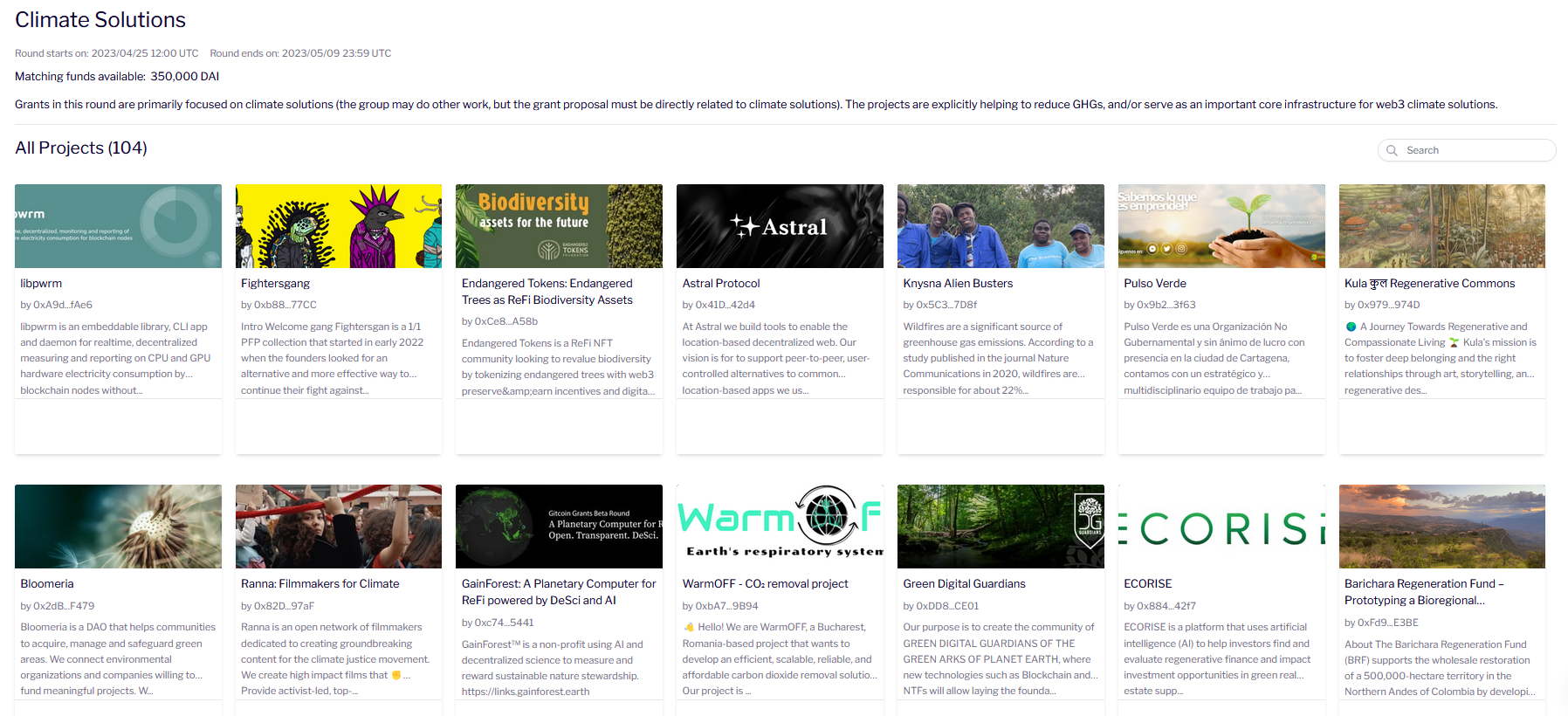 Special congratulations to our friends from Treegens, Atlantis and Solarpunk DAO for the amazing results achieved during the Beta Round. Sending loads of support! 💚
Confronting the Crisis of Crisis 💊
Inspired by the conversations between Kevin Owocki and Daniel Schmachtenberger on the GreenPill podcast and the creation of metacrisis.xyz, the Metacrisis round gathered projects fighting the totality of risk that our specie and planet are facing.

The metacrisis highlights how the different crises humanity is currently experiencing are all interconnected and mutually dependent. These crises arise from the mismatch between our technological abilities, social systems, and fundamental values.
The Metacrisis featured round, with a match funding pool of $25k and 69 participating projects was supported with 600 donations for a total of over $17k. Congratulations to Giveth, Iris and diosDAO for placing in the top 3 by number of donations, check out below for the full results! 👇
ReFi Local Nodes as a Featured Round 🗺️
For this latest Gitcoin round, we were excited to launch a dedicated featured round for ReFi Local Nodes with $25k of match funding supplied from the ReFi DAO treasury. It has been incredible to see these Local Nodes coming together, activating their communities, and working towards the shared goal of local regeneration on the ground. 💚
❓
What is a ReFi Local Node?

ReFi DAO aims to support a diverse and decentralized network of regionally-based local communities that share a mission to regenerate earth using the most powerful tools of our time. Going one step further, these communities may wish to become a 'ReFi Local Node'—a local impact DAO that is fully autonomous yet connected to the network as a whole. Starting with simple meet-ups and events, local nodes may go on to acquire land and other real-world assets with the aim of growing a locally-based regenerative economy and community.
Now, without further ado, it's time to announce the matching results of the ReFi Local Node Round! 🎉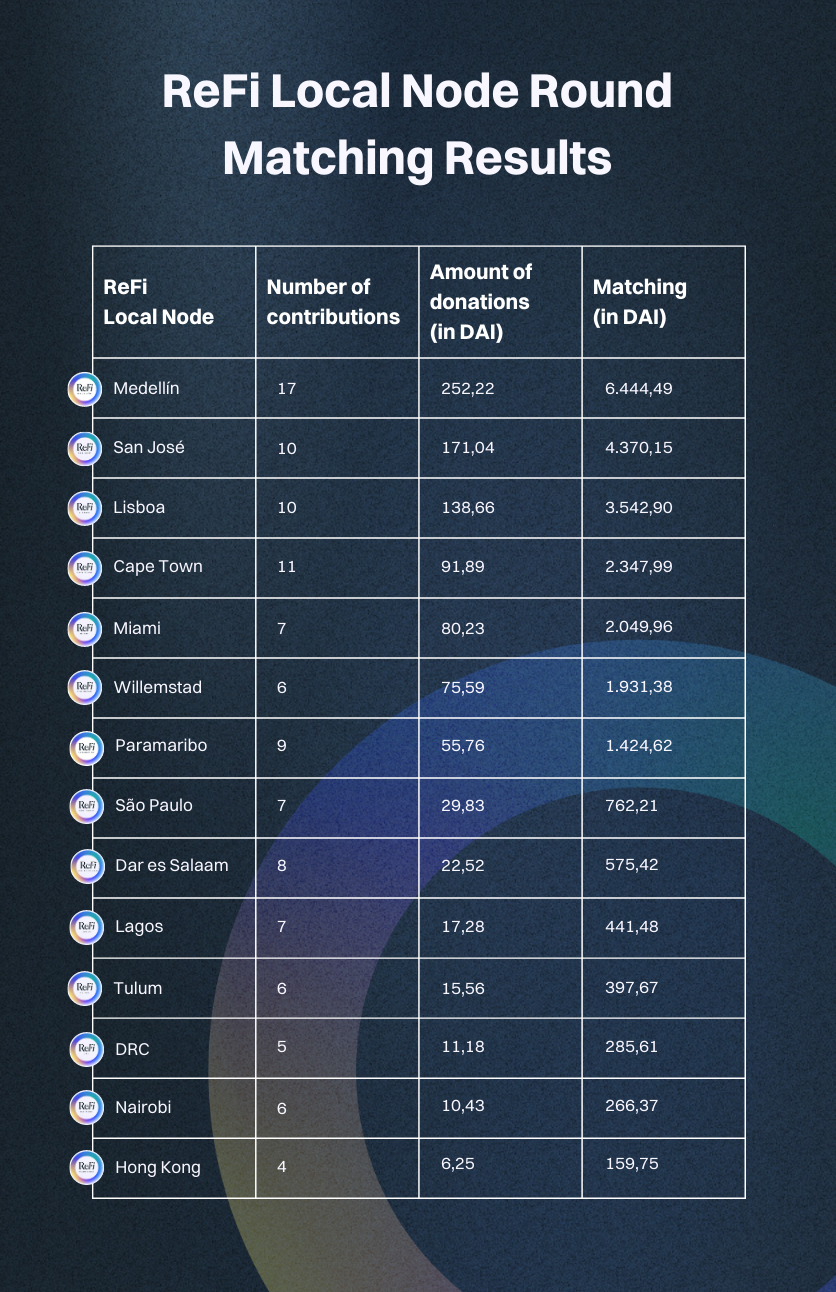 All the Local Nodes will be invited to join the co-creation of a Local Node cohort that will provide an array of tools and support for helping to launch successful Local Nodes. More about this coming soon. 🎊
Furthermore, a special congratulations to the ReFi Medellín Local Node for reaching the highest amount of donations in this featured round! 🎉🎉🎉  To celebrate their achievement, we will feature ReFi Medellín and their unique vision of regeneration in a professionally produced video and a special episode of the upcoming ReFi Podcast series dedicated to Local Nodes - coming soon! 👀
We would also like to celebrate ReFi San José for placing second by number of donations! 👏👏👏  To get a taste of the beautiful communities forming around ReFi San José, we invite you to read this inspiring article. 👇
Congratulations to all the Local Nodes for the terrific work and passion they put in during the past Gitcoin Beta Round. We can't wait for what's coming next and support you all in your unique mission. 👏
Time to Build! 🌳🚀
The Gitcoin Beta Round showcased the power of collaborative and decentralized funding for public goods while highlighting the importance of community collaboration and shared values.
The inspiring missions of regeneration driving the emergence ReFi Local Nodes demonstrate the passion and dedication of communities working towards a regenerative future. Congratulations to all the grantees for successfully concluding another Gitcoin funding round! Now it's time to BUILD as we edge towards the next Gitcoin funding round in 3 months - we hope with lower gas fees. ;)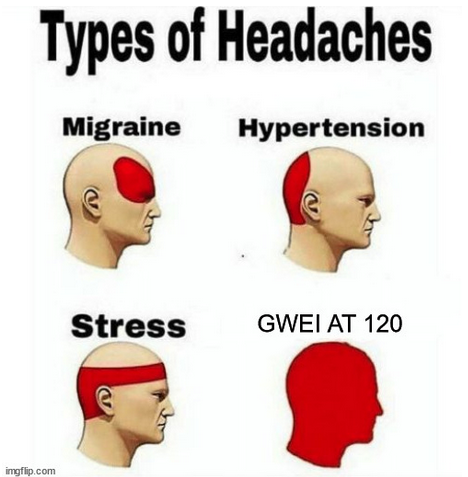 ---
ReFi NewsBites 🗞️
The latest updates across ReFi Twitter and beyond...
A summary of key ReFi topics discussed by Ivy Protocol 🍁
A great recap from Ivy Protocol of the development around ReFi and the carbon market, highlighting Microsoft's plan to sequester 5,000 tonnes of CO2 in 20 years and South Pole's report on significant trends in the Voluntary Carbon Market, and much more...
TOPL short story: Building Impactful Web3 Solutions With Giveth's Mateo Daza 📰
One of ReFi DAO contributors, Tereza, wrote an inspiring story about Mateo Daza, Giveth's Lead Engineer, who co-founded QuillaLabs for blockchain education and is active in EthColombia. With his Web3 and Ethereum Smart Contract expertise, Mateo is driven to use technology for public benefit and economic transformation.
---
Submit content idea or feedback 👇🏽
Want to see a story featured in next weeks Roundup? Or have any feedback? We would love to hear from you!
---
🔥 Projects of the Week
A showcase of top voted projects from the ReFi DAO website!
View More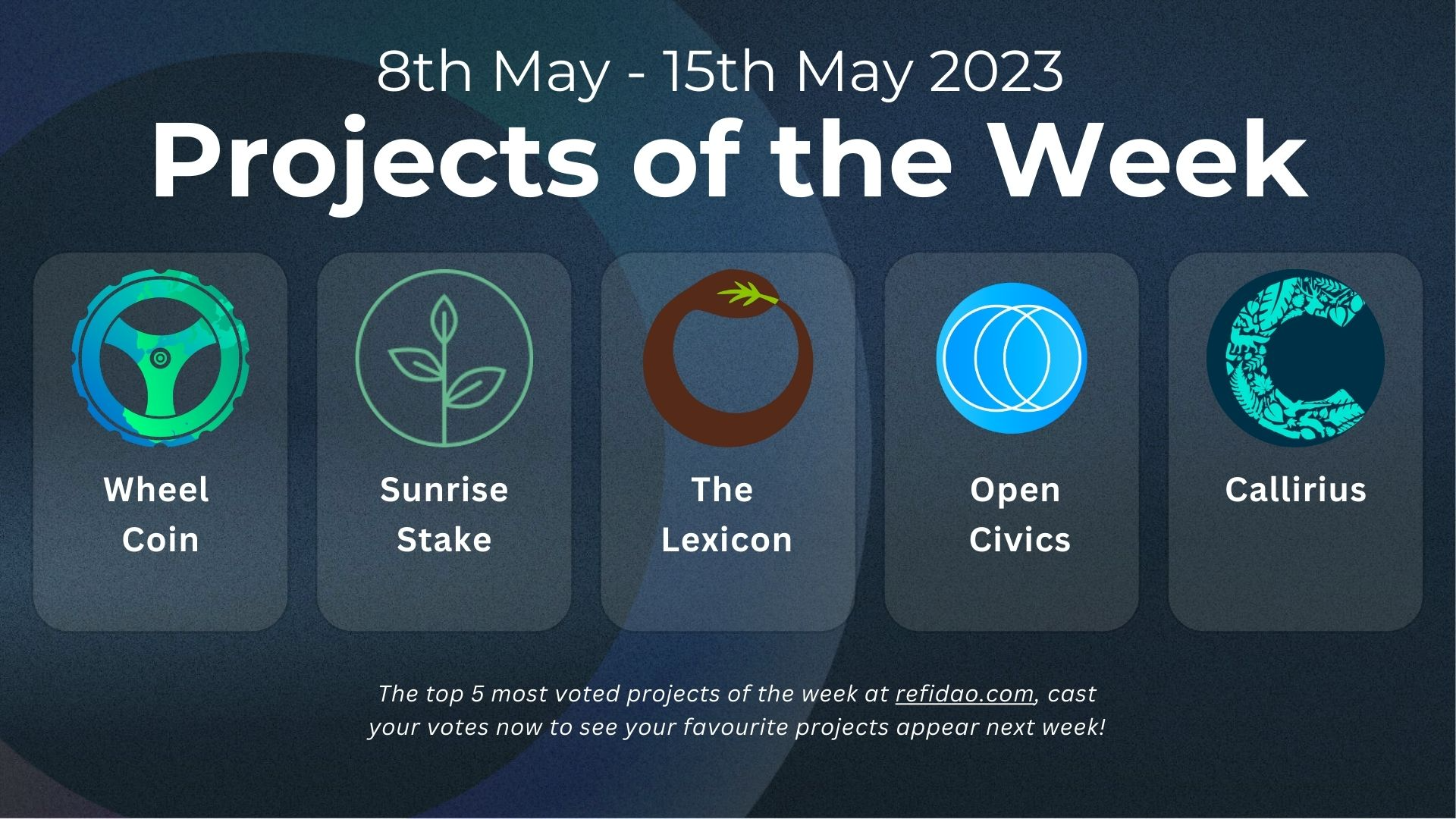 Top 5 most voted projects of the week:
Votes have now been reset so head over to refidao.com, make an account, and show some support to your favourite projects in the ecosystem this week! 💚
---
Add your ReFi Project! 👇🏽
Have a project you want to add to our database? Click the button below to submit an application!
---
ReFi Podcasts 🎙️
Top audio and video content from creators across the web 😊
🌍 Bridging the Gap: ReFi & Innovation for Global Challenges
🎧 Don't miss John Ellison's inspiring presentation at FFCON23, where he dives into how the regenerative finance movement is driving social, cultural, and technological innovation to solve the world's most pressing issues.
Measuring Climate Impact
📣 Don't miss out an exciting discussion with Lucas Zaehringer, project lead at Verity Tracking, as he talks about tracking emissions and reducing carbon intensity in complex value chains like biofuels and agricultural commodities. Learn about the various methods used to reduce carbon emissions and the challenges faced in collecting and verifying sustainability claims.
Turning the Six Strings of Regenerative Finance
Get ready to be inspired! 🤩 Tune in to watch Gregory Landua from Regen Network in action as he strums the six strings of regenerative finance. 🎸 Plus, catch the latest updates from Regen Network!
ReFi Events 🪩
Get your ReFi on with friends in-person and online...
View more
Explore ReFi Events at ReFiDAO.com 👇🏽

Here are some highlighted upcoming events that caught our eye this week. Make sure to grab some tickets and support the ReFi regenerative renaissance wherever you are from! 👇
Rangi Chanya: Regenerating our Earth (ReFi-Dar es Salaam)
(20th May in Dar es Salaam, Tanzania): A community event aimed at raising awareness on regenerative concepts and sustainability practices in Dar es Salaam. Join us in exploring the power of recycling and sustainable circular economies to create a more resilient future. Let's empower our local community to take action and make a positive impact on the world!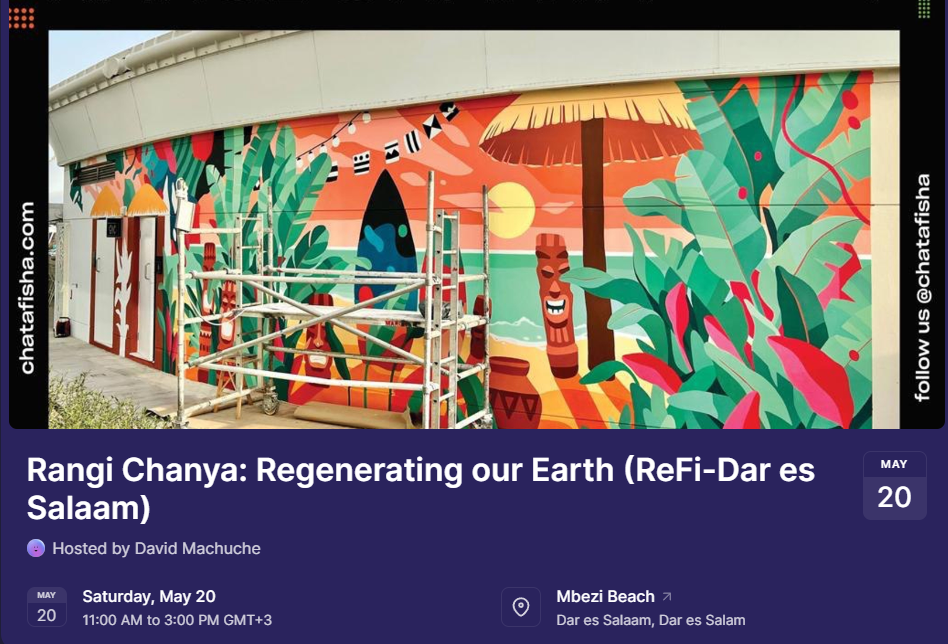 ReFi Spring Harare: ReFi 101
(20 May in Harare, Zimbabwe): Join us at ReFi Spring Harare: ReFi 101, where we explore the powerful concept of regenerative finance and its role in creating sustainable economic systems that promote well-being for both people and the planet. Discover the latest advancements in technology and learn from local climate and environment experts.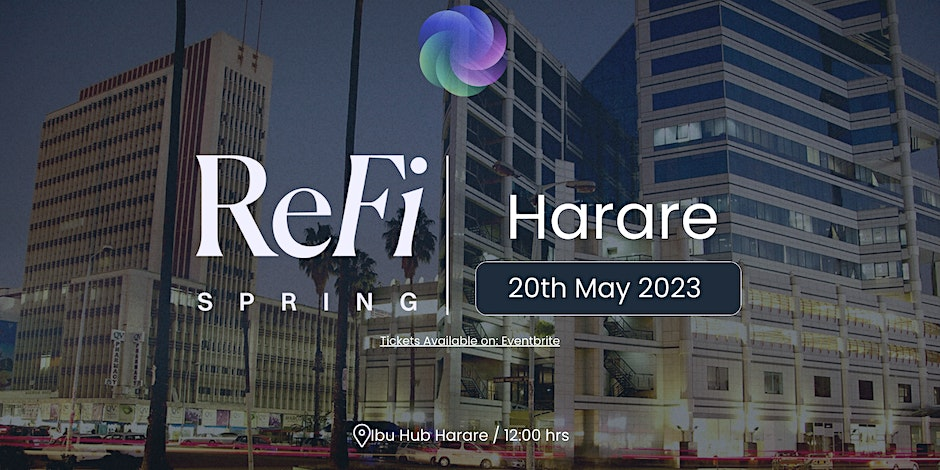 ReFiTO Monthly Meetup
(24 May in Torronto, Canada) Join us for ReFi Toronto, a recurring monthly event series designed to educate and inform the community about Regenerative Finance, Economics, and Web3. Explore diverse topics, from Circular Economics to Agritech and ReFi, and collaborate with like-minded individuals to create a sustainable and equitable economy.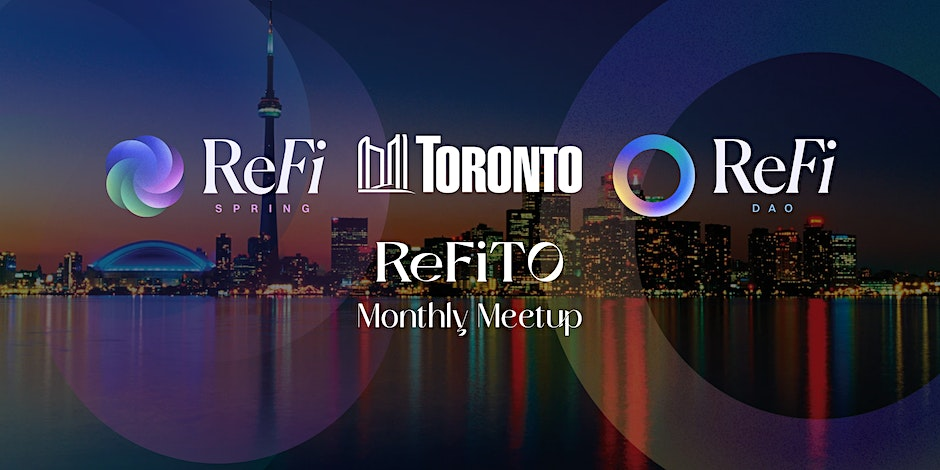 Retrospectives 👀
Highlighted discussions from some of the exciting ReFi events going on across the globe and through the interwebs 🕸
Meetup on Biodiversity and Resilience for Regeneration 🌱🌍
The GreenPillMexico meetup on Biodiversity and Resilience was a huge success! A green revolution is on the rise as a community comes together to promote regenerative practices that nurture the planet and create a more sustainable future. 🌻
ReFi Munich 1st "ReFi Summit" ⛰
The first major ReFi Munich event was a blast! Over 100 attendees, including ReFi investors, startups, and builders met at the beautiful Mini Pavilion at the heart of Munich. The event includes insightful presentations by Senken, Callirius, Operal AG, Longhouse Foundation, and Ostrom.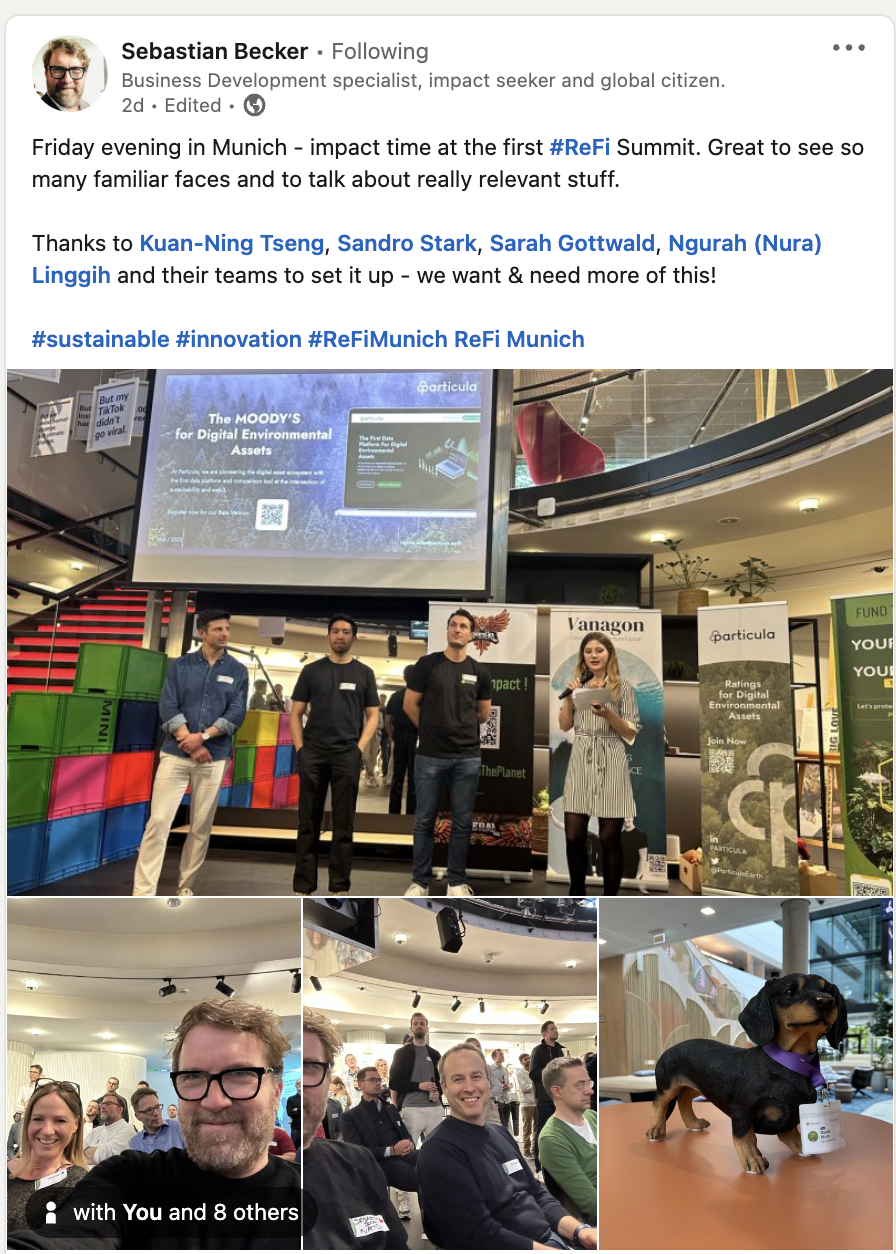 ---
Add your ReFi event! 👇🏽
Got a ReFi, crypto, or climate event coming up and what to have it featured in the website & newsletter? Add yours to the database!
---
Thank you! 🤩
For being a part of the ever evolving movement to create a radically better future...
⚫
As we wrap up, let's reflect on a quote by
John Doerr
that packs a powerful punch to remind us that the shift towards sustainability is crucial not only for the health of our planet but also for the economy.
"Green technologies - going green - is bigger than the Internet. It could be the biggest economic opportunity of the 21st century."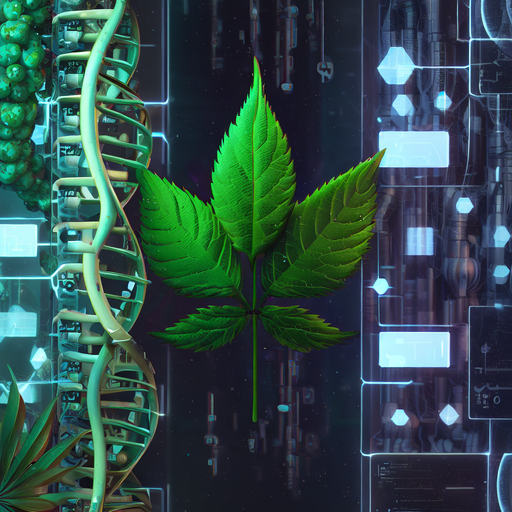 Have a fantastic week friends & we'll see you again next week 🫡
Enjoyed this newsletter?
We would be super grateful if you could help spread the word of ReFi by clicking the button below: