ReFi Week at Traditional Dream Factory (TDF) 🐑 + Annual Meeting Update! 💫
Join us for ReFi Week at TDF in Portugal from Oct 27 - Nov 3! This transformative gathering will bring together leading ReFi minds for a week of collaboration, learning, and regeneration activities. Secure your spot for this unparalleled convergence of innovation and sustainability!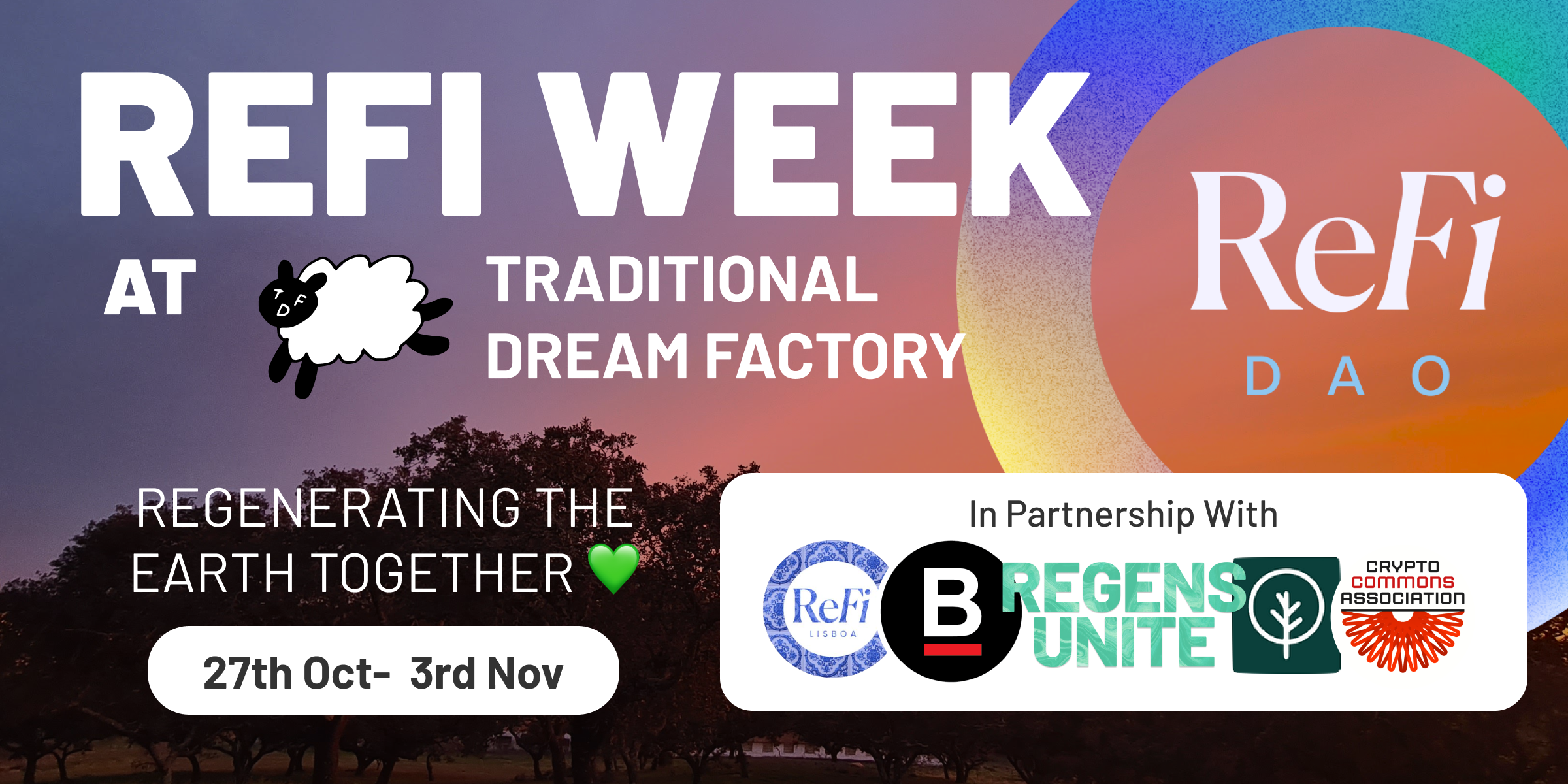 Hello ReFi Nation! Anna and Monty here with an update on the ReFi Annual Meeting we proposed in July and an exciting invitation for something new...
Annual Meeting Update
ReFi is currently at a pivotal juncture. Amidst challenging times, we believe there is a strong need to bring community together, and facilitate cross-sector collaboration and coordination. We need to reach beyond our bubble and build bridges with diverse industry professionals, government officials, NGO leaders, investors and activists. This was a core part of our thesis for a ReFi Annual Meeting 2023. See below 👇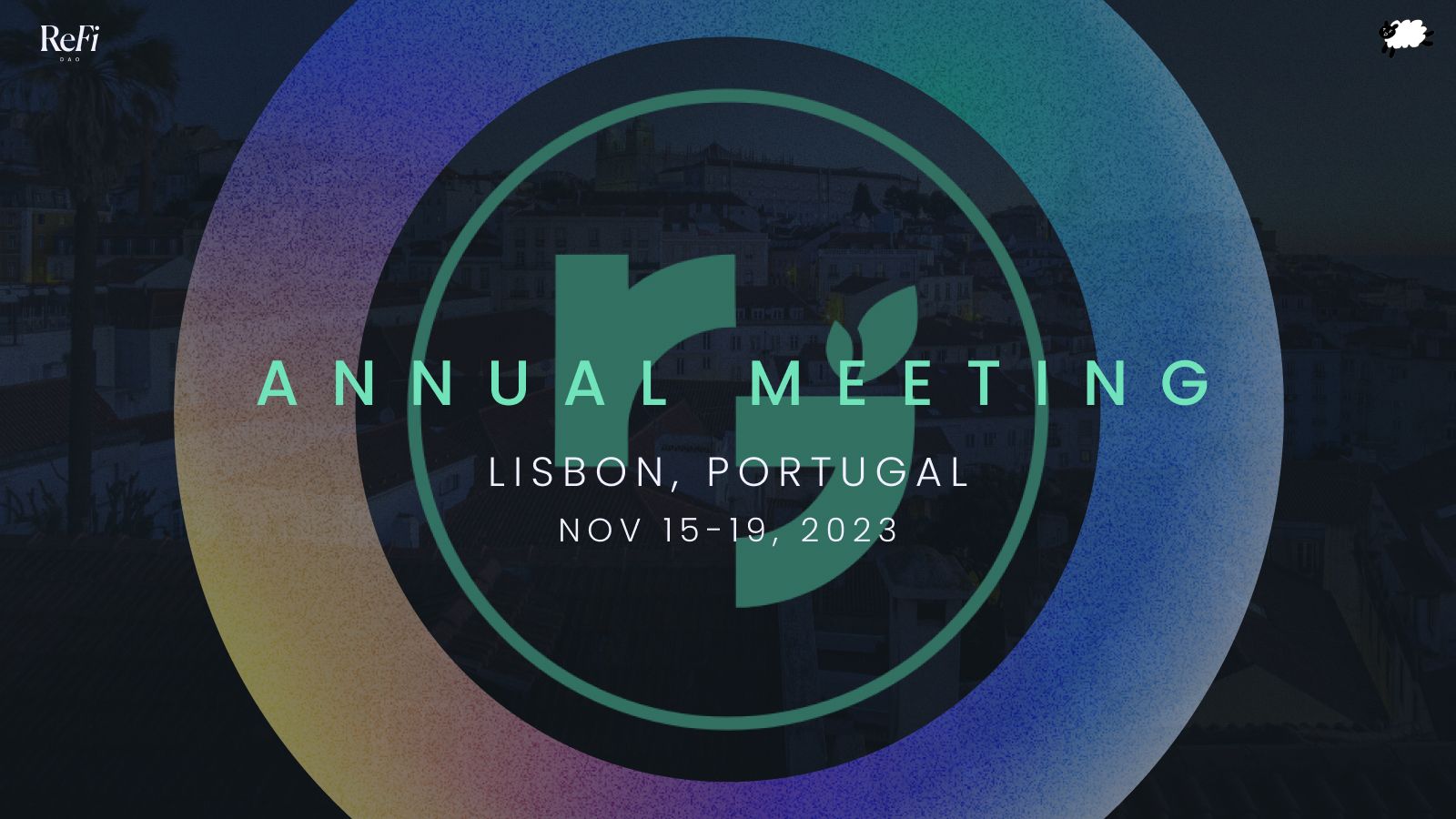 This vision still stands, however, given market conditions and reduced spend for events, we have decided to adapt the Annual Meeting for this year to focus on gathering the leaders of ReFi at the pioneering regenerative village in Alentejo, Portugal from Oct 27 to 3 Nov. Here are the details👇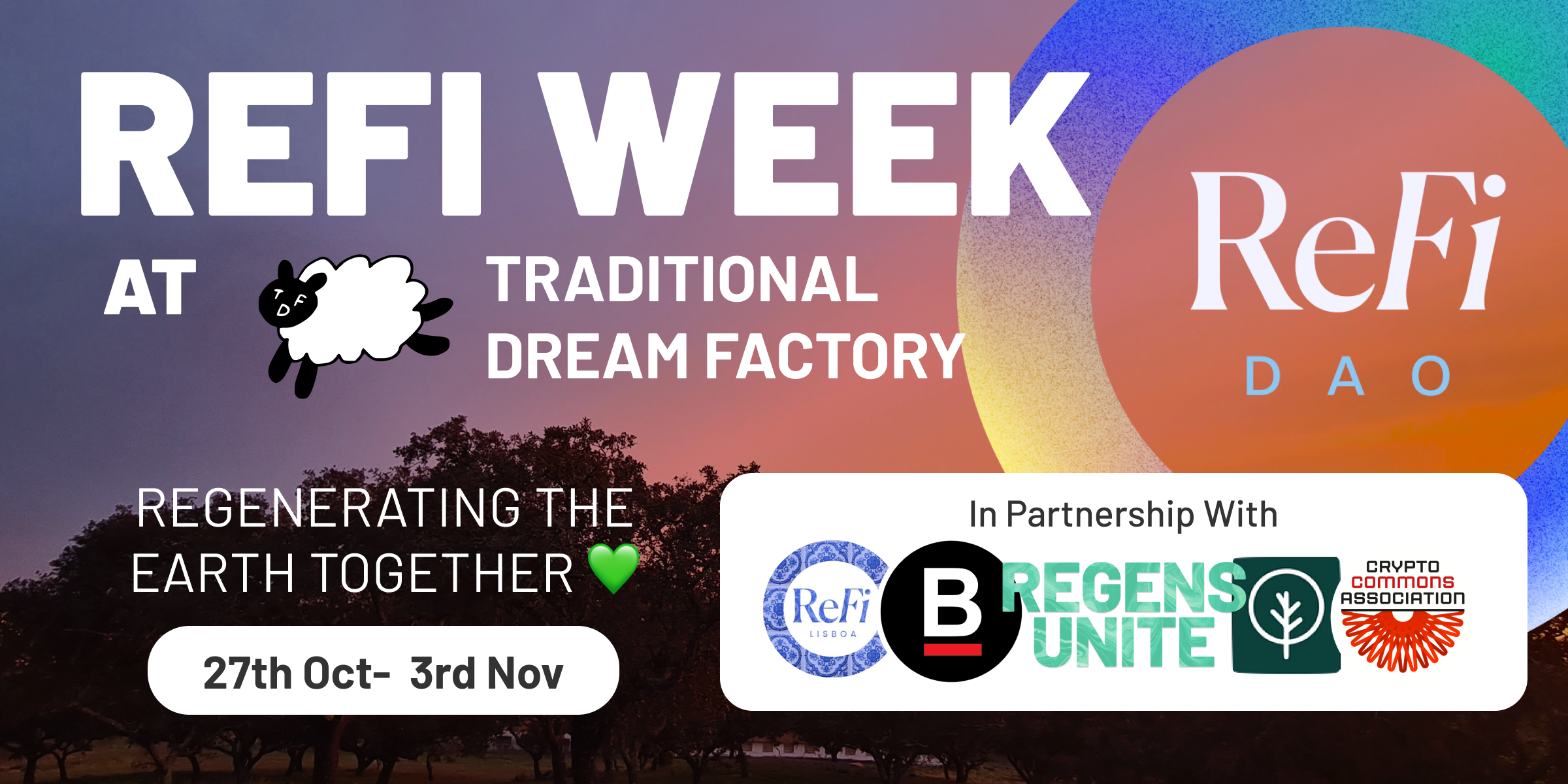 ReFi Week @TDF: Regenerating the Earth Together 🌱
From October 27th until November 3rd, Portugal will be host to a transformative gathering of key ReFi leaders & practitioners, both local and global. In partnership with ReFi Lisboa, Bankless DAO, Silvi Protocol, Regens Unite, and the Crypto Commons Association, the Traditional Dream Factory (TDF) and ReFi DAO are inviting you to come together with us for a week-long co-living event focused on regeneration, co-working, co-creation, community-building, and celebration.
This week will be about much more than a series of professionally facilitated workshops and activities, it's a unique opportunity to collaboratively envision and initiate the next chapter of ReFi DAO and to craft a roadmap for implementing ReFi technologies worldwide. This week promises to be a fertile ground where creativity meets collaboration, setting the stage for a global regenerative society.
Location & Activities ✨
If you are not already familair, you will be welcomed to the Traditional Dream Factory (TDF) in Abela, Portugal— an emergent 'ReFi Village' known for its inspirational spirit and commitment to regenerating the Earth. At TDF, we will explore and partake in the world's pioneering experiment of an entirely on-chain regenerative village! Read more below 👇
TDF offers a unique canvas for connection, collaboration, and creation in the ReFi space. Join us for a transformative experience!
Agenda Outline
❗️Please note: this is a draft proposed agenda and is subject to change. The final agenda will be co-created with participants to ensure a dynamic and engaging experience for all.

Oct 27th - 29th: Planting & Celebrating 🌱 🎊
Festivities will begin with a grand tree-planting event over the weekend alongside a vibrant Earth Party filled with cacao, melodies, and rituals.
Oct 30th - Nov 2nd: CoWorking Week 📝 🤝
Immerse yourself in a balanced week of harvest activities, coworking sessions, shared mealtimes, and open-space workshops and discussions. Participate as you wish in a mix of work, leisure, community co-creation, and introspection.
Nov 2nd: Closing Ceremony & Pizza Party 🎉 🍕
We'll conclude with a reflective closing ceremony and a casual Pizza Party, celebrating our shared experiences and looking forward to future ReFi possibilities.
Why Join ReFi Week?
Connect with like-minded ReFi leaders.
Engage with the ReFi community and changemakers.
Participate in unique discussions and networking opportunities.
Deepen your ReFi knowledge while taking a break from conventional conferences.
Support and co-live with the TDF community.
More things to do in Lisbon!
November is also a bustling month in Lisbon, brimming with other vibrant events and activities. The city will be hosting a series of gatherings including ETH Lisbon 2023, Nearcon, and Websummit. With a dynamic atmosphere and an array of cultural, technological, and social events unfolding, there's never been a better time to visit!
🗓️ 3-5 Nov 🔗 ETH Lisbon 2023
🗓️ 7-10 Nov 🔗 Nearcon
🗓️ 13-16 Nov 🔗 Websummit
Tickets & Accommodation 🎟️
Whether you prefer a week of all-inclusive glamping or bringing your own tent for the weekend, TDF has options to suit your style, budget, and needs! Each accommodation package includes locally sourced farm-to-table meals to engage with fellow participants over co-created breakfast, lunch, and dinners!
Space is limited at the TDF site, so make sure to secure your spot promptly! Visit the ticket booking page for registration 👇
Closing Note
In a world that is constantly changing and evolving, it is imperative to adapt, reflect, and remain committed to our shared goals and community. We are so excited to invite you to join us at TDF and answer a call to action in co-creating a brighter future. Your presence, support, and enthusiasm is hugely appreciated 💚
Should you have any questions or ideas, or if there's someone in your network who would be a valuable addition to this gathering, please do let us know. We eagerly anticipate connecting, collaborating, and celebrating with you in Abela!
See you there regen!