ReFi Local Nodes - Round Results & What's Coming Next?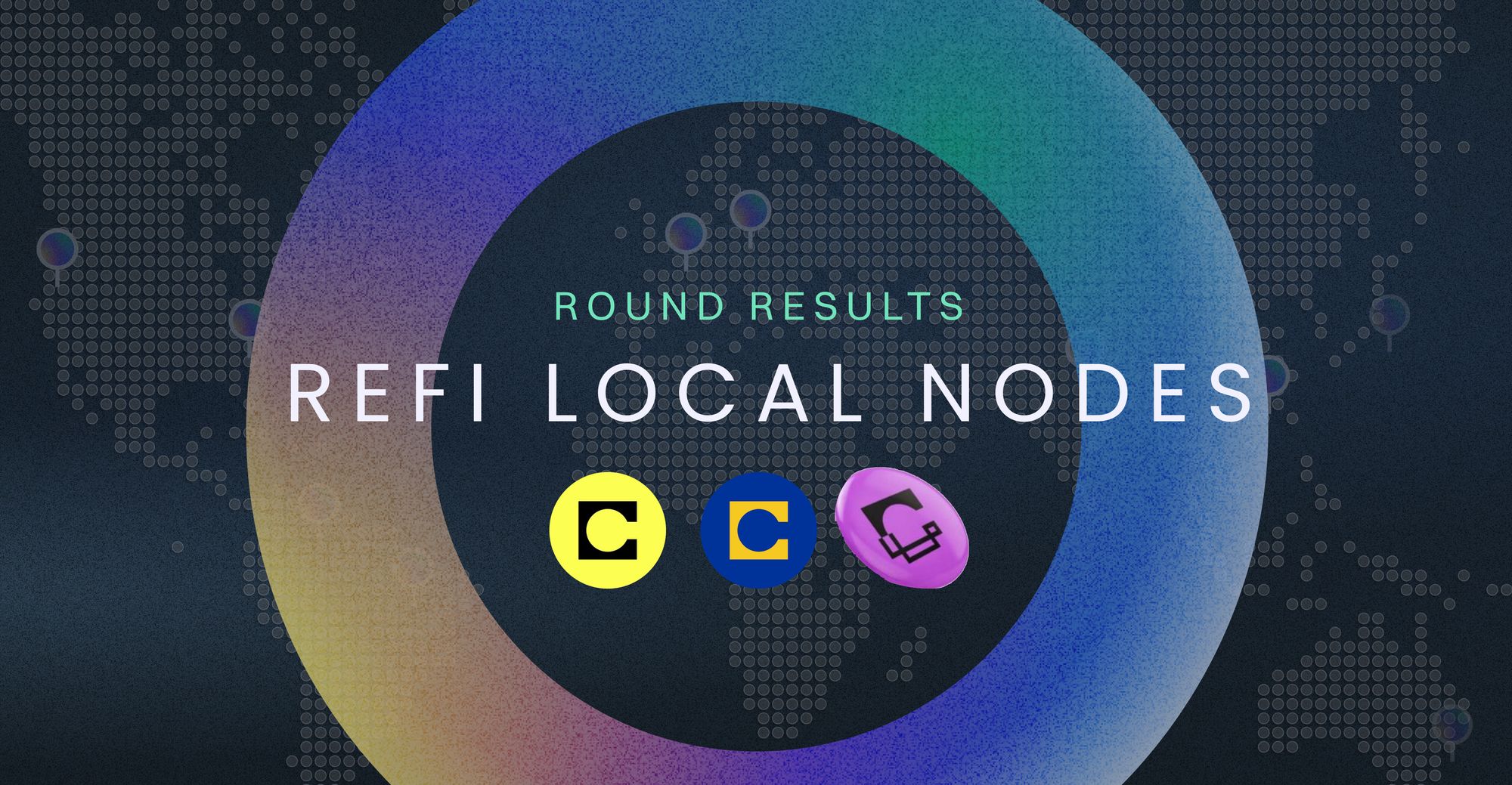 Welcome to the latest update in the evolving story of ReFi DAO and the global network of ReFi Local Nodes. Rooted in diverse communities, these nodes are pivotal in advancing a shared mission of using web3 for regeneration and sustainability. In this article, we'll explore the successful outcomes of our community grant rounds since May 2023, facilitated through the Gitcoin Grants platform and with the support of organizations such as the Celo Foundation, Celo Europe DAO and CeLatam. As we look ahead, with Gitcoin Grants 19 (GG19) kicking off this week and the Local Node Beta Cohort coming soon, we're gearing up for a new cycle of growth and impact. Join us in this update as we chart the course for a regenerative and thriving future. Let's dive in... 🤿 👇
ReFi Local Nodes - Community Grant Rounds 🗺️
ReFi DAO aims to support a diverse, global decentralized network of local communities that share in our mission, vision and values of using the most powerful tools of our time to regenerate the earth. Since May 2023, we have organized grant rounds with the goal of incubating an initial cohort of Local Nodes by empowering them with starting resources to gather their teams, organize events, and cultivate a vision of regeneration in their cities. Now with two rounds completed, let's have a look at the results so far...
🔵
What is a ReFi Local Node?
A ReFi Local Node is a community that meets regularly to learn, experiment and implement ReFi tools and solutions on the ground with the aim of building a local regenerative society in their country, city, town, or village. It is rooted in a specific place with a long-term commitment to regeneration. Starting with community building through gatherings and events, Local Nodes may choose to embark on a variety of regenerative projects and initiatives with the goal of nurturing a community-focused regenerative economy and society.
🔗 Learn More
❓
What is Gitcoin Grants?
Gitcoin
Grants empowers individuals and collectives in the web3 space to allocate funding toward projects and causes they believe in​ through innovative grants and crowdfunding mechanisms such as
quadratic funding
. While Program Rounds are managed by the Grants Program team, Community Featured Rounds are organized autonomously by organizations in order to support community initiatives.
🔗 Learn More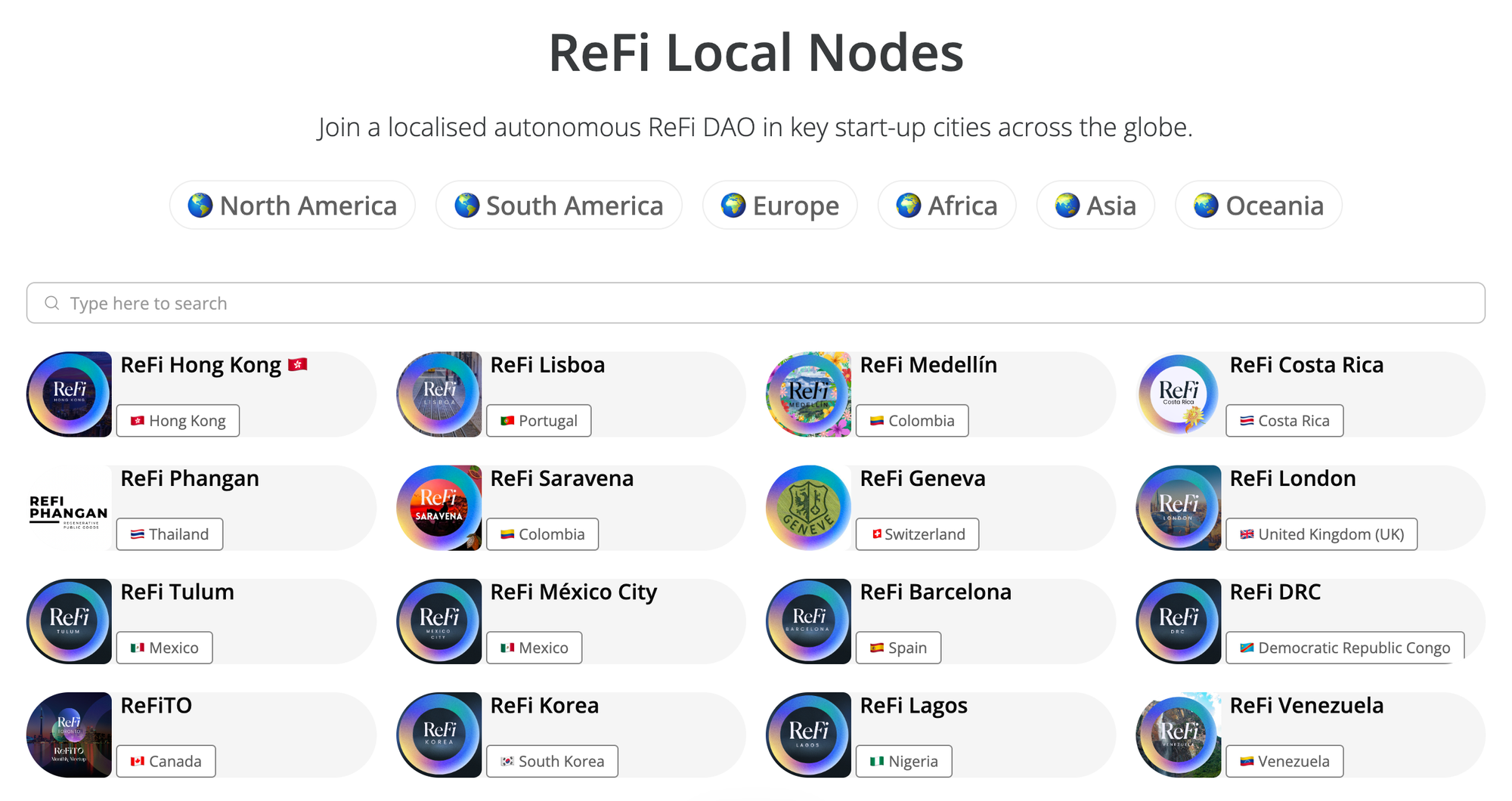 Local Node Beta Round (April 2023)
During the Gitcoin Beta Round, ReFi DAO sponsored a $25k DAI match funding pool from our treasury for a featured round focused specifically on ReFi Local Nodes in the Global South.
Beta Round Results
The 14 newly formed Local Nodes joined the Local Node Alpha Cohort - an 8-week incubation program run by Daryl Edwards and Anna Kaic. The program covered all the topics necessary for launching a ReFi Local Node - from the creation of a business model, to fundraising, communication and marketing. This also led to the first iteration of the ReFi Local Node Toolkit - a series of guides designed to help leaders of local nodes achieve a specific outcome in their community.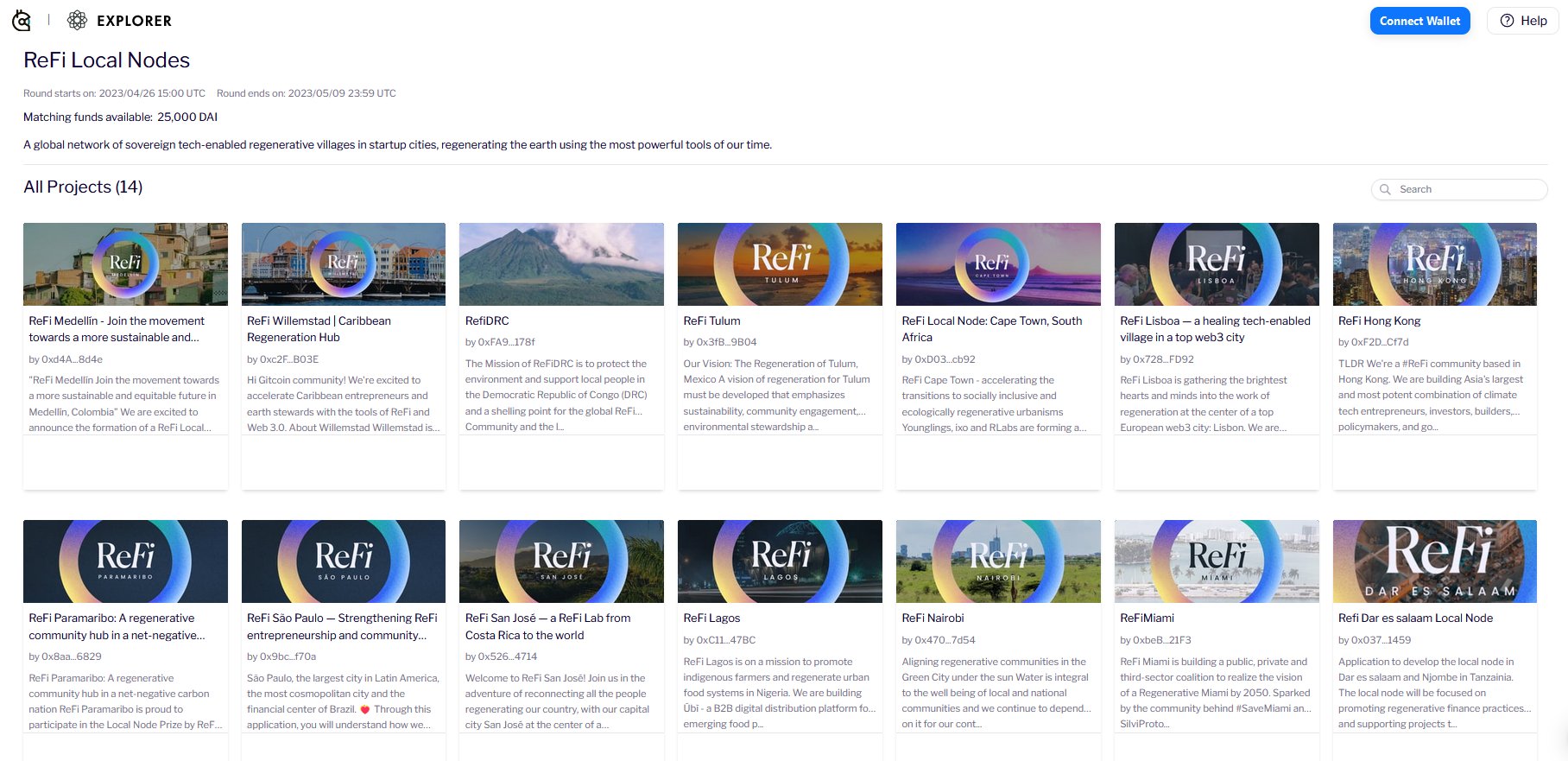 Local Node GG18 Round (August 2023)
During Gitcoin Grants 18 (GG18) we organized a second Gitcoin Featured Round in order to support the existing Local Nodes and foster the emergence of new nodes around the Globe. We were immensely grateful to receive $30k of match funding through the support of Celo Foundation, Celo Europe and CeLatam. Their contribution stands as a testament of commitment to fostering a sustainable digital economy.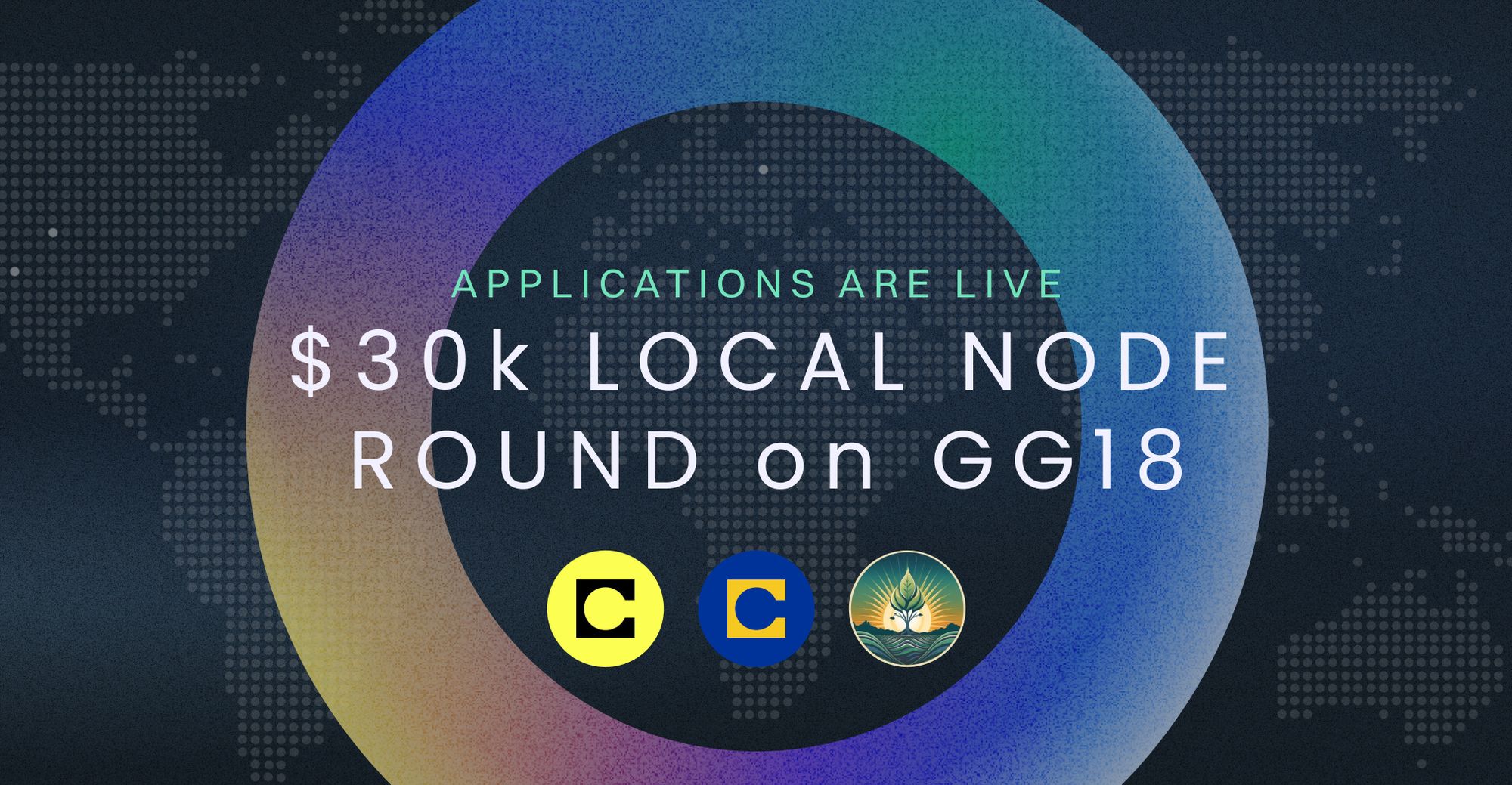 Before diving in to the results of this round, lets take a moment to learn more about our sponsors... 👇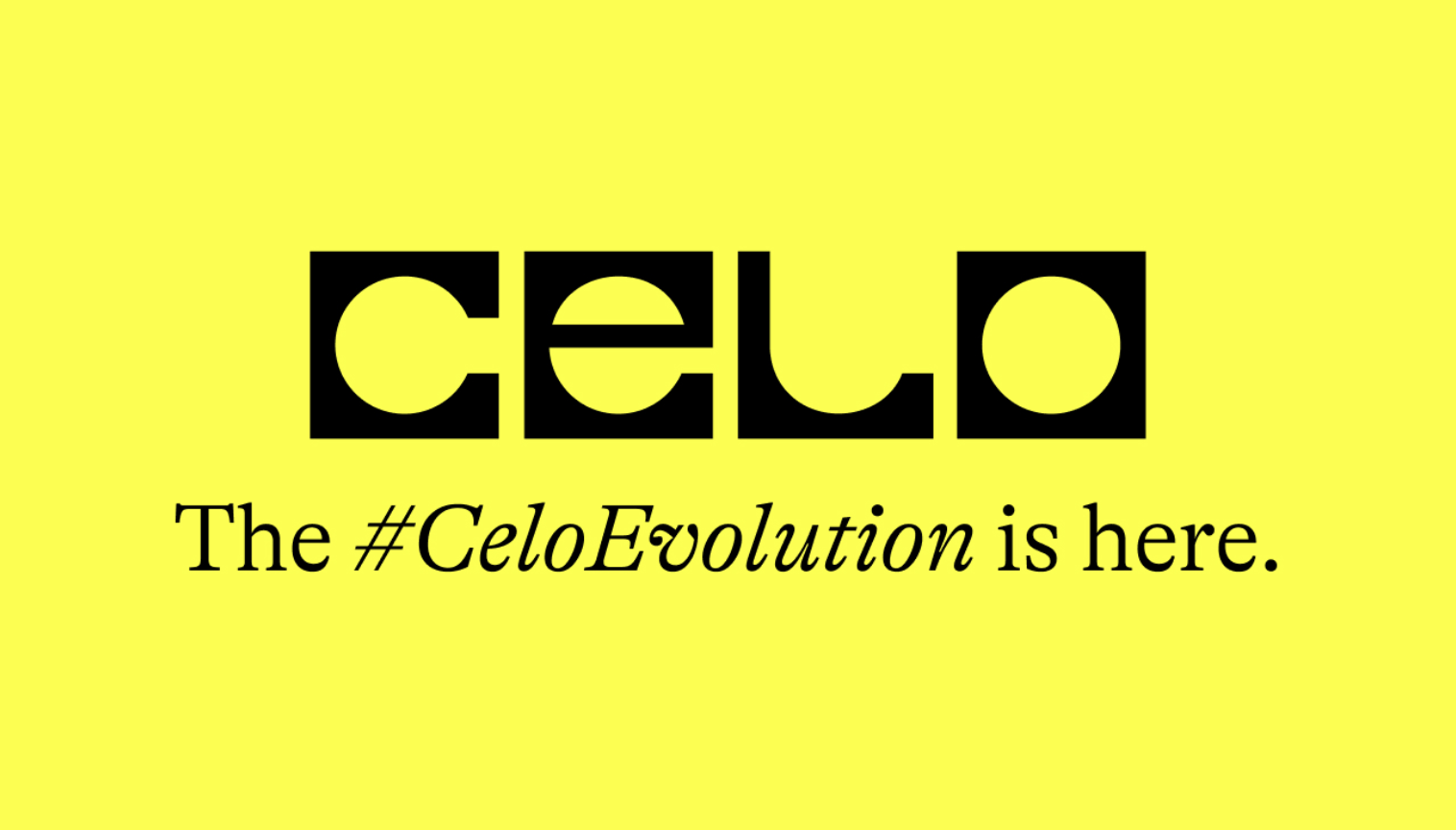 The Celo Foundation was founded in 2017 to support the growth and development the Celo blockchain - a decentralized, open source, mobile-first platform to help build a carbon-negative financial system that creates the conditions of prosperity for all. The Foundation is guided by the Celo community and contributes to education, technical research, environmental health, community engagement, and ecosystem outreach—activities that support and encourage an inclusive financial system.
Celo Europe DAO plays a crucial role in accelerating Celo in Europe through empowering mission-driven entrepreneurs and creators by helping them build innovative solutions that harness the power of the Celo Ecosystem.
CeLatam (Previously Konekti DAO) is dedicated to linking developers, entrepreneurs, and opportunities for the growth of the Latin American Celo ecosystem.
Celo's support significantly bolsters the mission of ReFi DAO, together we aim to establish a global regenerative economy rooted in local startup communities.
GG18 Round Results 🏅
With the $30k of match funding for the ReFi Local Node Featured Round, during GG18 we saw the emergence of 18 new Local Nodes worldwide. The round also collected over 1550 contributions totalling over $6700+ in additional donations.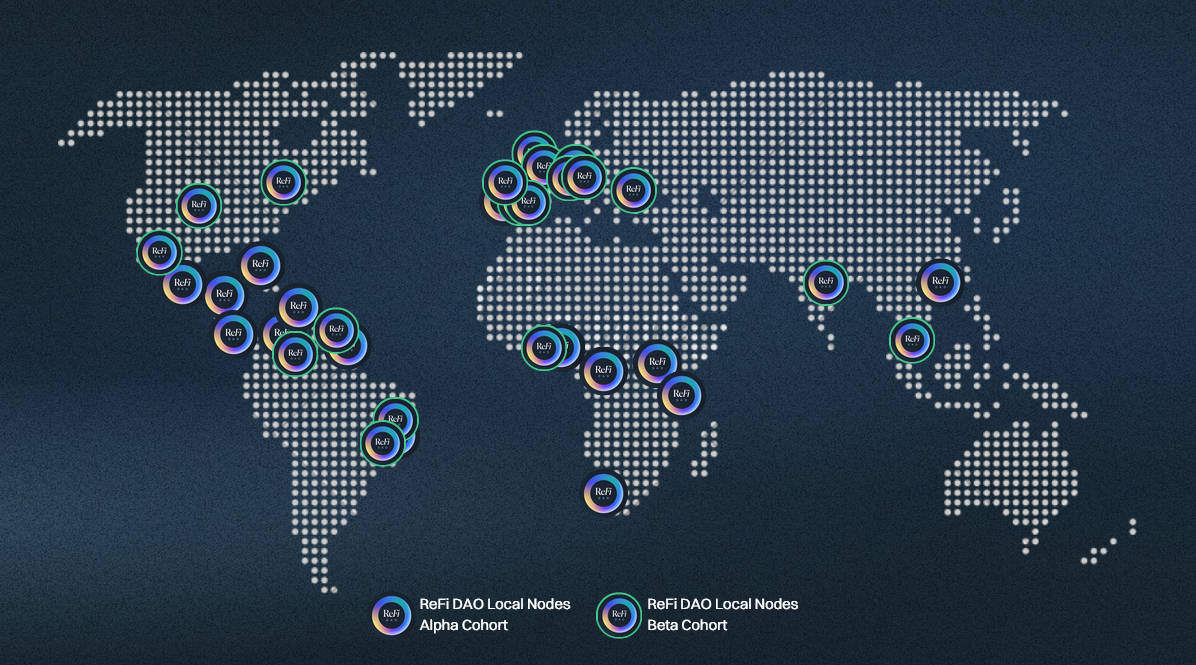 Huge congratulations to all nodes that took part and a special mention to some of the top-performing nodes whose contributions were particularly remarkable - ReFi Medellín (109 contributions), ReFi Phangan (68 contributions), ReFi Mexico (69 contributions), ReFi Costa Rica (63 contributions), ReFi Lagos (70 contributions), ReFi Tanzania (62 contributions), ReFi Lisboa (59 contributions), and ReFi Istanbul (58 contributions).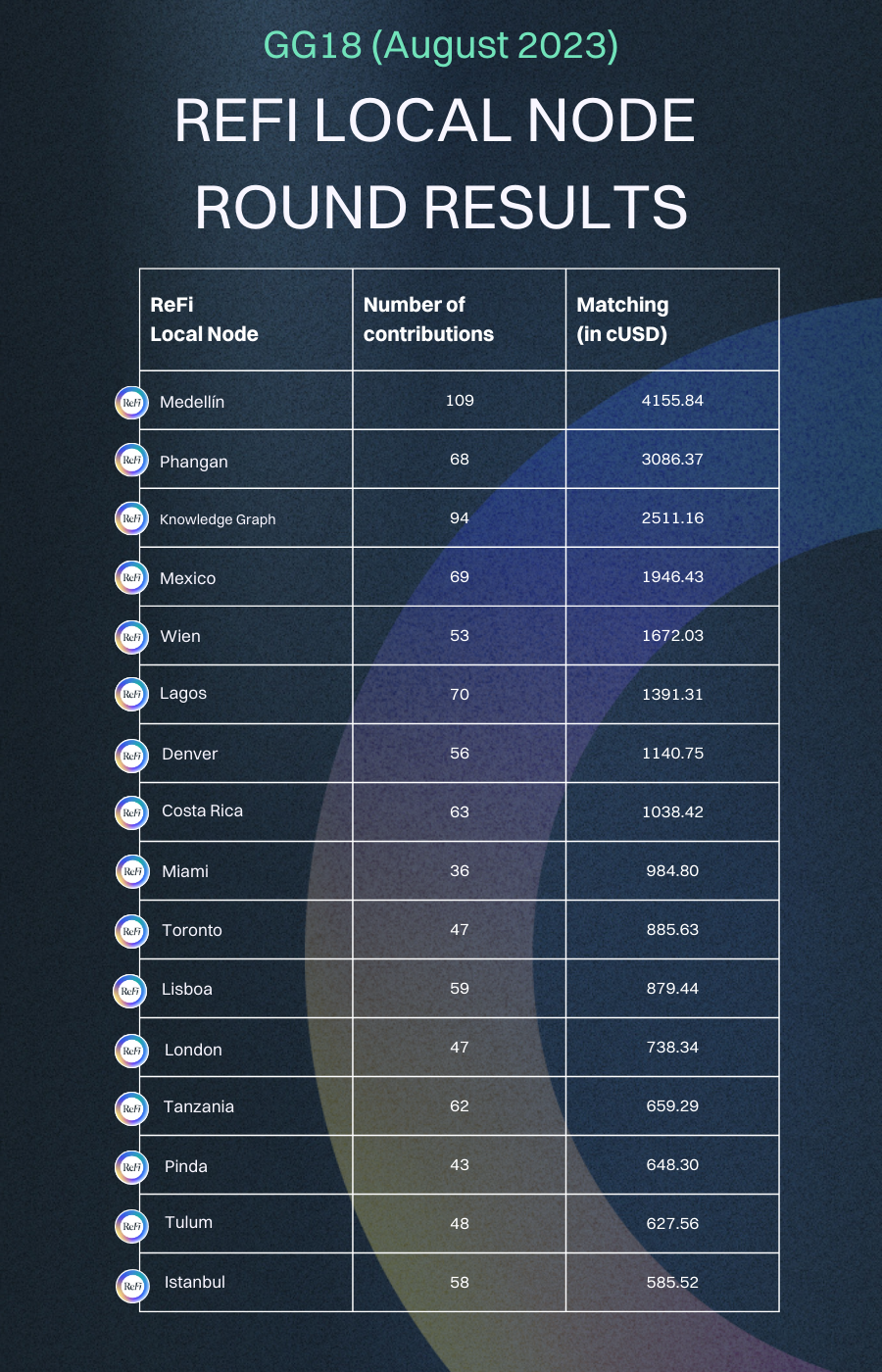 Kudos to every Local Node for their outstanding efforts and dedication throughout Gitcoin Grants 18. We can't wait to see you at the ReFi Local Node Beta Cohort and are excited to back each of you in your mission. 👏
Gitcoin Grants 19 (GG19)
Now, with Gitcoin Grants 19 kicking off this week, established ReFi Local Nodes will be eligible for Gitcoin's core Web3 Community and Education round with $200,000 in available match funding, and depending on the activities of the node, may also be eligible for the Climate Solutions, Open Civics, or Web3 Social rounds... This presents a wonderful opportunity for the wider community to engage and support. We heartily invite everyone to contribute to this round of donations and support the mission of ReFi Local Nodes. Get your Gitcoin Passport ready now!
ReFi DAO global will also be in the upcoming Web3 Community and Education round and we would be super grateful for any support!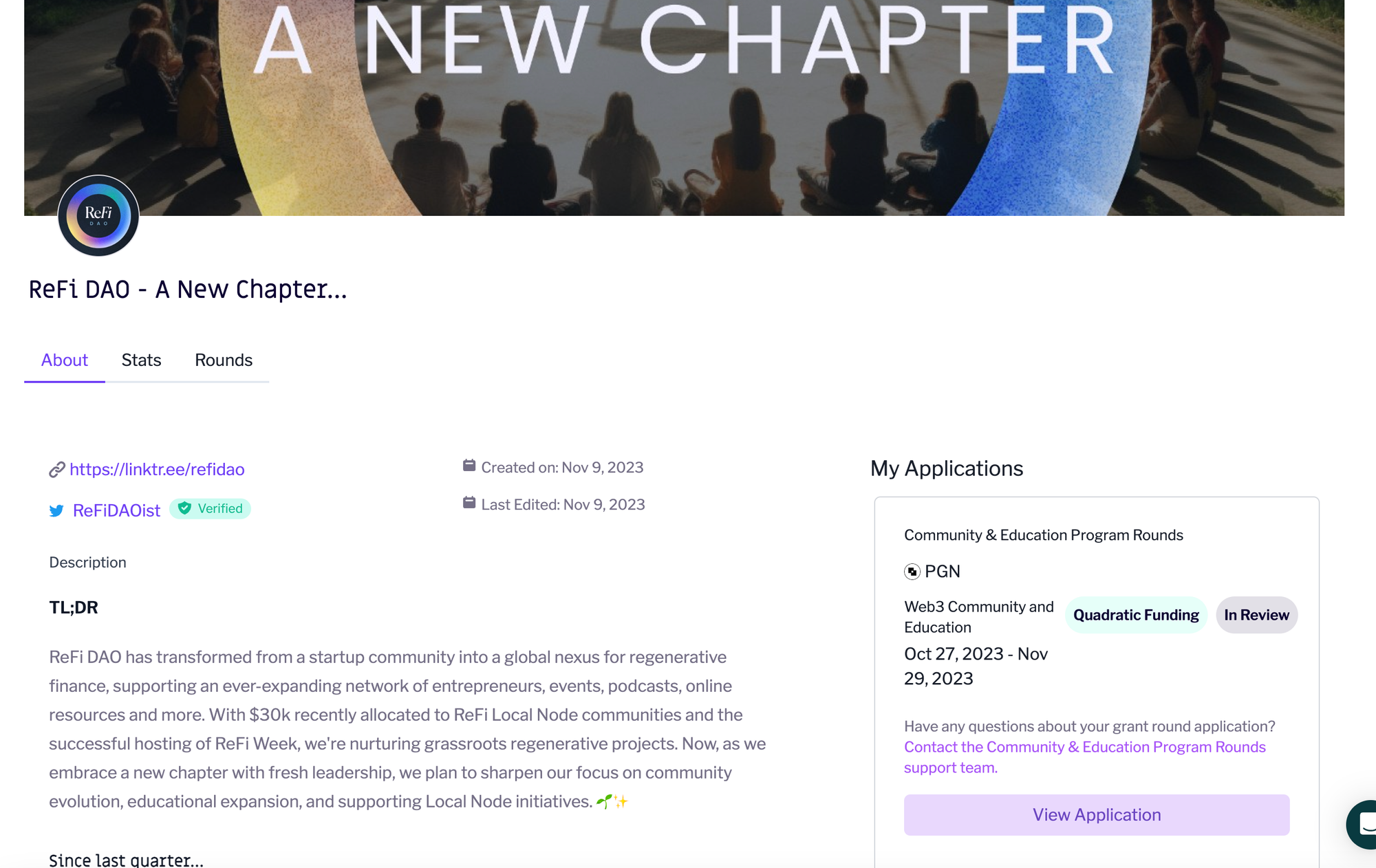 What's Next for ReFi DAO?
With a spirited online community and a global network of local nodes, ReFi DAO is set to continue its journey of community development and growth in a way that honours network autonomy while laying the groundwork for a universal movement for the upcoming cycle. Here are some key next steps 👇
Community-driven Evolution
As we forge ahead, the co-creation of ReFi DAO's future is paramount. Central to this evolution will be the collective effort to redefine our Mission, Vision, and Values, ensuring they resonate with the diverse voices of our global community. This process isn't just about refining words; it's about embodying the principles that will guide our actions and decisions. Register for upcoming the session 🔗. Alongside this, we are dedicated to developing clear organizational and governance structures that reflect our commitment to transparency, inclusivity, and efficiency. This structural evolution will be supported by the implementation of new coordination tools and infrastructure, designed to streamline our processes and enhance collaboration across our network.
In this spirit, we are excited to continue our ReFi DAO Forum online sessions. These are designed to be interactive platforms where ideas can flourish, strategies can be formulated, and meaningful connections can be forged to shape the trajectory of ReFi DAO. Register for the upcoming session & subscribe for updates on ReFi DAO Global events here: lu.ma/refidao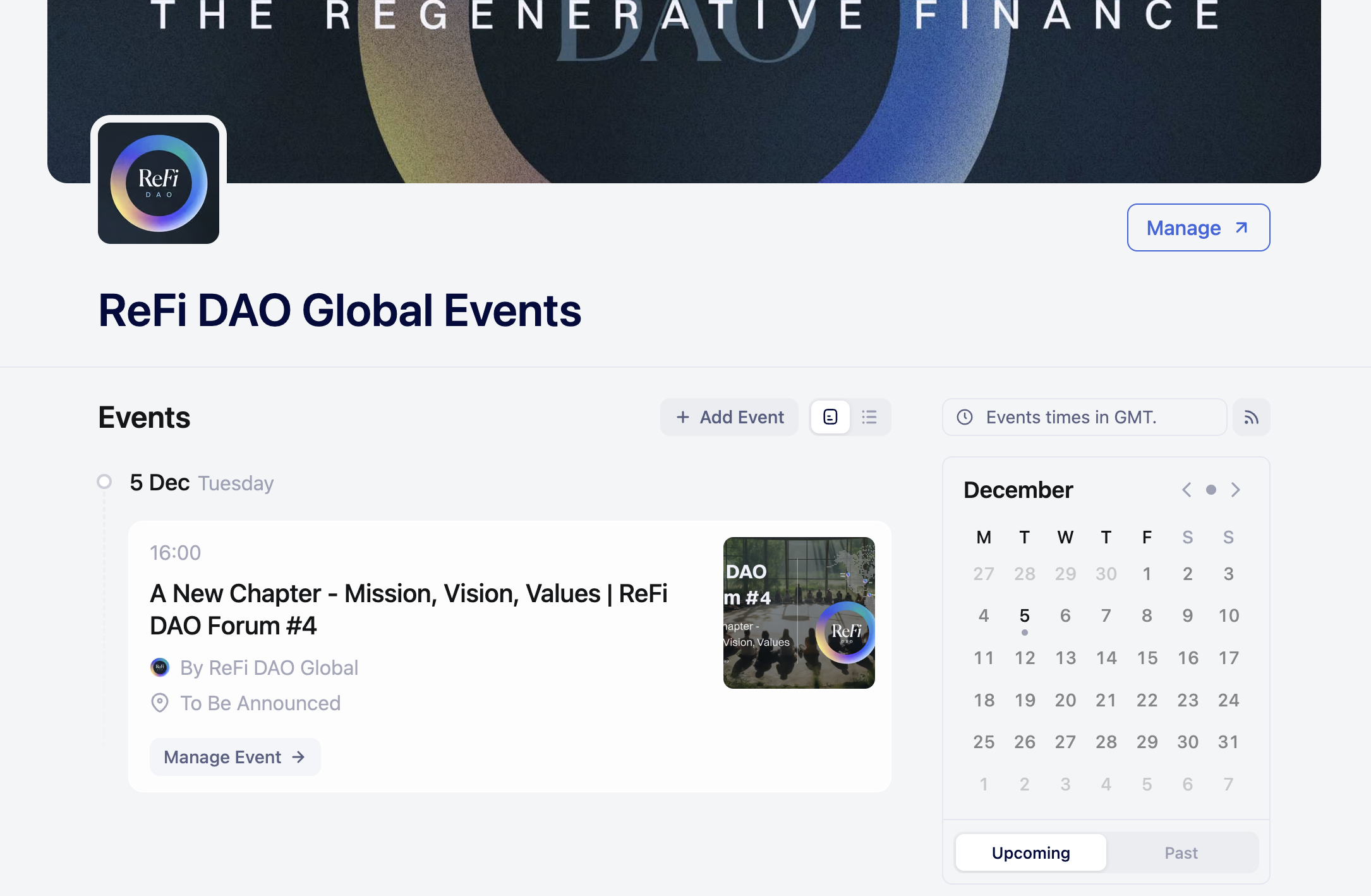 Local Node Beta Cohort
Continuing our effort to support and incubate Local Nodes, January 2024 is the planned launch of the 8-week Local Node Beta Cohort. We are preparing a series of sessions with industry experts to provide comprehensive insights and guidance to both new and established Local Nodes. The Cohort will equip the Local Nodes with essential tools and knowledge, ranging from preparing effective business models to strategies in communication, marketing, and fundraising. This foundational training is aimed at steering towards a successful journey of local and global regeneration.
Applications for the Local Node Beta Cohort are still open! If you are a founder interested in setting up a Local Node in your city, make sure to check out the Local Node Toolkit and apply through the Tally form below! 👇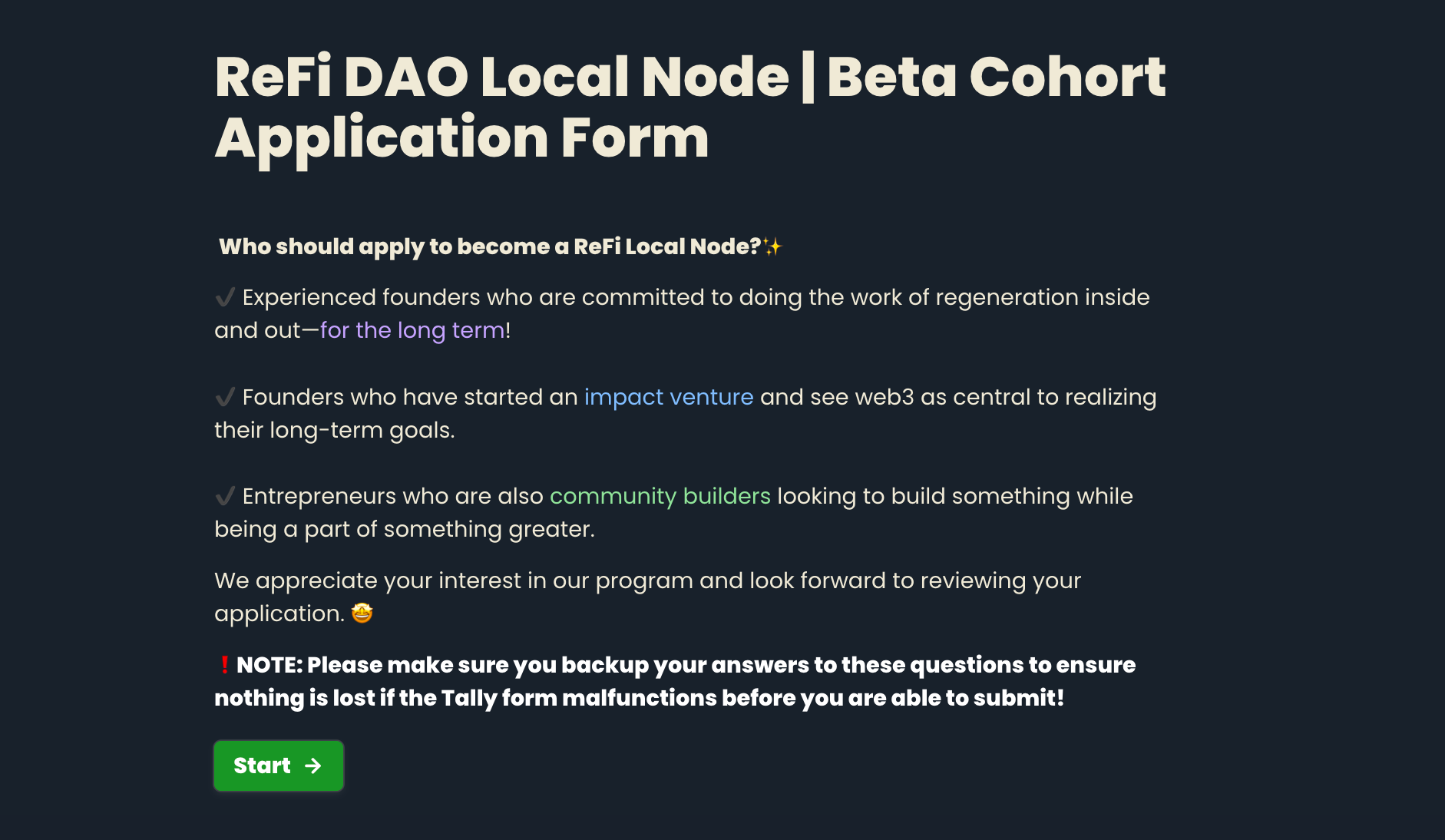 New Partnerships & Strengthened Alliances
As we look towards the horizon, ReFi DAO can be seen as a conduit for action-oriented exchanges among regenerative DAOs, organizations, and communities. By deepening our alliances with entities such as Celo, Regens Unite, GreenPill Network, Gitcoin, Bankless DAO, Crypto Commons Association, Silvi Protocol, Treegens, The Lexicon and many others, we will aim to unlock synergistic potentials and create a tapestry of interconnected initiatives that can drive meaningful change - a Regen CoordiNATION.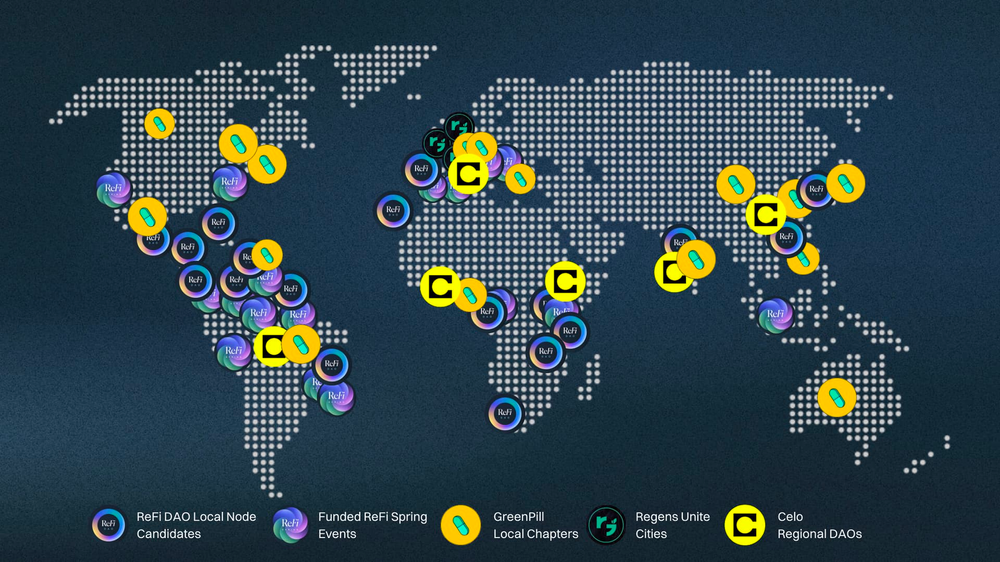 The Future is Regenerative. Let's grow! ✨
As we close this update, it's clear that ReFi DAO is not just witnessing growth but is actively helping to shape a movement defined by regeneration and sustainability. From the inspiring achievements of Local Nodes to ambitious plans for community-driven evolution and strategic partnerships, every step we take is a testament to our unwavering commitment to a regenerative future. These efforts are more than just individual achievements; they represent the collective will and dedication of a community united by a common vision. As we continue to evolve, we remain grounded in our mission to leverage the transformative power of web3 for a regenerative future. Thank you for being a part of this journey. We invite you to stay engaged, contribute your voice, and join us as we embark on the next exciting phase of ReFi DAO's evolution.