Scaling Natural Capital with Web3 & ReFi 🌿 🌻 | Roundup #50
Can the ReFi movement accelerate investment in natural capital? + the top news, events, and jobs from across the ReFi space and beyond.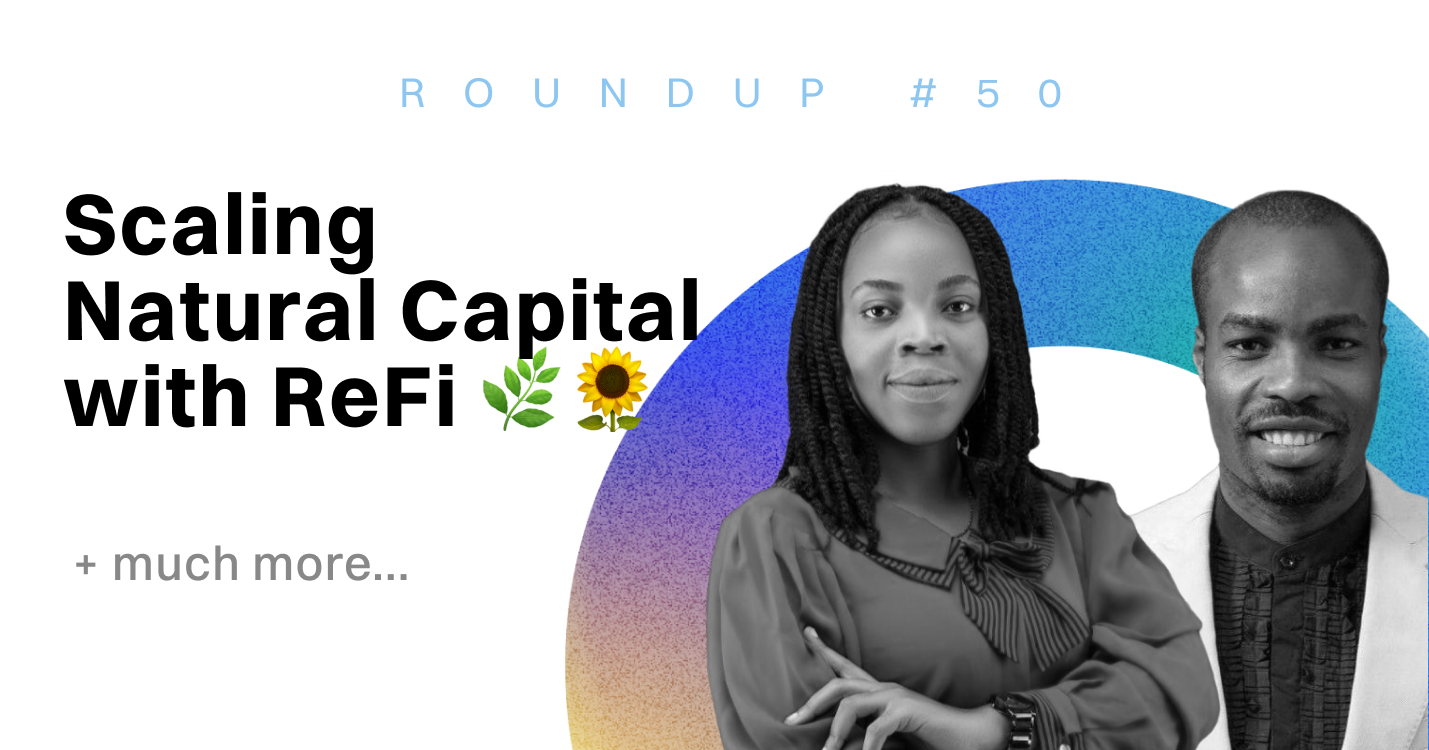 Happy Monday Regens!
This week we have Simon Eze and Adaeze Okafor here for their first ReFi Roundup ✨ Simon is an agricultural entrepreneur from the Niger Delta and a Climate Smart Nigeria fellow. Adaeze is a Soil scientist and ReFi by South Ambassador in Nigeria.
In this week's edition, we'll touch on scaling natural capital, and as always, the top news, events, and jobs from the world of ReFi and beyond. Let's dive in!
---
Unlocking Natural Capital 🔓
Natural capital resources are essential for all life on earth. Yet in spite of it's importance, there have historically been limited opportunities to invest in these assets to support their long-term health and resiliency.  There are high barriers to entry, poor transparency and governance, and difficulties in measurement, reporting and verification (MRV). As a result there is a lack of finance available for the people on the ground to stewed these assets effectively - especially for smallholder farmers.
ReFi can help to address some of these challenges and create new opportunities to invest in natural capital. Here are some examples 👇
Indigenous Economy 🍍
Designing systems and technologies that connect effectively with people and nature is no easy task. What if indigenous peoples are the key?
Indigenous people and local communities have cared for and lived in harmony with their environment through natural methods for centuries. Researchers have shown that the Amazon's least-deforested areas are due to vital role of Indigenous peoples in preserving the forests, mangroves, and peatlands.
In the ReFi space, Angry Teenagers is creating an NFT collection that empowers indigenous people in Ghana to plant trees in their local ecosystem. You can join the Angry Teenagers now by investing in land regeneration and watch your forrest grow over time with photo and data updates, check it out below 👇

Co-owned Commons 🛖
From the Igbo apprenticeship system (age-old sharing economies of Africa)  to traditional Chamas (informal saving groups), indigenous people have created solutions with  Ubuntu in mind, a circular economy built on shared prosperity.
The Regen Foundation is developing ChamaDAO, leveraging blockchain technology to connect local Chamas on-chain. ChamaDAO recently raised a grant to support Kenyan women's community savings groups to leverage regenerative finance to scale operations and develop additional revenue streams.‌
Empowering Farmers 👨🏻‍🌾
What about support for farmers? Here are a few examples from the world of ReFi:
LandX is building a commodity vault protocol that allows farmers to tokenize their farmlands on-chain, in exchange for a tokenized portion of their crop harvest.
Kokonut DAO in the Dominican Republic, is building the bridge between the farming community and Web3 infrastructure.
EthicHub is connecting social impact investors with unbanked smallholder farmers across the globe.
To learn more about other examples connecting farmers to real-world assets, check out the recorded Twitter space "Farmers Market🌾 #9: Real World Assets" hosted by @DaoChemist 👇
Nature-based solutions  🍂
If implemented in the right way, tree planting and other nature-based solutions can not only be an effective way of absorbing carbon, but also create an array of social, environmental and economic benefits. To support these outcomes, carbon markets have a key role to play - according to FSD Africa, they have the potential to transform African development.
Yet currently this is hugely underfunded.
Kenya-based project Shamba Network is aiming to help solve this problem. They are developing solutions to create high-quality carbon credits from farmlands that are backed by effective dMRV methods (Digital Measurment Reporting and Verification). Smallholder farmers in Africa, regardless of land size, will be able to tap into the global carbon market to access funding, scale food production and regenerate the earth 🙌
For People and Planet 👥 🌍
As we have seen, effective channels for investment in Natural Capital has the potential to not only help to mitigate climate change but can also serve as a mechanism for social and economic justice. We're super excited to see how ReFi can accelerate this vision in years to come...
---
🔥 Projects of the Week
A showcase of top voted projects from the ReFi DAO website!
View More
‌In Roundup #48 we introduced a new accounts and voting system for refidao.com to help surface new and exciting projects. Here were the top 5 most voted projects since then:
Votes have now been reset so head over to refidao.com to show some support to your favourite projects in the ecosystem this week! 💚
---
Add your ReFi Project! 👇🏽
Have a project you want to add to our database? Click the button below to submit an application!
---
ReFi Podcasts 🎙️
Top audio and video content from creators across the web 😊
ReFi DAO on The Block Explorer Podcast 🧭
Monty dives into his past, his work with ReFi DAO, and all things ReFi, DeSci and Web3 on the latest Block Explorer Podcast.
Other 🔥 Podcasts on our Radar:
ReFi NewsBites 🗞️
The latest updates across ReFi Twitter and beyond...
The Climate Data Revolution ⛅
Earlier in January,  dClimate launched their decentralized climate data marketplace on the polygon testnet - a breakthrough in the way climate data is shared and accessed.
Why Build a Decentralized Marketplace for Data? dClimate has shared some insights on their new blog - 'A Better Approach to Organizing Data Marketplaces'. Check it out below 👇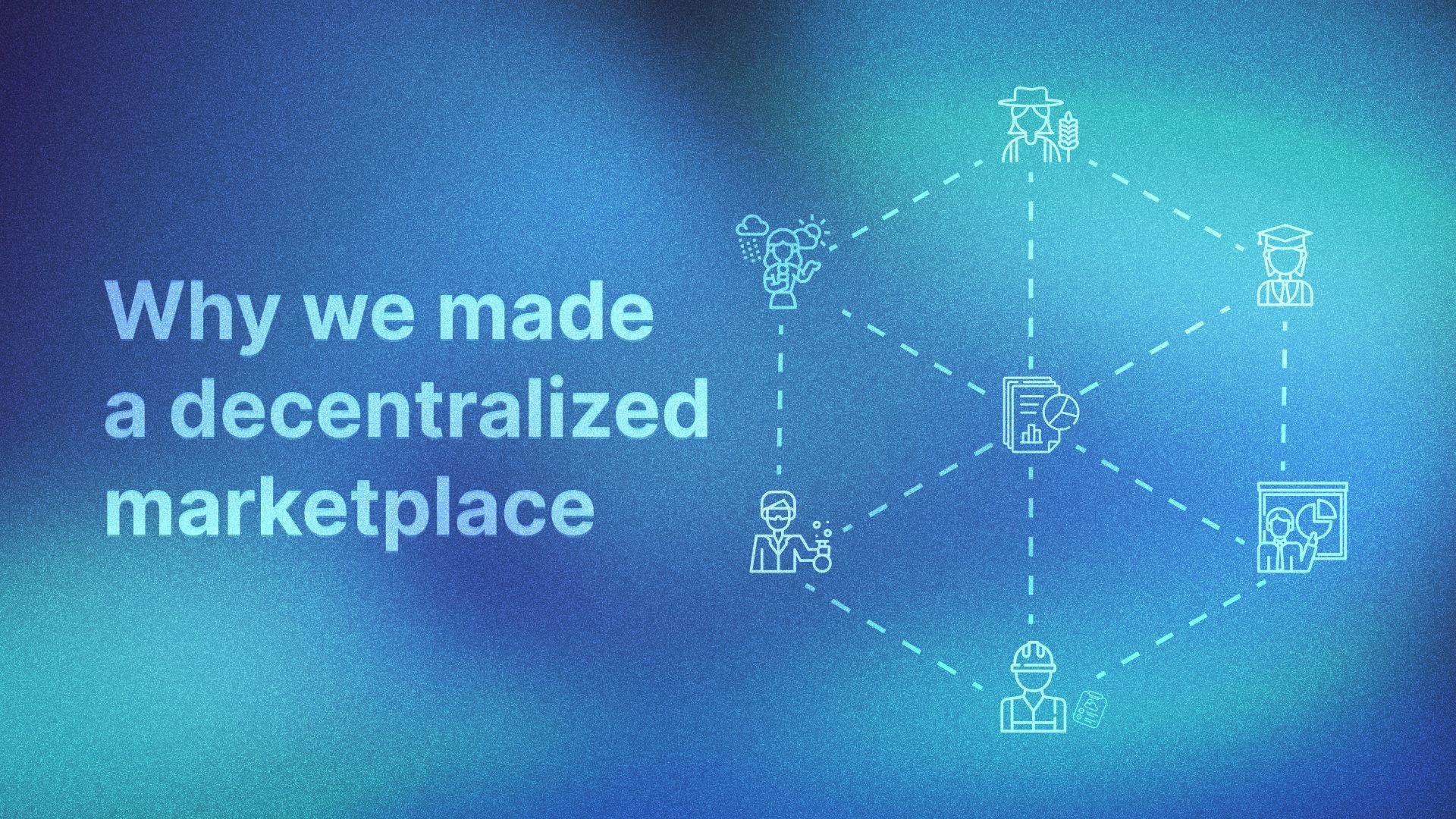 Gold Standard public consultation: MRV Governance and Digital Infrastructure 🔈
Gold Standard, together with IOTA and Climate Check is currently running an open consultation on the model framework and related processes that could enable carbon markets to operate in a way that is open and efficient.
The consultation will take place up until February 25th.  Join in to have the voice of ReFi heard! 👇
Can Blockchain Tech Help Improve the Carbon Credit Market? | WSJ Tech News Briefing! 📺
ReFi is increasingly making its way into mainstream channels. Last week we had Wall Street Journal investigating blockchain solutions for the carbon market, with some interesting discussion from Luis Felipe Adaime of MOSS.
---
ReFi Events 🪩
Get your ReFi on with friends in-person and online...
View more
Looking Forward 📍
Some of the exciting events coming up soon... Make sure to grab some tickets and support the ReFi regenerative renaissance wherever you are from!
(7th Feb, online) An intro course on digital carbon from KlimaDAO. If your already up-to-speed here, why not share it with a friend?
(7th Feb, online) Join IDEO backed organisation Last Mile Money, alongside Celo, Node, Bitmama, and Bitssa for a webinar on how to make Web3 work better for globally underserved users.
(8th Feb, Online)
(1st Mar, Denver) The official Climate Summit at this year's ETHDenver, co-hosted by Flowcarbon, Celo, NEAR Protocol, and Open Forest.
Retrospectives 👀
Highlighted discussions from some of the exciting ReFi events going on across the globe and through the interwebs 🕸
Regenerative Finance in the Global South 🌎🌍
Pranav Khanna of ReFi by South had a Groundbreaking Discussion on Scaling Climate Action and Unleashing the Power of Community and Technology! Check out the recording if you missed it.
Regenerative Finance and Decentralised Science (ReFi x DeSci) 🌱🔬✨
Vally DAO - a community dedicated to collectively financing and democratizing synthetic biology technologies to protect the future of our planet, together with ReFi DAO, hosted one of the first ReFi x DeSci twitter spaces with the aim of bringing these movements closer together. Check out the recording below 👇
---
Add your ReFi event! 👇🏽
Got a ReFi, crypto, or climate event coming up and what to have it featured in the newsletter? Add yours to ReFi Spring!
---
ReFi Jobs 👩🏽‍🚀
Find your next gig at a leading ReFi venture...
View more
---
Check out the ReFi Jobs platform for more! 👇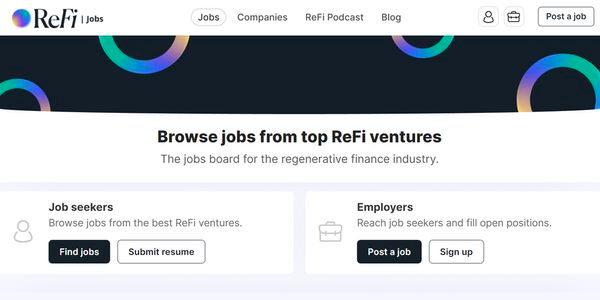 ---
Thank you! 🤩
For being a part of the ever evolving movement to create a radically better future...
That's a wrap!
Have a fantastic week friends & we'll see you again soon 🫡
Enjoyed this newsletter?
We would be super grateful if you could help spread the word of ReFi by clicking the button below: